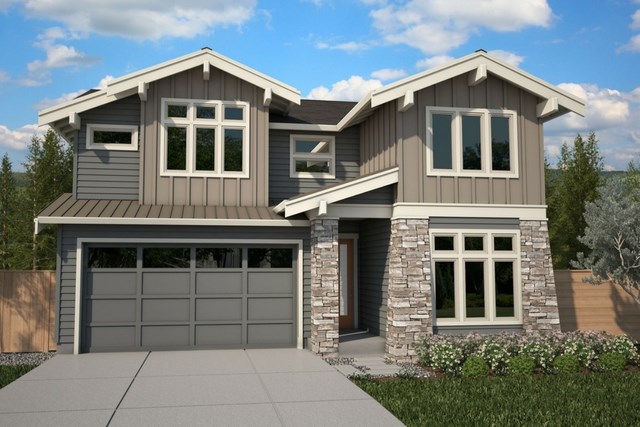 Much-Anticipated Brookstone "Elements Collection" Launches at Tehaleh
Before there's even a model to tour, buyers have already been snapping up pre-sale homes from local builder Brookstone Homes as they prepare to join Tehaleh this fall. Brookstone's much-anticipated first model home debuts September 17th, showcasing a floor plan named "The Olympic" after the breathtaking national park.
Brookstone's "Elements Collection", designed exclusively for Tehaleh, offers unique home designs crafted to complement Tehaleh's natural surroundings, starting in the mid $300,000s. The Elements Collection's open floor plans include wrap-around staircases and large foyers in the heart of the home. Brookstone also offers high levels of customization, with flexible floor plans where a dining room can become a den or bedroom, depending on how each buyer wants to live. Rounding out the homes are large covered outdoor living spaces that allow residents to take in the gorgeous natural setting.
"What made us most excited to build in Tehaleh was the way Newland has been able to seamlessly blend nature and community together without compromising either one," explained Brookstone's principal, Chris Cowan. "With its abundance of outdoor space and sweeping views, Tehaleh feels more like a destination or resort community than a new home community."
The natural aesthetic of the "Elements Collection" began with exteriors that integrate natural materials such as metal, stone, and cedar. Inside and out, the homes are uniquely "Northwest Modern," a concept that the Brookstone team has expertly perfected. Cowan explains, "We really wanted to blend together modern design and the lasting appeal of a traditional Craftsman-style home in a way that showcased the best of both."
As part of Brookstone's commitment to preserving the natural environment, they've pledged to donate 150 trees for every home they sell to the National Forest Foundation, and give buyers the option to donate part of their closing costs as well.
With pre-sales already on the books, Cowan and the Brookstone Homes team are looking forward to a successful opening on September 17th.
Want More Information?
Please click below to contact our team and we will be happy to answer any questions you have!
Contact Us
Categories