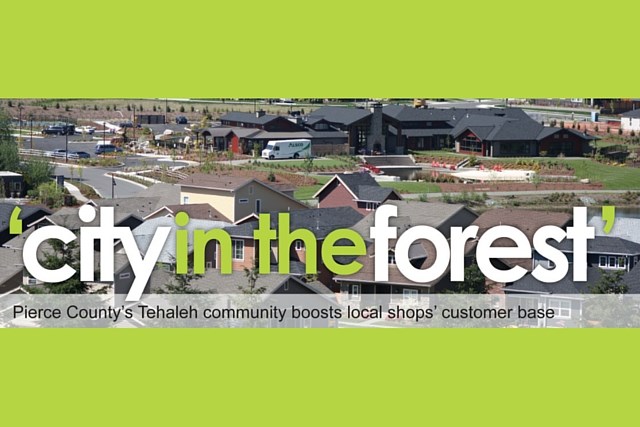 Local shops become part of the Tehaleh community
Surrounded by evergreens and open space and blessed with unbelievable vistas of Mt. Rainier, Tehaleh seems far removed from the rest of the world. Yet, as the community grows, everything that residents need—places to live, work, learn, and shop—will be right here. As Tehaleh resident Julie O. puts it: "It's apart from the bustle of city life, without being remote. Wildlife is right in your backyard, but you're never far away from the perfect cup of coffee or a night on the town."
That's exactly how Newland, the developer of Tehaleh, envisions the project. "We see it as a city in the forest," says Scott Jones, Newland's senior vice president.
Tehaleh residents are providing a huge boost to the economic fortunes of local businesses in downtown Bonney Lake—only  four miles from the community.
One such store is Fleet Feet, a running-shoe store located on SR 410. The store's owner, Gina Rittenhouse, lives in Tehaleh, and it didn't take her long to realize that her health-minded neighbors were a natural fit for her store.
"We purchased Fleet Feet last November," Rittenhouse says. "We noted that Tehaleh was a healthy community and we wanted to help enrich it."
Gina leads community walks and runs along Tehaleh's more than 20 miles of trails at weekly events that are popular with residents of all ages. The walks have been both good for business and a way to give back to the community.
"We feel blessed to be part of the community and to serve the community as business owners," she explains. "I feel that we have driven more people into our store from Tehaleh. We targeted that area because it's new and it has a fitness feel to it. We wanted to embrace that and support them the best we can, and also have them come out to our store to get their shoes and necessities."
Gina notes that a lot of people are deciding to move out of Bonney Lake to Tehaleh. "It's had a powerful impact on the small businesses," she says. "People don't want to go as far, so they're more inclined to get to know the businesses that are closer them."
Christopher Kuntz also meets many new residents at his family-owned store, Chipper's Jewelry. Many of Christopher's new customers are retirees who have settled in Trilogy at Tehaleh, the community's active adult community for people who are 55 and older.
"We have seen our customer base grow with good-quality customers coming in from Tehaleh," Christopher says. "A lot of them who come in have owned ranches or their own businesses. These are people who have done well in life, and now they're retiring."
Lowe's is another business that has naturally benefited from the influx of new homeowners in the area. Wendi Woodyard, the past executive director of Chamber Collective (an organization that represents businesses in Bonney Lake, Buckley, and Orting) says "It's really great to help people who are excited to move into their new homes. Nine out of 10 people (who shop at Lowe's) tell us they are living in Tehaleh."
Lowe's has also reached out to the community. Sponsoring a Mother's Day potting event where residents received soil provided by Lowe's and annual spring flowers from Tehaleh.
Cooperation like this—between Tehaleh and local businesses—is planting deep roots in the community that is taking shape within the shadows of Mt. Rainier.
Want More Information?
Please click below to contact our team and we will be happy to answer any questions you have!
Contact Us
Categories