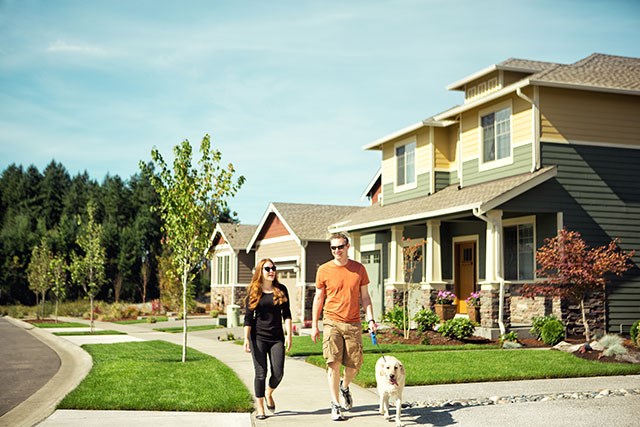 Seattle Families Love Natural Lifestyle at Tehaleh

With 20+ miles of trails, breath-taking views of Mt. Rainier and great square footage for the price, Seattle-area families are finding countless reasons to relocate to Tehaleh, Puget Sound's top-selling new home community.
Annie and Andrew Stewart moved to Tehaleh from West Seattle earlier this year, after finding a larger home for their two kids, ages 3 and 5. The couple did a lot of research to look for their dream home.
"We looked at pretty much every house in West Seattle, Auburn and Lake Tapps," Annie Stewart said, "But nothing was reasonably priced, large enough, or a good enough value for our money."
Stewart fell in love with more than just her beautiful, spacious home. The community feel, natural beauty and centrally-located Donald Eismann Elementary—a public school located within the community—sold her so much that Stewart convinced her best friends, the Harris family, to move there as well.
Riely and Isaiah Harris lived in West Seattle as well, but longed to raise their four children, ages 7, 6, 4 and 2, in a strong community. The Harrises and Stewarts had several get-togethers through their church while living in West Seattle, and wanted to find that feeling of close neighbors in a new location.
"Our church was our community in West Seattle and we had to drive to get there. At Tehaleh, we have a real, walkable community, right outside our front door." said Harris.
Now that they've moved to Tehaleh, the Harris and Stewart families are socializing, not only with each other, but with the whole neighborhood. They enjoy weekly neighborhood barbecue dinners where families get together and the adults visit while their children play. The ability to host neighbors in their spacious homes and backyards has affirmed the families' decision to relocate to Tehaleh.
Both families selected quick move-in Richmond American homes within a month of each other, and moved in earlier this year. The generously sized kitchens, open floorplans and room for the kids to be active indoors and out, have given them the best value for their investment and an ideal lifestyle for their young kids.
"I really feel like I'm doing my kids a service," Harris said, "This is a great place to grow up. They can ride their bikes down the street, build a fort in the woods or run races down the walking paths and I don't have to be watching them every second."
The Harrises and the Stewarts are happy they made the move from West Seattle. Community amenities like the many parks, trails, green belts and delicious hand-crafted Italian coffee in the café at The Post are all added benefits to owning a home in a natural paradise. Though they've only lived there a short time, both families say they made a great choice, investing in their forever home and the strong community at Tehaleh.
It's easy to see why the Harrises and the Stewarts fit in at Tehaleh. Riely's husband is a police officer, Annie's husband is a firefighter and both women are in the nursing field. They are in good company at Tehaleh; the community is home to many first responders and their families. 
 "It feels like a retreat when you go home," Stewart said, "When you drive up and see the mountain view; it's amazing to know that this is home."
Be sure to check out these move-in ready homes and make Tehaleh your next home.
Want More Information?
Please click below to contact our team and we will be happy to answer any questions you have!
Contact Us
Categories