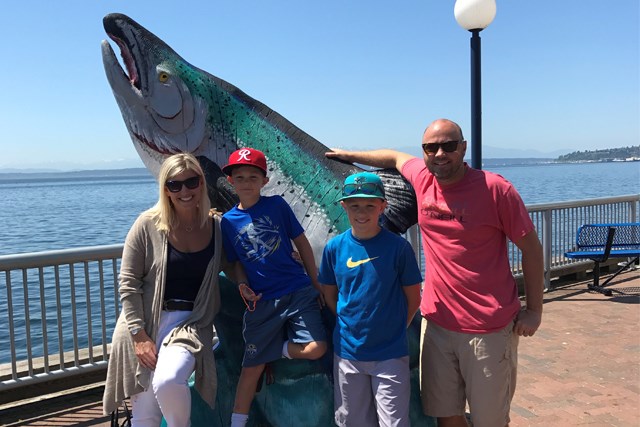 Family Wins a Dream Trip from Tehaleh
When Jill Ellingson received a voicemail with news that she had won an Alaskan cruise giveaway from Tehaleh, she was shocked and overjoyed. "I was blown away that I actually won something, especially a cruise for our whole family!" said Jill.
The Alaskan cruise giveaway contest began in May of 2017 and participants were encouraged to do a few things to be eligible to win – sign up for email updates from Tehaleh and visit the community in person. Those who embarked on a journey to Tehaleh and checked in at The Post, or any of the model homes, were awarded five additional contest entries and a free t-shirt.
A couple months back, Jill decided to spontaneously enter the giveaway. Although her family doesn't reside in Tehaleh, they enjoy frequenting the community and visiting friends who live here. As a real estate agent from Lake Tapps, Jill has witnessed the growth of Tehaleh firsthand and admires the variety of homebuilders available, extensive trails, and family-friendly atmosphere.
"When you get such exciting news, it's easy to think it's a hoax. But, I know the community and knew it had to be legit," laughed Jill. "I put my phone on speaker so my husband could hear too!"
With two sons, ages 9 and 12, Jill and her husband plan on boarding a cruise ship in the summer of 2018.  Royal Caribbean is allowing her family to choose their destination, so instead of adventuring to Alaska, they will be traveling to the Southern Caribbean for a tropical getaway. "We've been wanting to go to Disney World in Orlando, Florida, too. We'll be able to visit either before or after the cruise – it fits in perfectly," said Jill.
Aside from exploring everything the Caribbean has to offer, Jill looks forward to enjoying the Royal Caribbean cruise ship and all of its amenities with her sons. "These ships include water parks, miniature golf courses, and rock climbing facilities. It's insane!" said Jill. "It will be so cool to show our kids that side of traveling at such a young age."
For the time being, the Ellingson family will continue planning their trip and anticipating the memorable moments to come. Jill summed up her family's feelings, "We feel very lucky!"
Don't miss out on future Tehaleh giveaways! To stay tuned, visit us on www.tehaleh.com or follow us on Facebook and Instagram.
Want More Information?
Please click below to contact our team and we will be happy to answer any questions you have!
Contact Us
Categories