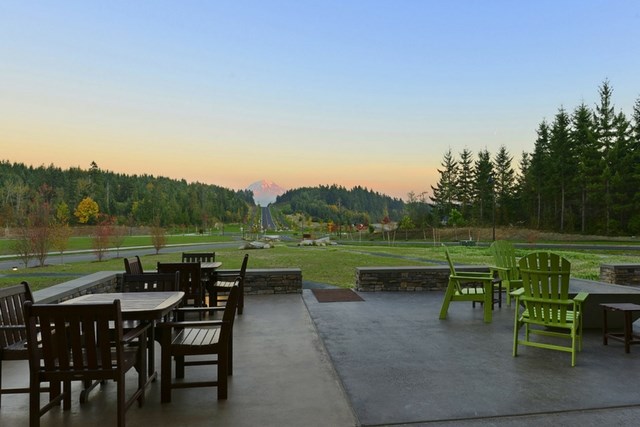 Grab Your Party Hat, It's Our Birthday!
It's our birthday! Over the last five years, Tehaleh has grown and changed…a lot. We've added new trails and parks, gained some new residents and enjoyed five Harvest Day celebrations. Despite the changes, a few things remain the same: our one-of-a-kind sense of community, our Mt. Rainier views, and our slice of natural paradise – to name a few.
We've pulled together our top 5 favorite reasons why we love Tehaleh - take a look!

1. The Outdoor Connection: Across 1,800 acres and 20+ miles of parks, trails, and open space, our residents love exploring nature on a grand scale. With sweeping Mt. Rainier views and miles of trails right outside their front door, residents love how easy it is to connect with nature, all year long. When Tehaleh first opened in 2012, there were only 6 parks. Flash-forward five years and you'll see we've grown to offer 11  unique parks across our grounds. From bird watching and basketball, to zip lining and picnic spots, Tehaleh's parks offer a little something for everyone – including Hounds Hollow, an off-leash dog park for our resident pups!

2. A Home for Everyone: Tehaleh is proud to offer the largest selection of homebuilders and floor plans in Washington state. Phew! Have we come a long way in five years! With ten renowned builders, the options for personalization are endless. Our diverse collection of new homes includes various architectural styles and floor plans made to fit our residents' lifestyles and family size. For example, check out Trilogy at Tehaleh®, a neighborhood specifically for active adults 55+, and the Seven Summits Lodge, a "Playground for Grownups" that offers private dining at The Mantel, a swimming pool, athletic club, and more!
3. Close-knit Community: Time with family is precious, and Tehaleh is designed for making memories. We love the way the wide variety of activities bring not only the family, but the members of the community together. From ziplining and skateboarding, to a sledding hill in the winter, there's an activity for everyone. Big Sky Park even has a bocce ball court, because hey – we love a little friendly competition.

4. Award-winning Schooling On-site: Tehaleh offers an on-site, award-winning public elementary school, Donald Eismann Elementary, part of Sumner School District. The school has a 9 out of 10 rating on GreatSchools.org and is developing a curriculum with science, technology, engineering and math (STEM) in mind. A new elementary school will open in the near future with the same STEM curriculum focus. With close proximity to nature, the teachers are able to bring students outside and onto the Tehaleh trails for outdoor learning opportunities.
5. Events for every occasion: Special events bring the community to life year-round: Tehaleh offers everything from an annual egg hunt and award-winning Harvest Day celebration, rated Best Festival two-years running by South Sound Magazine. Our Community Lifestyle Manager, plans events throughout the year for residents to participate in – from outdoor movie nights and water balloon fights in the summer to walking groups, wine nights, and a children's reading circle that meets at The Post every week.
We named five here, but our residents have many more reasons why they love Tehaleh. Start your new home search today.
Want More Information?
Please click below to contact our team and we will be happy to answer any questions you have!
Contact Us
Categories