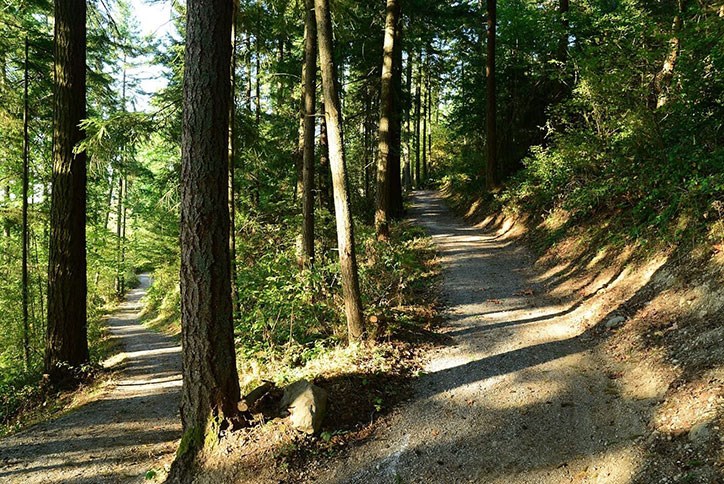 Tree Spotting on Tehaleh Trails
With picturesque views of Mount Rainier, over 20 miles of trails, and greenery growing in every direction, Tehaleh is home to some of the South Sound's best outdoor exploration. But have you ever wondered what species of trees Tehaleh residents are passing on their feet, paws, and bike tires?
Paul Graves, owner of Cascade Resource Management and Tehaleh tree expert, is in charge of maintaining the health and safety of the greenbelts in Tehaleh. He has spent the last four years implementing forest management plans for the roughly 3,000 acres of forest currently undeveloped in the community. According to Graves, the most prevalent trees in Tehaleh are also his favorite, the Douglas fir. "They're almost everywhere," noted Graves. Douglas firs are an evergreen conifer species you can find along all trails in the community. Douglas firs grow tall with straight tops and are most recognizable by their soft needles and round branches, like a hair brush.
In spring, residents will begin to notice white fluff floating in the air and blowing into doorways. This is no snow day. These are the falling, flying seeds from the Cottonwood tree. These trees grow very tall with large leaves and have a soft bark. They are a sight to see and smell. According to Graves, "They add a sweet aroma to the air!"
Fuzzy-barked Cedar trees are another one of the most common trees on the Tehaleh trails. Their leaves are a lighter green and have big droopy branches with needles hanging below the main stem.
Western Hemlock trees are recognizable for their droopy top, a characteristic of the Hemlock, regardless of the age of the tree. The needles are shorter and double ringed, which means there are both long needles and short needles.
Graves chops his own Christmas tree down each year from his mountain cabin on Mount St. Helens. For holiday trees, when you are out tree shopping this holiday season, Graves suggests going for a Noble fir. "They have a great shape, hold up in adverse conditions (inside your home), and can stay green all the way through New Year's Day." Hillside Tree Farm, the family-owned farm less than two miles down the hill from Tehaleh, offers fir trees in a mountainside experience without the drive.
To plan your next tree spotting session, head over to the trails page and download the Community Trail Guide.
Want More Information?
Please click below to contact our team and we will be happy to answer any questions you have!
Contact Us
Categories