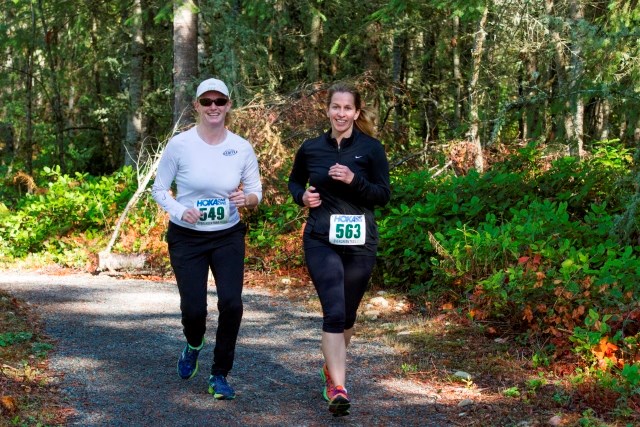 Regular Trail Runs Popular at Tehaleh
Residents are living the ultimate in Northwest outdoor lifestyles in Tehaleh. Led by resident fitness expert Gina Rittenhouse, who also owns Fleet Feet Bonney Lake, homeowners of all ages get together several times a week to run the trails right out their back doors.

Rittenhouse offers several free Tehaleh trail walk/runs for all skill levels. The current schedule includes:

Mornings: Residents meet on Tuesday and Thursday mornings at The Post at 9:30 a.m. (after parents drop their kids off at school).

Evenings: Once the sun comes out, the groups get larger – for the summer, Rittenhouse has added an additional 6:30 p.m. walk/run on Mondays & Tuesdays.

"The fantastic trails and great sense of community in Tehaleh inspired us to offer these regular trail runs," said Rittenhouse. "It's so much easier to get your exercise with the outdoors as your playground and a group to make it more fun."

Gina Rittenhouse purchased the Bonney Lake Fleet Feet Sports in November 2015 when she was inspired to help people change their lives through a healthy lifestyle. Offering shoes, apparel, and accessories for runners and walkers, both competitive and recreational, Fleet Feet Sports frequently sees visitors from Tehaleh, who are enjoying the community's healthy, outdoor lifestyle.

Rittenhouse and her family have felt right at home since their move to Tehaleh. "There's so much we love about living here, our house backs up to a greenbelt and it's so unbelievably beautiful," she said. "A lot of communities have a few parks or maybe even a few trails. At Tehaleh, the trails are literally out your back door – and people are really living that Northwest outdoor lifestyle."

Gina and her family have always been passionate about living a healthy, outdoor lifestyle, which made Tehaleh a natural fit. The trails throughout the community offer unique running routes while the parks and open space promote outdoor activities of all types. "We feel really lucky to live in this community, and we also feel really blessed to be able to serve it," said Rittenhouse.