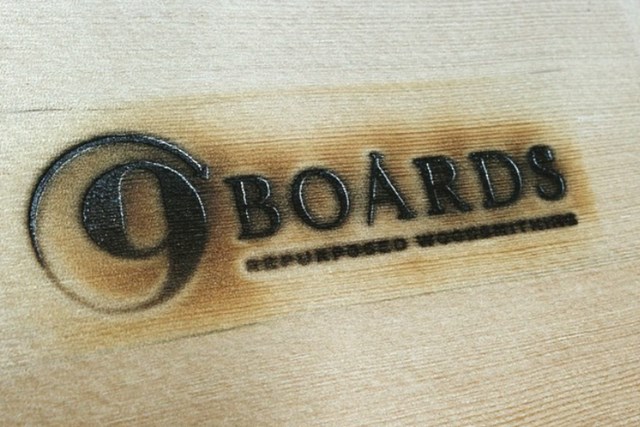 Reclaimed Wood Finds New Life in Tehaleh
Community Supports Resident's Business.
"Shopping local" takes on a whole new meaning when the business owner lives and works just 100 feet away. That's a common scenario for Jay DeLong, owner and Lead Woodchuck at 9Boards, a wood shop based out of Jay's garage in Tehaleh.
Jay says support from neighbors has been key to his business's success: "Currently, about 90% of my work has been right here in the community." In Tehaleh, a community-focused atmosphere helps home-based businesses such as 9Boards thrive.
Jay sources wood and hardware in the Seattle/Tacoma area, using it to create reclaimed furniture and home accessories including wine racks, book shelves, cheese boards, bed frames, and more. When the DeLongs were looking for a home, the friendly community, peaceful setting, and amazing park just steps away from their home solidified Tehaleh as their chosen place to put down roots. They were also excited for Jay to expand his woodworking business.
Having a business based out of his home, Jay relishes in the flexibility he has to explore the community's 30+ miles of trails and  13 parks with his two young sons. He loves to take them across the street to Big Sky Park for a geocaching adventure, where he may just run into a new customer at the same time.
He finds that neighbors enjoy getting to know each other and investing in the community. "I've been fortunate that a lot of people in Tehaleh want to shop local. It doesn't get more local than working for your neighbor," laughs Jay.
While Jay's work is inherently environmentally friendly, many people are especially intrigued by the stories that go with the materials he salvages. He's made a one-of-a-kind wine rack out of ceiling joists from an old barn, with railroad spikes to hold the bottles in place.
The process is the part that gives Jay the most joy. He says, "I love to be creative. When a customer gives me a lot of latitude with the design, I have a pretty good time working out here in my humble little shop."
Want to see more of Jay's creations? Check out the 9Board's website and Facebook.
Want More Information?
Please click below to contact our team and we will be happy to answer any questions you have!
Contact Us
Categories