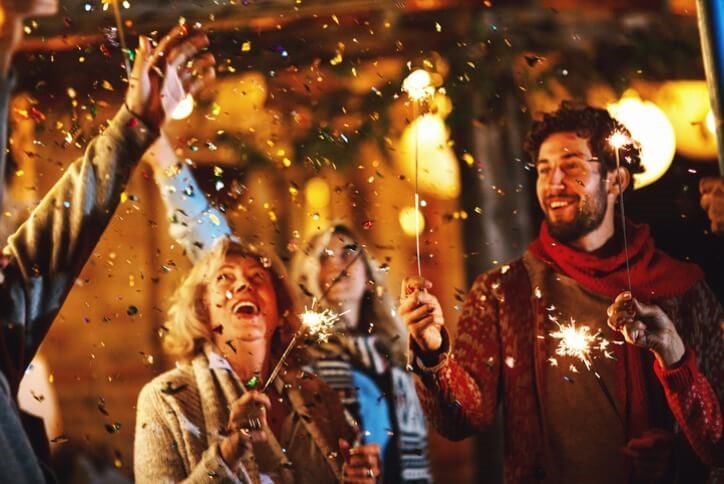 4 Tips to Make 2020 Your Best Year!
Beginning a new year is such a hopeful time. We often dream of the New Year's resolutions we're determined to accomplish and yet it's hard to maintain the enthusiasm months after you've swept up the confetti. To help make 2020 your best year yet, we've compiled a few simple resolutions that are easy to begin and pleasurable to keep.


1. Start Saying "Yes"! It's time to get out of your comfort zone by literally, saying "yes" to all of the invitations life extends your way. You'll be amazed at the many new ways it transforms your connection with yourself, family and friends, your community, and your world. Starting now, say "yes" to new hobbies, try new foods, new styles, quirky plays, blind dates, sunrise hikes, dinner invitations, volunteering… basically anything you may normally dismiss for no genuinely good reason.

2. Start Saying "No"! Balance is imperative when it comes to your work, social and personal times. Piggy-backing off of the above encouragement to say "yes," is a healthy reminder to politely say "no." There is nothing to be ashamed of when it comes to declining something in order to take care of your own well-being. Embrace an awareness of when you feel stretched a bit thin. On every list of New Year's resolution ideas, there should be the commitment to some personal R 'n' R—instead of another obligation. Plus, making sure you're refreshed and well-rested thanks to taking these breathers will make your "yes" times all the more vibrant.

3. Prioritize Rest. An essential goal in rejuvenating your mind, body and soul is making sure you are getting enough sleep. By prioritizing sleep, we give ourselves the foundation of a healthy lifestyle, which helps us remain energetic, focused, creative and clear minded during the day and in turn are able to lead our best lives. While there is no definitive recipe for success, one thing we do know, is that we perform at our best when we are well rested and feeling fresh. Take a critical look at your sleep environment. Are you waking up in the morning refreshed or exhausted? How does your body feel after getting out of bed? If you're physically feeling less than chipper when the alarm goes off, it's time to reevaluate how you're sleeping. Bringing mindfulness into your sleep habits will help ensure you're able to get the refreshing sleep you need to be the best you.

4. Learn a Little Something. Stretch that brain power, friends! In this day and age, it's so very easy to turn our minds off when technology does so much for us. If we aren't mentally stimulating ourselves, we basically sleepwalk through our days. We forget that our noggins are incredible sponges at every age, ready and willing to absorb new information! This year, challenge yourself with a New Year's resolution idea that gives your 'mental muscle' a workout… Take a class. Refresh your math skills. Learn a new language. Join an online chess club. Try reading a book on quantum physics, just for kicks. Get trained in a trade. Your brain will certainly thank you for the grand adventure!
Want More Information?
Please click below to contact our team and we will be happy to answer any questions you have!
Contact Us
Categories