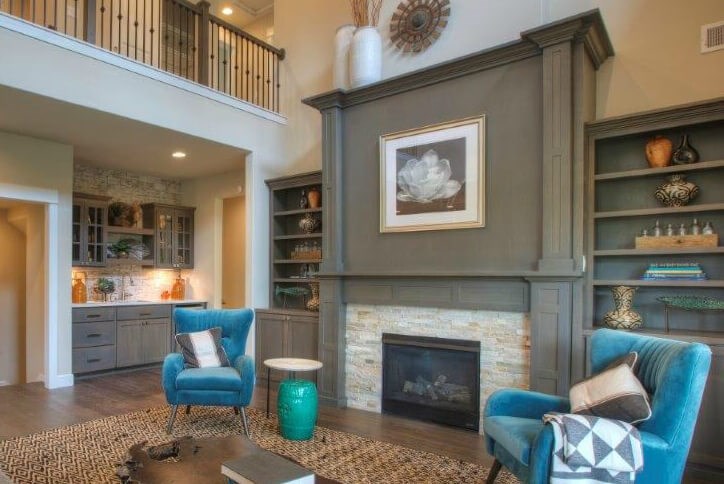 7 Interior Design Trends to Watch in 2020
Every year, design experts predict which home trends have staying power and which won't last long after you pop the cork on your New Year's Eve champagne. Because a new year inspires change, we've rounded up a few of the interior design trends poised to take 2020 by storm.
Darkly Painted Doors and Trim Painting wooden trim or an interior door in a rich color adds warmth, character and personality to a room. Dark trim or a dark door provides an artistic element for the room – pair the door with great hardware and you have an affordable statement piece.

High Wear Fabrics Performance fabrics are helpful in all homes but a definite must for any kid-friendly spaces. These high-tech fabrics have changed the way we live by making all furniture functional for the entire family – working just as well in the messiest of family rooms as they do in luxurious living and dining rooms.

Flex Spaces Flex rooms are a new trend in homebuilding – spaces that can be used in a way that fits your family's lifestyle. Whether you want to use your flex space as a guest bedroom, a game room or a private library, the opportunities and design choices are endless.

Earth Tones Shades of chocolate brown, wine, olive green, and yellow ochre are all taking over in homes in a big way. Consider substituting these warm, natural colors for a neutral on the sofa or walls for a modern update.

Plants, plants, plants! Going green with large and leafy indoor plants helps give personality and another layer to a space. Only real plants need apply!

European Design Details Furniture with European-inspired detailing is trending. German and Italian influences can be found in the sloping arms of couches, knife-edge welts, metal legs, and more. For a quick update on a classic piece consider swapping out the legs for some with European flair.

Saying No to Temporary Furniture Pieces As you get close to the design finish line it's tempting to fill in spaces with temporary furniture while waiting to find a more permanent solution. As sustainability permeates the collective consciousness, many designers are shying away from this trend. Beyond being wasteful, void shopping adds an unnecessary expense while setting the wrong vibe from the get-go for what the room should really look like. Stay patient and it will pay off!
Want More Information?
Please click below to contact our team and we will be happy to answer any questions you have!
Contact Us
Categories