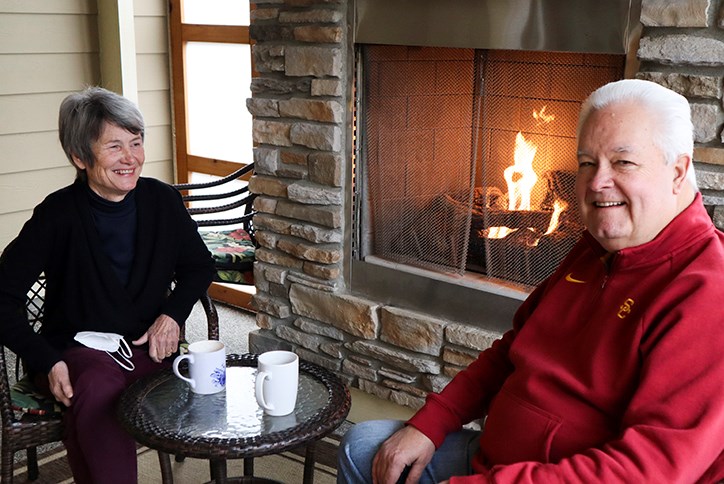 Love at first sight: when you see it, you know it.
The more you see California license plates out and about you might start to wonder if the sunshine is driving people away or if the magic of the Northwest is luring people in. For this SoCal couple, when they visited Tehaleh it was like they'd "driven into heaven."
Jeff and Mary Hirschmann came up to the Pacific Northwest as visitors: a seemingly typical trip to see their daughter in Olympia. They'd been considering moving to retirement communities in California but what they saw down there: it was for other folks. They wanted to be around a vibrant and age-diverse community, not plucked away from one. Luckily, the Hirschmanns drove to Trilogy in Tehaleh.
Jeff and Mary swear by a few rules that have given them a certain steadfastness in their 44 years of marriage. One: do not discuss important issues until both have an opinion on it. Two: wait twenty-four hours before making any big decisions. Of course, anybody knows that sticking to the plan might not always be the case.
On the way to Trilogy, they reminded each other not to say what they thought until they had gotten into the car on the way home.
"We should have given them a down payment."
"Aren't we going to sleep on it?"
"We didn't bring the checkbook anyway."
"We could have used a credit card for a down payment and come back with the checkbook tomorrow."
No, it hadn't been twenty-fours, so Jeff knew Mary was pretty serious. Cut to today and the Hirschmanns are loving their decision. They've been living in Tehaleh since 2015 and are never looking back.
Like any big change, there are a few caveats. Going from sunny sunshine year-round to the Big Dark can be a stark change for anyone. But after adjusting to the winters, Mary was able to embrace the rain and gray as a part of her new lifestyle.
"Everyone here is so friendly," Jeff says he made connections easily and enjoys the unique social atmosphere around Tehaleh. He believes that those who move to the active adult community have common goals that have to do with companionship, community, and activity. Good people like to be around good people.
Jeff and Mary, while once newcomers to the PNW, are now Tehaleh Ambassadors. Ambassadors are willing to talk to anyone interested in moving to the community and can offer any advice people on the fence may have.
Mary's work as a substitute teacher at the two elementary schools in Tehaleh is a perfect way to learn more about the education system and she is always willing to discuss the exciting programs offered.
Jeff can tell you about his fondest Tehaleh moment. While he was out exploring the trails, he walked right into a herd of about forty elk. It took his breath away. As Jeff says, "It's good to look around; that way, when you see it, you know it."
Tehaleh welcomes those curious moments to those looking for a piece of this Northwest magic.
Want More Information?
Please click below to contact our team and we will be happy to answer any questions you have!
Contact Us
Categories