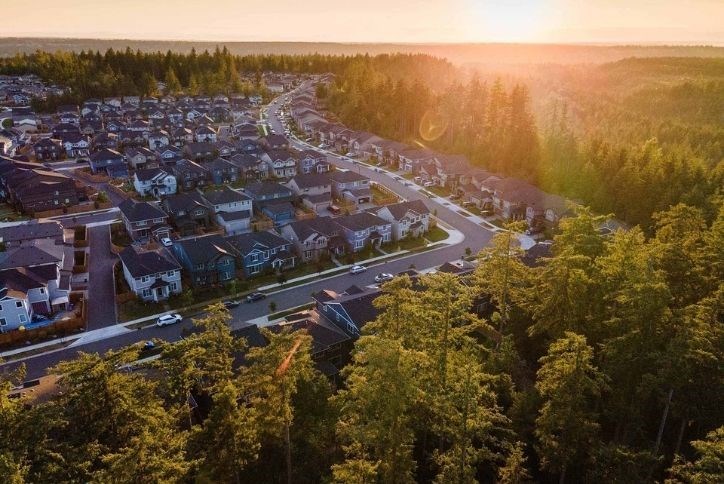 What's up and coming in Tehaleh?
Is that a new park? New homes? You might be chatting up the construction crew, bringing them coffee and donuts in order to get some intel about what's going on in the neighborhood. Soon you might be working detective right alongside them, gaining secretive Tehaleh info as you find the next big scoop.
But to those of us who may be casually wondering about what's coming to Tehaleh, this post will help clear some of that detective work from your plate.
What's happening in the north area of Tehaleh?
Eagle Ridge is becoming Tehaleh's latest grand arrival for new homeowners. For you Tehalehans that may mean a new recruit to the softball team, the next best pickleball champ, park playdates for your kids, and most likely: some new friends for the pup to meet in Hounds Hollow.
Scott Jones (a.k.a Senior VP of Operations), was ready to talk about these new Northern lots and mentioned that they "will have different opportunities for as many different people… that includes location, price points, parks, green spaces, and lot sizes." When there are options to match today's and tomorrow's needs it's easier to feel better about planning your family's future. Jones added, "It's variety for everybody."
Buying a house with a bit more breathing room? A sigh of relief.
Choosing the best floor plan for your lifestyle? The dream.
It's that extra bit of customizability that will help give your home your personal touch and a preference you may not have had before. Plus, it feels…good! You get a say in your stake: your unique, special slice of the PNW.
Jones also brought up the fact that this new expansion will include larger lots, plus a little bit of buyer's choice. "This is the first opportunity to choose the builder and lot," Jones says. Prospective buyers will be able to mix and match. That means getting to choose the ideal lot and contracting the ideal builder. You'll find that you love what Azure, JK Monarch, and Brookstone have in store. And one of these fantastic builders could lead you to the house you've been dreaming of. Adding in that stunning premium lot? Now's the time to hop on that train and see what you can create for yourself. It's an appealing opportunity and it will make your new neighborhood that much more unique.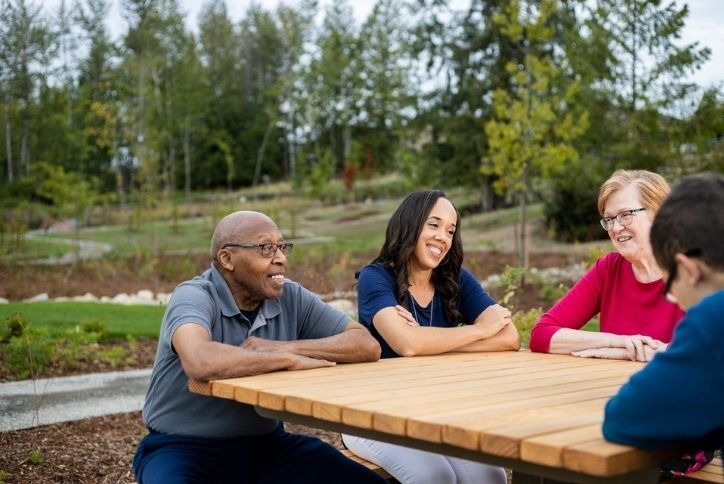 New parks are a big perk.
Some of us love to meet new neighbors, others enjoy the excitement and serenity of our parks. Mix those two together and that's a wonderful community. So which parks will we see get the big ribbon ceremony this year?
First, let's take a look at Discovery Park.
You may have noticed Discovery Park adding new layers and features these past few months. This destination park is a massive 15-acre plot right in Tehaleh's backyard. It is the premier place to throw down a cozy blanket, play some lawn games, and sit in the glorious summer sun. Here are a few other park perks:
Get your green thumb back in shape: a community garden and potting shed.
Large fiesta seating area for those family gatherings down the line.
Walking paths that circle the whole park.
Tehaleh's construction manager, Tammy Braun, notes that "Discovery Park is huge. It's Tehaleh's largest park to date." It will be the go-to place for meeting up with pals, seeing community theatre and programs, and a great way to learn about wildlife and STEM concepts.
And if you're big into bocce, you're about to have a pro bocce ball court nearby. All the more reason to get serious too. Check out some YouTube videos and bank on those skills.
 North Park (working name) is a reflection of Eagle Ridge's future.
What makes every borough in Tehaleh stand out is how the parks fit in with each location. Scott Jones says it best: "The important thing we do is try to guesstimate who will live in the neighborhoods and design the park around what those folks would be interested in."
North Park (working name) will have a mix for the incoming and existing community up there. There will be a netted climbing structure, a picnic and pavilion area, new trails and more.
Tammy Braun's work in the design, preparation, and construction for the parks and trails has been a measurable success. While her background experience has been in construction, she enjoys the visioning process as well. She says of Tehaleh that "A responsible developer can bring so much to the area." She also mentioned that in her travels to California, Oregon, Idaho and to local parks with her granddaughter she loves to pull inspiration and jot them down so that somewhere down the line the Tehaleh landscape can attain something as reflective as other beautiful parts of the country. This approach brings the customization of parks directly to you.
The more the merrier.
Think about it, when you get more things coming down the pipeline, you get new developments, you get new neighbors, your neighborhood gets itself an innovative new park that brings friends to town. You don't have to hop in the car and drive too far, you may not even have to drive at all. The perks rock.
And hey, if you like those friends enough they might even want to move to the neighborhood too! Feel free to send them our way and we'll introduce them to Tehaleh.
Want More Information?
Please click below to contact our team and we will be happy to answer any questions you have!
Contact Us
Categories