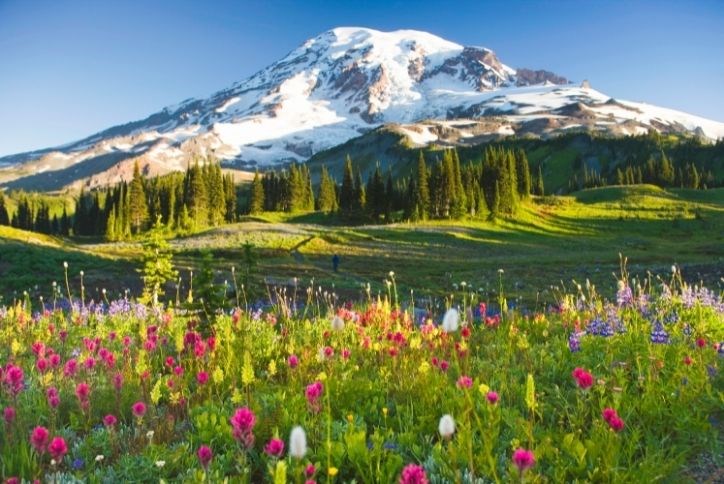 Plan Your Mount Rainier Summer Adventure
Your perfect summer is just around the bend.
It's officially summer and when the answer to "mountain out?" is "yes!" then it's time to hop in the car and make the most of Tehaleh's very own mighty Tahoma. Since Mt. Rainier is right in our backyard we get the answer before many, but you can also take a look at the National Park Service Mt. Rainier webcam to help you figure out what kind of day you're going to have.
By now you have your favorite Mt. Rainier road or entrance. Taking a drive up through Nisqually gets you on a direct route for one of the best summer drives to Paradise, or you want to do a big drive to catch all the views and pass through Stevens Canyon to Paradise back to Tehaleh. It's your mountain and you can do whatever a day or weekend fits.
Let's break it down by each corner.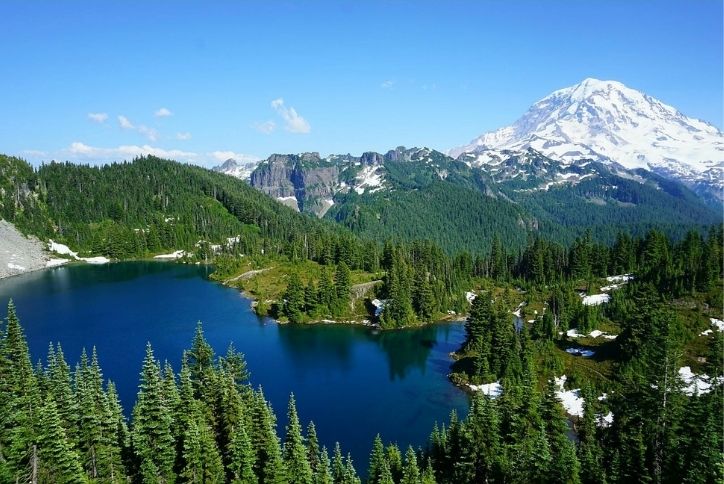 Northwest and the Carbon River
The closest corner for Tehaleh and Bonney Lake residents is the Carbon River entrance.
Unfortunately the road beyond the "official" gate was flooded out years ago and lends itself more as a biking and hiking trail. So if you're big on biking and hiking this is also fortunate for you. If you have a sound gravel or mountain bike you could adventure up Carbon River Road for a picturesque escape or even do a bit of bikepacking up to Ipsut Creek Campground. Note: there's no biking allowed beyond the campground.
What's the best place to paddleboard or kayak around Mt. Rainier?
One of the quickest ways to get right into Mt. Rainier is to take your voyage directly down 165 to the rough riding path of Mowich Lake Road. Just like that you're away from everything (including the bulk of those crowded hikes we all know and love.)
Mowich Lake might be the sole Mt. Rainier lake to escape to in 2021 that's ideal for both fishing and paddling out. To be sure that you're within regulation head over to the NPS Fishing and Boating guide to see the most up to date information.
Make it a two day adventure and find your lakeside campsite on Mowich Lake too. You're likely to be among Wonderland Trail hikers! If you're not ready to sweat it out on the 93 mile Wonderland hike just yet, the Tolmie Peak Fire Lookout trail is highly recommended. You'll get to trek a part of the Wonderland Trail while finding an incredible scenic overlook. Your legs will definitely feel this one.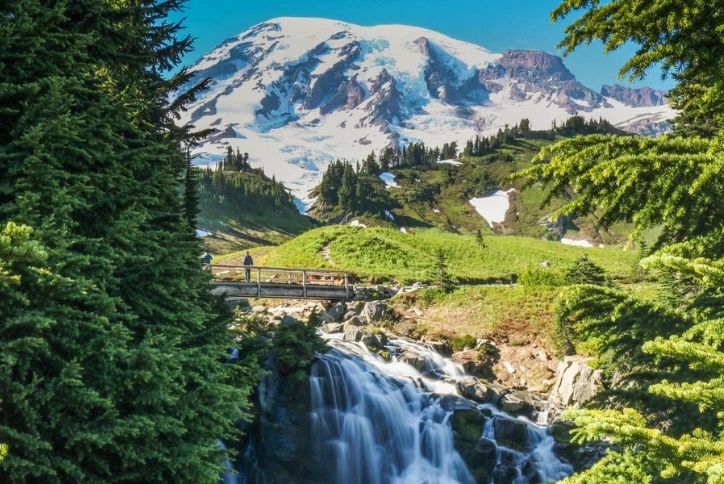 Paradise via the Nisqually Entrance
Take the Paradise Loop on a blue sky day.
Those snow-free days are quickly upon us and it's our responsibility to enjoy the short, yet phenomenal Paradise activities when we have the chance. Here are a few trail options you can take depending on the best fit for you or your family.
Easy family hike: Myrtle Falls
If you're looking to stretch your legs on a quick hike, you can head on a 0.8 mile jaunt up Skyline Trail to see an awe inspiring waterfall vista. It's an easily accessible hike and a perfect spot to let all those car crazies out.
Gorgeous out-and-back that'll make you sweat: Moraine Trail
When you're looking for a hike that delivers stunning views and many opportunities to see wildlife, this is the one. The 630 feet of elevation will get you going for that first mile but makes the rest of the trail something to behold.
Leg Burner: Skyline Trail Loop
Want to see the falls, the mountains, and get a solid workout in? This 5.6 mile trail takes you up 1800 feet, provides astonishing scenery, and reminds you how resilient and lively the mountain's wilderness is. Take care of your surroundings and be bear aware.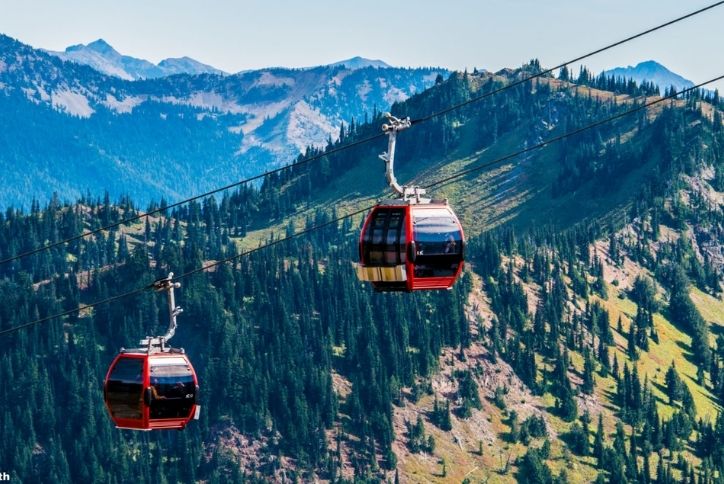 Northeast in Sunrise and White River
Campsites and gondola rides.
Maybe you missed out on the ski season this past winter. The Crystal Mountain gondola is one of the best parts and makes it easy when you're not trying to get a big hike in that day. Plus you don't have to lug around any equipment to enjoy the summertime vistas. This makes for a great pit stop on your way down to a campsite or cabin.
See the Sunrise in...Sunrise.
Looking for a short hike-in camping spot? The Sunrise Walk-in Camp is a 2.7 mile loop and an ideal launch pad for any further hikes. Plus, it's the easiest place to catch the sunrise when all you have to do is sit up, unzip your tent, and watch.
If you prefer car camping or want to use RV hookups, White River Campground will give you similar benefits and a whole different set of trails to choose from.
Keep in mind that this is higher up in elevation than many other places within Mt. Rainier National Park, so be prepared for altitude. Also for those backpackers in the wild, don't forget to get a backcountry permit.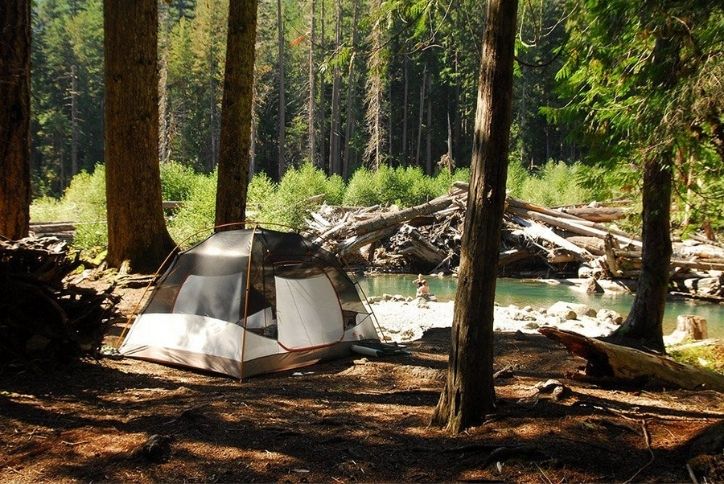 Southeast and the Stevens Canyon Entrance
Take a round about car tour and catch Rainier's evening Alpinglow.
Looking to cruise around to the furthest corner of the park from Tehaleh? The Southeast corner will carry you along a band of stellar views. As you voyage east along the winding Stevens Canyon Road toward Paradise you'll be travelling through an unparalleled, majestic mountain air.
For the round about weekend travel, you'll want to set up camp somewhere along the way.
Here are a few trusted spots:
Ohanapecosh Campground. This developed campground provides those basic necessities as well as the trails that bring us peace. Opt for a 4 mile hike: experience the Ohanapecosh River and the Silver Falls. Plus, you can add on another 1.2 miles to see the Grove of The Patriarchs.

Paradise Inn. Located in the heart of Rainier's tourism you'll find a room and a meal worth returning to.
While you're more than likely to already have your own National Park pass there are a few free admission days that might make you want to head down and celebrate the backyard mountain you call home.
August 4th 2021
August 25th 2021
September 25th 2021
Want to schedule a visit to Tehaleh on your Mt. Rainier vacation? Our representatives want to hear from you and we'd love to set up an appointment.
Want More Information?
Please click below to contact our team and we will be happy to answer any questions you have!
Contact Us
Categories