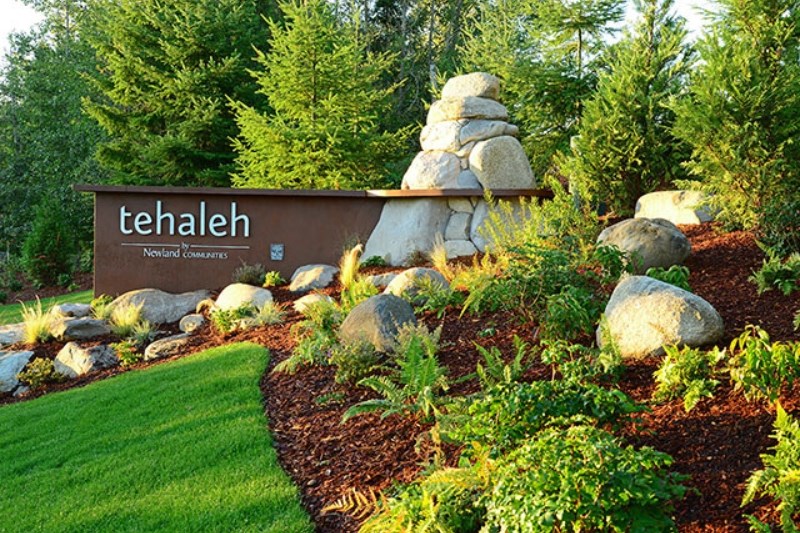 Finding a Balance Between Cairns and Tehaleh
In the PNW and especially in Tehaleh, cairns are on full display. Cairns have historically been used to guide explorers, hikers, and wanderers through rough conditions. Their unique look and prominence show that, yes, humans have been here and what lies ahead is likely to be your next best step forward. It's a note of solace in a complicated world.
What they mean to one person can vary to another. Some see cairns as a meditative act – to find balance in the course of nature. Others like to test the limits and see how complex a cairn's composition can become. Nature has its own version of Jenga and finding yourself building a cairn can even bring these various methods altogether.
Many outdoors enthusiasts and naturalists would prefer to leave those stones unturned. The Leave No Trace website says that cairns are "very important guides for hikers during periods of low visibility (dense fog and whiteout) and in winter when snow covers the trail." To Leave No Trace can often be your best bet when hiking deep in the wilderness, especially if your more "casual cairn" might accidentally bring a passerby to a place that needs no marker.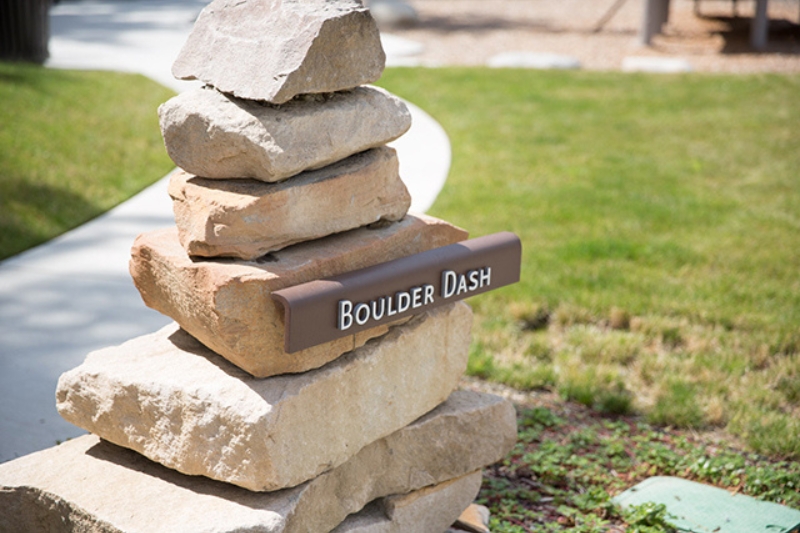 Nature's Jenga
Finding the right use of cairns depends on your own purpose. It is a carefully balanced structure that takes time to find which are the right stones to stack. Alongside a chatty creek or waiting for the sunset at a remote campground, this practice can center your mind and let the flow of time pass without worry. At home you might find that a fidget gadget, clicking a pen, or shuffling a deck of cards helps you get back into the right mindset. Cairns are a natural method to do this too, so long as you're around the right rocks!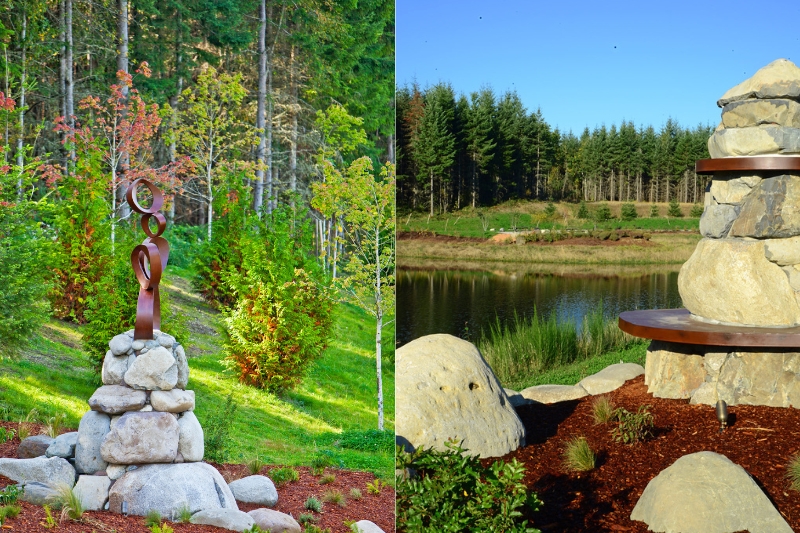 An Art of its Own
The more intricate examples of cairns are likely to inspire an artist to test the limits of what is imaginable. For instance, Gravity Glue, introduces the complex variables of weather, water, rock shapes, and brings them to their natural balance. How?! Sheer determination and craft, it seems, as these cairns are ephemeral. Gravity after all, is the glue that keep these cairns together.
In a different medium like sculpture, you might find the work of Alexander Calder to reflect many of the same principles of balance and craft. More specifically, his mobiles, which are intricately designed sculptures in various geometric shapes that can cast shadows and absorb light in seemingly endless combinations. Balance, materials, and environment may appear different, but the art has a perspective of its own.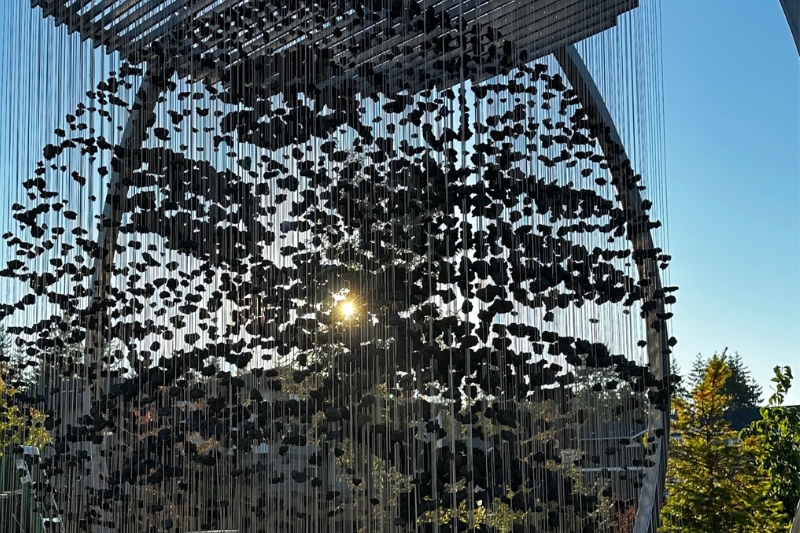 More recently, Tehaleh has welcomed a new work of art into the community by The Bureau. This deconstructed cairn sculpture may appear a bit differently than the Tehaleh logo, but its unique composition gives a sense that each volcanic rock is a piece of each neighborhood that, altogether, shows the full heart and soul of this community. And no perspective is the end-all-be-all. At all hours of the day, throughout the seasons, this eye-catching sculpture will present new ideas and ways of seeing.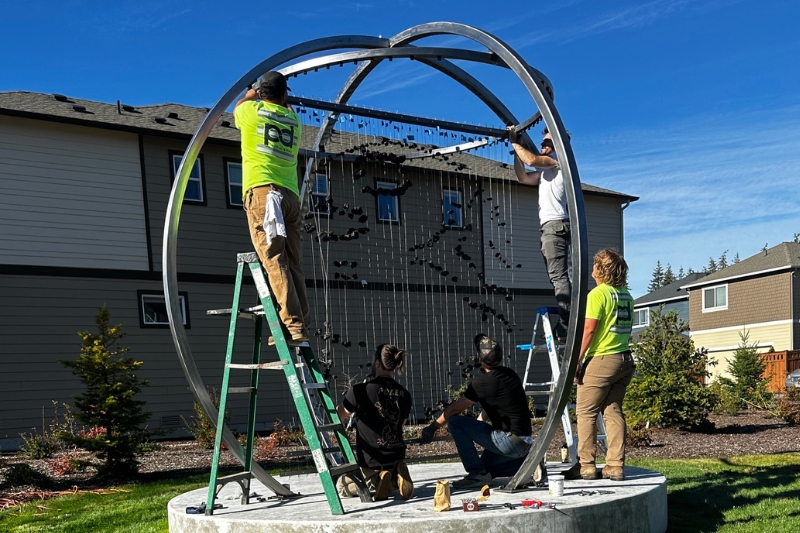 The artist, Lucas Schwartz, shared with us that his inspiration came from wanting "to create a sense of place, and timelessness, but also ephemerality. A cairn is a kind of placeholder for the image of man. It's as old as time itself, or the human recognition of it. So it was fertile ground for inspiration." Taking the original sketches into its 3D "sculpture" in the digital landscape and then into the beautiful sculpture we see completed took many months and hundreds of hours for Lucas and his team. After such a long, challenging process, Lucas shared that it was "really gratifying to see it exist in the physical world. I hope it will be enjoyed long, long into the future."
In Tehaleh, one's own perspective may shift and change over time. The gorgeous Cascades are a stunning and everchanging beauty that starts from the ground up. Like the homes and folks in Tehaleh, this all-encompassing nature can only flourish on the intricate balance between humans and nature. To find yourself here, is a wonder.
Get in touch with our team and we'll gladly show you the kind of cairn your life here can be.
Want More Information?
Please click below to contact our team and we will be happy to answer any questions you have!
Contact Us
Categories