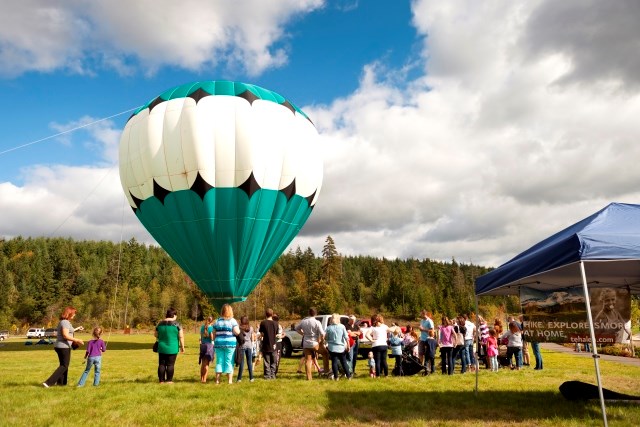 Tehaleh Celebrates 4th Anniversary with Hot Air Balloons, Hay Rides, and Trail Runs
Tehaleh's popular Harvest Day festival returns on September 26th, and with it, trail runs, food trucks, hot air balloon rides, beer and wine garden as well as free activities for all ages. The event celebrates the fourth anniversary of the Puget Sound's top-selling new home community, offering a chance to sample the unique amenities and outdoor lifestyle at Tehaleh.
The day begins with runs throughout Tehaleh's scenic trails in the third annual Evergreen Trail Run. There is a run for every skill level including a marathon, half-marathon, 10K, 5K and 1K Kids Run. Blitz, the official mascot of the Seahawks, will be on hand to support runners and give high-fives as they cross the finish line. More information and registration is available at evergreentrailruns.com.
After the trail runs, peruse through the Bonney Lake Chamber of Commerce community vendor fair or take an old-fashioned trot through Tehaleh on a horse drawn country wagon hay ride.
See the community from a different view in a free 50 foot tethered hot air balloon ride from Captain Crystal where the 360-degree view of the mountains and Tehaleh below are sure to be incredible. If soaring into heights isn't for you, experience the inner workings of a "grounded" inflated balloon tilted on its side, allowing visitors an inside view on how the balloon works. New this year is the Dream Catcher, a two seated balloon, much like that of a swing, allowing those with special needs or physical limitations the chance to soar.
Home shoppers will enjoy tours of the 12 models and available quick move-in homes from nine renowned builders – Azure Northwest Homes, Conner Homes, HC Homes, Lennar, Oakridge Homes, Pulte Homes, Quadrant Homes, Richmond American Homes, and Trilogy at Tehaleh, our 55+ neighborhood. Visitors will find a variety of floor plans with designer finishes while they have the chance to enter to win a variety of deluxe prize packages, including a one-night stay at Great Wolf Lodge for a family of four!
Relax and refuel from touring the model homes at the complimentary food tent including Famous Dave's barbecue, My Sweet lil' Cakes, roasted corn, or build-your-own ice cream sandwiches from the Street Treats dessert truck. For the 21 and older crowd take a break from the action at the Bonney Lake Chamber beer and wine garden while listening to great local bands.
Ensure you're keeping up on the action. Visit the online calendar of events or check us out on Facebook for upcoming events.
Want More Information?
Please click below to contact our team and we will be happy to answer any questions you have!
Contact Us
Categories