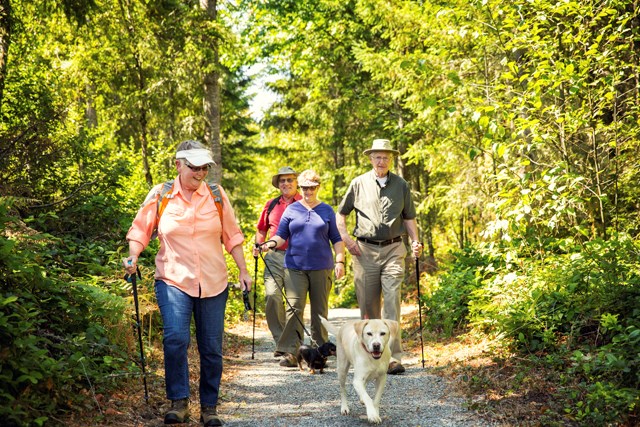 Events and Clubs at Tehaleh: Creating Memorable Moments
Tehaleh continues to grow and so do the various entertaining resident and community events. Resident events are a staple throughout the year and allow homeowners a chance to mingle and meet their neighbors. Here are a few of our most popular events and clubs.

Community Garage Sale
Community-wide garage sales and barbecues are a frequent event at Tehaleh. We invite guests to tour our community as residents host a community wide sale each summer. The Friday before the sale, block parties are hosted for residents to tour the sales and eat with their neighbors. At the end of the sale, all non-purchased items are donated to a local charity.

Lowe's Spring Build and Grow
Tehaleh partnered with Lowe's for an interactive potting event where residents brought their own flower pots (or were provided one) and were invited to fill them with colorful annuals.

Resident Movies in the Park
HOA events committee hosts movie in the park night at Big Sky Park, complete with popcorn. It's free admission if you bring a few school supplies.

Harvest Day
The annual Harvest Day is a popular community event hosted at the end of September to celebrate the anniversary of the community. The morning begins with runs along the scenic trail system including a marathon, half-marathon, 10k, and 5k where the official Seattle Seahawk's mascot, Blitz, is on hand to give high-fives as runners cross the finish line. The rest of the day is full of hot air balloon rides, live bands, beer and wine garden, local vendor fair, food trucks, horse drawn country wagon rides and more complimentary activities.

Seattle Sounders FC  
The community partnered with the best team in Major League Soccer, the Seattle Sounders FC for a new and exciting promotion. For a limited time Tehaleh gave away Tehaleh and Seattle Sounders co-branded scarves to home shoppers who visited the community. Tehaleh hosted one of the starting players, Gonzalo Pineda, as he greeted guests, signed autographs and took pictures. Tehaleh was also onsite at two of the Seattle Sounders' matches informing guests on the community and handing out co-branded color changing drinking cups.

Bonney Lake Food Bank
Tehaleh came together earlier this year to donate more than $200 in cash donations and 317 pounds of non-perishable supplies to the Bonney Lake food bank. Our residents believe in giving back to those who are around us and we will continue to partner with the food bank to donate and host drives. Check back to see what the next drive's theme will be. Whether it's to collect supplies for babies and women, or dry food for dogs and cats, Tehaleh is always looking to give back.

Clubs at Trilogy
Trilogy at Tehaleh has several active groups that meet regularly, all resident initiated.  

Bunco  
About 30 women meet monthly for a pot luck dinner and to play Bunko.

Monthly Women's Luncheon
Trilogy residents car pool or meet up at different restaurants in the area on a monthly basis.  

Herding Cats Hiking Club  
Also aimed at women, this group of serious hikers schedule regular hiking trips on Western Washington Hiking trails.

Mexican Train Dominoes
Aimed at couples or singles, this group meets monthly to challenge their skills at this popular dominoes game.  

Book Club
Meeting monthly, this is open to all Trilogy residents, couples or singles.  Currently this budding group meets at The Post.

Supper Clubs  
The Trilogy Neighborhood Supper Club involves interested couples or singles assigned randomly to small groups who take turns sharing a meal in each other's homes over a period of six months.  The plan is to shuffle the groups at six month intervals, add new people and new groups.
Want More Information?
Please click below to contact our team and we will be happy to answer any questions you have!
Contact Us
Categories