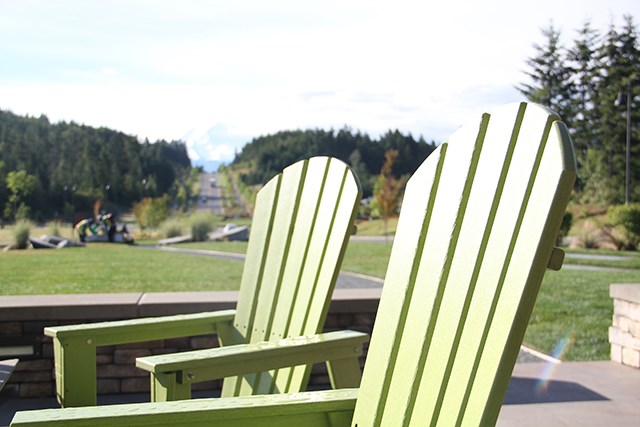 10 Reasons to Move to Tehaleh
From the perfect cup of coffee to the majestic Mt. Rainier, residents love Tehaleh. We asked our residents why they moved here and here are some of their top picks!
                                                                                                   
1. Home Sweet Calm

As soon as I make the turn into Tehaleh, I get a smile on my face! I love all of the trails, trees, and quiet! It drops my blood pressure immediately! I LOVE IT! -Dean I.

Can where you live really make you healthier? We'd like to think so. Tehaleh was designed to be your oasis of calm, the peaceful place that welcomes your return after a long, busy day. And with miles of trails for walking and biking, along with exercise classes, it's easy to stay in shape.

2. Fido's Backyard Just Got Bigger

"I love being able to take my dog on walks on the trails." -Atalie D.

Just open your front door, and you and your favorite four-footed friend can experience nature on a grand scale. From the newly opened Hounds Hollow off-leash dog park to over 1,900 acres of parks, trails, and open space that weave through evergreens, rocks, wetlands—Tehaleh has everything to keep pets happy.

3. Lattes and Lunch at Home

"I bike to get a coffee at Caffé D'arte or a great meal at The Mantel." -Maribeth I.

Get the perfect cup of your afternoon pick me up at Caffé Darte or grab a nice dinner at The Mantel—Tehaleh's newest restaurant. You can stroll, walk, bike to your favorite places in the community.
 
4. Epic Mountain Backdrops

"I love the views." -Amanda B.

Nothing beats the breathtaking view of Mt. Rainer. The majestic mountain is a beautiful backdrop to the numerous parks and the homes in Tehaleh.
 
5. Coffee Talk

"Love walking the trails and stopping in at The Post for coffee. Best froth ever!" -Mary D.

It's proof that simple things are important. Everyone loves stopping for coffee or light fare at Caffé D'arte at the Post, the neighborhood gathering place. It's the perfect place to go before or after a trail session.
 
6. Seven Slices of Heaven

"Trilogy. Serene. Lovely. Great people. A little piece of heaven." -Mary C.
 
At the heart of Trilogy—Tehaleh's 55+ community— lies Seven Summits Lodge, the active adult clubhouse inspired by resort mountain lodges. At Seven Summits grab a game of billiards, swim a few laps, or get your pickleball on, the opportunities are endless. And with its very own restaurant The Mantel, you never have to leave.

7. Kid Friendly, Resident Approved

"We absolutely love our community and all the activities that involve the kids." -Jossalyn B.

There are activities for kids of all ages. Stroller clubs, book clubs, and garden clubs are just the beginning. Tip: Check out the Tehaleh Facebook page for upcoming events!
 
8. Neighbors that Play Together Have Fun Together

"I love the sense of community we have here! Everyone we have met has been friendly and inviting! We love that our son will grow up in a place as beautiful as Tehaleh is! There is nothing about Tehaleh that we don't love!" -Samantha K.

It can be hard to move to a new community. "Will I make friends?" is a question we all ask. Tehaleh has countless events and activities that make it easy to get to know your new neighbors.
 
9. Ziplines and Skate Parks and Scooter Parks Oh My!

"Parks! Skate Park!" -Lucas S.

Eleven parks make it easy to experience the outdoors at Tehaleh—from the scooter park at Sprouts Holler and the doggie fun at Hound Hollow, to the zipline at Big Sky Park and skate park at The Edge. Of course, all of our parks offer a great place to enjoy a lazy afternoon in the shade with a good book.
 
10. A+ Schools

"I like that the schools are close to my house." - Avory K.

With premier onsite schools for Tehaleh's youngest residents at Donald Eismann Elementary School and Tehaleh Heights Elementary, kids can conveniently get to class. Older students attend Mountain View Middle School and Bonney Lake High School, which are located just a few miles north of the Tehaleh community.

Stop by and see it for yourself.
Want More Information?
Please click below to contact our team and we will be happy to answer any questions you have!
Contact Us
Categories