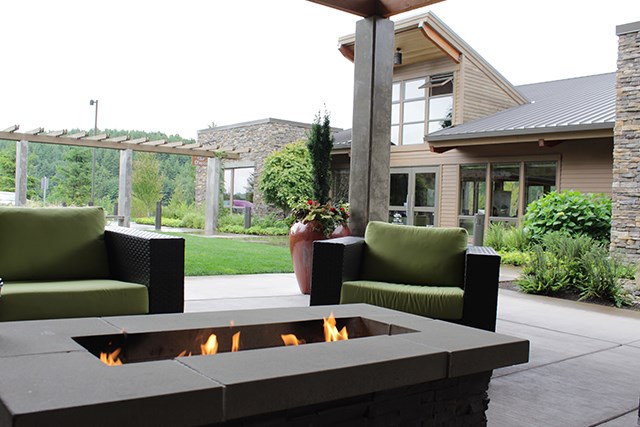 The Best Place to Warm Your Heart (and Toes!) in Tehaleh
Think sitting around the cozy campfire times 1,000. The Tehaleh warming hut provides plush pillows and comfy seating around the fireplace. Relax before setting out on the Tehaleh trails or catch up on your favorite book.
Families can enjoy a smoothie from the Caffé D'arte to wind down after a hike or a tasty breakfast. During the holiday season, you'll see a lot of families taking their holiday-card photos at the Warming Hut, and when spring rolls around, you'll find teens taking selfies here with their prom dates.
"There are many mornings when you can see families gathering, making memories with hot chocolate from the café or warming up before they walk to school," says community representative Aimee Ryan Van-Buskirk. "It's a tranquil space that many guests use to read a book or simply check email. We've had residents host baby showers in the Warming Hut, proposals, and even an impromptu pop-up wedding!"
The Warming Hut is just one of the many places in Tehaleh where residents are invited to stop and enjoy life's small pleasures.
Want More Information?
Please click below to contact our team and we will be happy to answer any questions you have!
Contact Us
Categories