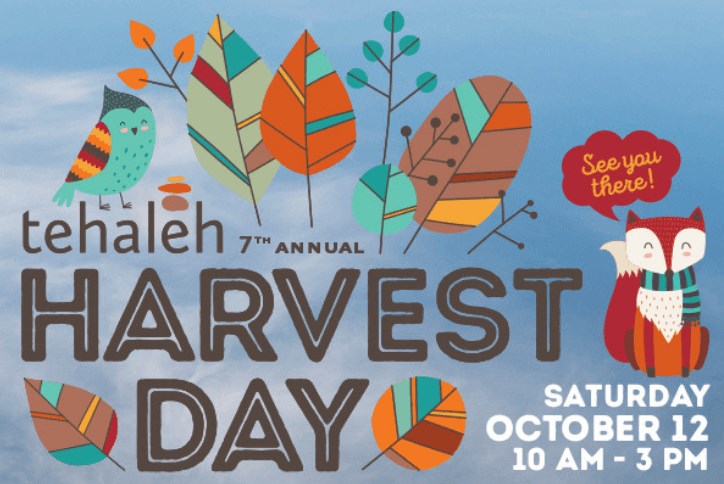 An Insider's Guide to the Harvest Day Festival!
In celebration of autumn's bounty and in gratitude to our wonderful residents, Tehaleh's biggest event of the year returns! Join us Saturday, Oct. 12, 10am to 3pm, for our 7th Annual Harvest Day Festival. We're working hard behind the scenes to offer you a full day of wholesome fun! From our vendor village to carnival games to a massage tent–there's bound to be something for everyone.
This year's event will be jam-packed with memorable moments for the whole family. Start your day with a revitalizing run along the trails, choosing between the competitive or family fun run 5k. Then, join the party for face-painting, balloon artists, games of chance and skill, inflatable axe throwing, music, a photo station and much more! Admire the gorgeous fall foliage surrounding Tehaleh while enjoying sips and snacks of the season provided by local food truck vendors or take a break from the fun and relax with a beverage in our beer and wine garden.
And what would a festival be without the nostalgic adrenaline rush from your favorite carnival rides? This year we've planned an exciting variety of attractions with the pièce de résistance being a dual zip line, allowing two adventurous guests at a time to race one another while soaring 30 feet in the air. Gulp!
To guarantee you and the family have a great time here are a few insider tips from our experts to make this year's Harvest Day your best yet!
1. Avoid the "Day of" Lines
• Residents can pick up their commemorative stickers* the Thursday and Friday before the event at The Post from 10am - 5pm.
• Residents and guest alike are invited to pick up your free ride bracelets the Thursday and Friday before before the event at The Post. These bracelets are needed for children of all ages to enjoy the rides. Can't make it before? No problem! Ride bracelets will also be available near the rides the day of the festival.
• Get to the zipline, carnival swing, and face painting early as the lines start forming upon opening.
2. Transportation and Parking
If you can help it– don't drive! Parking will be extremely limited. Residents should meander through the trails, ride their bikes or walk to the event. If you do need to drive, event parking starts at Donald Eismann Elementary with additional parking at Tehaleh Heights Elementary as needed. Courtesy trolleys will run every 15 minutes until 4pm to take you to the event.
3. Tehaleh Tour of Homes
Back by popular demand! Tour 30+ homes – models, quick move-ins and resales. Builders will be talking about new neighborhoods and brand-new floor plans (with some new lower prices!) coming online in 2020. Everything from cottages to duplexes to townhomes will be discussed. Resident Ambassadors will be on site during the Tour of Homes to answer any questions you may have about life in Tehaleh. Looking to celebrate the holidays in your new home? Make sure you ask about our quick move-in options!
4. Quench Your Thirst and Relax at The Post
After a full day of fun and home tours, those in the know will relax at The Post, where Caffé D'arte will be featuring a signature Harvest Day Festival drink. Elite Massage Professionals will be onsite to provide Elite Chair and Table Sports Massages for $1 per minute. You can also pick up your free stickers* and wristbands, if you haven't already.
5. Don't Forget to Sign Up for the Harvest Day Trail Run! (scroll down to events)
Evolve Strong Fitness is hosting the run that will take participants on a scenic loop winding through the trails of Tehaleh with Mt. Rainier visible in the background for much of the course. Runners can opt for the 5k competitive run or a 5k family-fun run (bring your strollers!) while kids will enjoy the 1k kids run. Registered participants will receive a cute, commemorative t-shirt for their efforts. The course ends at the Harvest Day Festival, so you'll be ready to meet up with your family and friends or get the kinks out by heading to The Post to enjoy a professional massage for just $1/min.
6. Kite Park is Where It's At!

Kidz Zone at Kite Park

• Inflatable tree slide. Climb up the gigantic tree trunk staircase to reach the top of the 20' tall tree house before sliding back down to the bottom!
• Resident Bob the Slug Man – showcasing the different trees of Tehaleh as well as our state emblems. Try your hand at creating a Tehaleh emblem. 
• Balloon Characters. Giggleworks will be creating memorable balloon characters dictated by your little ones.
• Face Painting. Due to popular demand, this year 6 artists are coming in!
• RC Boats on display. Enjoy a hands-on experience at the fun float with the Commencement Bay Maritime Modeler's Club.
• Straw bale play tower. Little tykes can climb, jump and play for a hay of a good time!
Kite Park
• Food truck rodeo. Enjoy a taste of the Pacific Northwest while dining in the sunshine! 
• Beer and Wine Garden. Sponsored by The Old Cannery Furniture Warehouse.
• Carnival Swing. Fulfill your nostalgic adrenaline rush on the light-up swing ride that gradually picks up speed.  
• Inflatable Ax Throwing. Step right up! Axe throwers of all ages and ability can test their talents on this inflatable beloved past-time.  
• Zip line. This dual zip line allows two adventurous guests to soar 30 ft in the air!
• Vendor Village. Discover local artisans for a little early holiday shopping, as you wander through nearly 100 unique vendors:
Stitch Craft Embroidery
US Bank
Majestic Skin
9Round 
Mt. View Chiropractic and Wellness Center
Mary Kay
Little Bear's Homespun Suds
Young Living Essential Oils & Norwex
Celebrating With Suds Natural Soap
Pierce County Library Bonney Lake
Tehaleh Airport Shuttle
Do Me a Favor Cookies
NAP Art
Live Edge Slabs Lake Tapps
Rusty Timber
Chalk Couture Independent Designer
Art of Helen Betz
Redemption Bible Church
Church of Jesus Christ of Latter Day Saints
Costco Bonney Lake
Fiesta Foods
Fat Zach's Pizza LLC
Street Eats Mobile Eatery
B&C Casey Enterprises, LLC (Munch Much Waffles + More)
Bliss Small Batch Creamery
Legendary Doughnuts
Take some time between the fun and enjoy the stunning fall colors on display throughout the community ¬– photo opportunities abound! Don't forget to tag any social posts with #TehalehHarvestDay.
*Complimentary stickers are on a first come, first serve basis.
Want More Information?
Please click below to contact our team and we will be happy to answer any questions you have!
Contact Us
Categories