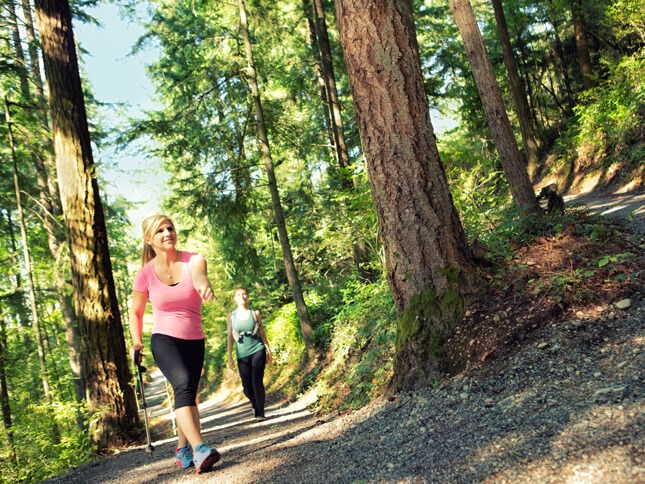 Hiking in Tehaleh
Washington State is widely known for its "near nature, near perfect" ambiance. From the Pacific Ocean and Mount Rainier to the Gorge and Puget Sound, Washington is the perfect place for active individuals and families to set down roots.

If you're looking for a place that combines unique fitness opportunities in nature, great schools, choice dining, and stellar views of Mount Rainier, then Tehaleh is just what you need. Our community boasts nearly 30+ miles of nature trails, 13 parks (including a dog park), and more than 1,800 acres of open space to explore. The incredible views and hiking trails are two of the many reasons Seattle-area residents are relocating to Tehaleh, Washington's top-selling new home community.
Why Take Up Hiking?
If you're not already into hiking, then Tehaleh will provide the perfect opportunity to start this rewarding hobby.

Whether you're hiking up mountains, over hills, along plains, or through forests, it's a great and increasingly rare chance in today's style of living to connect with the world around you, with nature and with yourself!

Hiking requires very little to get started and it can offer many long-term benefits. All you need is a good pair of walking shoes and a bottle of water at the very least. For longer hikes, bring a backpack for the essentials.

Because hiking is low impact, it's a sport that you can do for the rest of your life. Aside from the health benefits of physical activity, hiking allows you to get outside with family, friends and neighbors. With over 30 miles of trails, Tehaleh has created an excellent spot for anyone who enjoys being in nature.

Tehaleh Trails

Tehaleh was specifically designed with outdoor living in mind. With many trails winding through the community, residents have lots of space to go out and explore.

Forest Loop, one of Tehaleh's most popular trails, is a 3.31-mile hike that provides a scenic stroll around the community. Like many of the trails in Tehaleh, it winds through neighborhoods, pines, rocks, and wetlands connecting not only homes and schools, but also neighbors. You'll feel a great sense of community as you step out and start exploring Tehaleh.

Geocaching
Residents in Tehaleh have taken it upon themselves to bring geocaching to the community. It's an exciting game that has massively grown in popularity, and Tehaleh now has many geocaches hidden throughout the area. Popular hiding spots include parks, trailhead signs, and large rocks along the trails.

Geocaching gives a fun twist to your hiking adventure and allows you to explore new areas of the community. Learn more about how residents in Tehaleh are interacting with this fun game.

Parks and Trails for Everyone
Tehaleh's trails are designed for every skill level, making them accessible to the whole community for activities such as hiking and biking. For those days when you just want a relaxing stroll or hang-out spot, our parks provide the perfect getaway.
Surrounded by Nature
With nature comes wildlife and the residents of Tehaleh have the opportunity to see some of the native animals to Washington state, which includes:
You can use Tehaleh's handy trail guide to help navigate the walking trails in the community and also to help visitors spot their native neighbors.
Mount Rainier National Park
The majestic beauty of Mount Rainier is impossible to miss. As one of the tallest mountains in North America, its stunning presence draws the eye.

Mount Rainier National Park offers more than 260 miles of maintained trails that lead through peaceful old-growth forests of the river valley to high subalpine meadows on the flanks of Mount Rainier. Through these trails – with a variety for all skill levels – you can explore the forests, lakes and streams and view the fields of wildflowers and network of glaciers.

With easy access to Mount Rainier National Park—only a short drive away, the hiking opportunities for Tehaleh residents would take a lifetime to fully explore.

Committed to the Future
Tehaleh is continuing to grow, but as a master-planned community designed around nature and outdoor living, Tehaleh promises to stay close to its eco-friendly, open space roots. Look for future expansion of the parks and trails on our website, including the Forest Park area with an already planned 20-acre expansion in the works for this tree filled area.

For more information come visit us at The Post, our visitor information center, or check out our Future Plans page. 
Want More Information?
Please click below to contact our team and we will be happy to answer any questions you have!
Contact Us
Categories