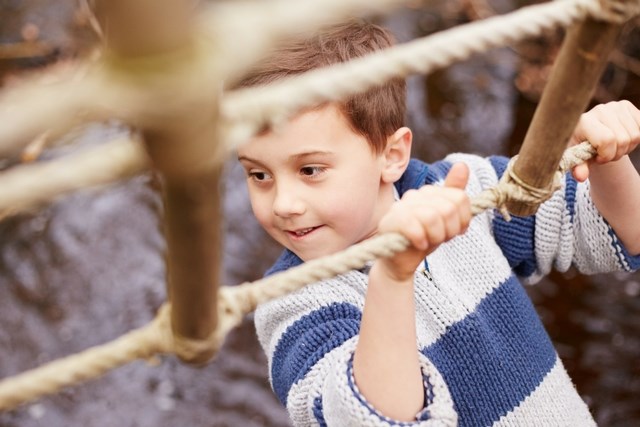 A New Park for Junior Explorers
Calling all treasure hunters and explorers! We have opened our eleventh park! From a tree fort to animal tracks, Expedition Grove features fun activities for all ages – plus, stunning views of Mount Rainier, the mountain that inspired early Pacific Northwest expeditions.
Kids will love channeling mountaineers as they climb the park's tree fort and practice crossing over the rope bridge – a thrilling adventure that sparks the imagination. Kids of all ages will enjoy soaring on the swings below, designed to inspire serious laughter.
Budding detectives can test their skills while hunting for the one special log among all the stumps in the park that conceals a geocache. Explorers can check their coordinates, line up their compass and get hunting! Once they find the cache, the little scavenger hunters can add their name to the log, take out their discovery, and replace it with a small treasure for someone else to find.
Visitors can also test their animal tracking expertise and take a shot at identifying some of the footprints preserved in the concrete. A quick hand-to-track comparison shows how human hand-prints measure up against the elk, black bear, and cougar tracks. A nearby story pole features animals known to roam the Northwest wilderness. At the base a strong bear sits holding a happy baby bear. Above the clever bobcat sits the trickster Raven. Can you find the clever animal that seems to have escaped them all?
After all that exploring, visitors can rest under the picnic shelter for a little snack or lunch break. Once a second wind hits, a short hike down the Forest Loop Trail to The Post means hot chocolate and a sweet treat from Caffé D'arte. There, our friendly and informative staff can answer any questions you may have about the Tehaleh community.

Be sure to check out our Community Map before you trek out to Expedition Grove and discover your own Tehaleh adventure by searching the Homefinder today.
Want More Information?
Please click below to contact our team and we will be happy to answer any questions you have!
Contact Us
Categories