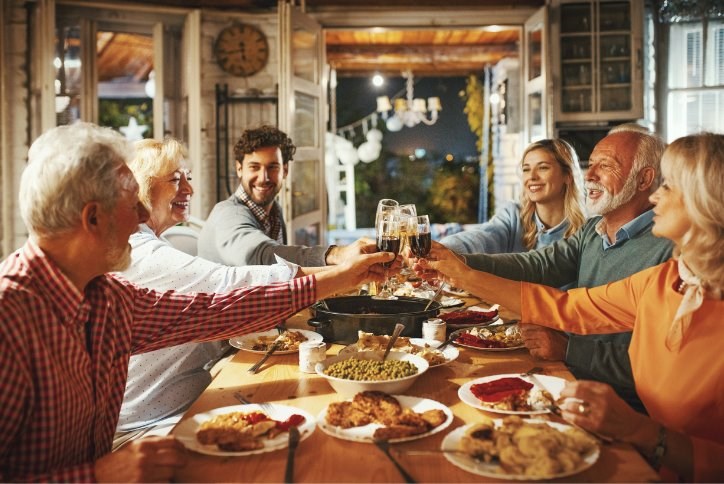 Pro Tips for Holiday Entertaining
Whether you're planning a big holiday party with all of your friends, or a sweet, intimate gathering with close family, entertaining this time of year can be equally stressful and joyous. Below are a few entertaining tips that allow you to take the focus off of the details and onto your guests–where it belongs.
Keep it Simple
Focus on your table and your meal–not the whole house. Cozy things up by adding a few lit, unscented candles to your space and create centerpieces that are easy to assemble. If you're trying to stay within a budget, try shopping your house for table decor. Pull those brass candlesticks off your bookshelves and borrow candle holders or lanterns from your mantle to make your table shine.
Perfection is Not the Goal
Overall, your guests will feel as comfortable as you feel calm, so take time to enjoy these moments. Celebrating each other and the holiday is the point of the gathering. Relax and appreciate the community and the meaning of this special season with those around you who matter most.
Incorporate Natural Elements
Bring some of the natural Tehaleh beauty indoors by weaving organic elements into your décor. Search your yard, flower shops or neighborhood trails for holly, cypress, pine or magnolia tree clippings. Weave eucalyptus or pine branches into your chandeliers for a heavenly scent. Use those holly clippings to spruce up a basic evergreen wreath. Add a festive ribbon, and hang them over mirrors, headboards and on your front door.
Include Something for Everyone
Check with your guests about possible allergies and dislikes, then plan a well-rounded menu that keeps everyone happy and well fed: vegetarians, carnivores and caviar-phobes alike.
Keep the Food Coming!
If you start with cocktails at 6 but don't serve food until 8, someone may be wearing a lampshade by 9:30 :). To balance the wine, beer and cocktails make sure there is ample food available throughout the entire evening.
Refill Platters Often
Nothing says the party's over like picked-over serving trays. Prepare some refill trays ahead of time and swap them out when needed.
The Dishes Can Wait
Those dishes aren't going anywhere—and you'll be more ready to attack them after a great night's sleep. Trust us, they'll be there in the morning :).
Interested in learning more about the social life in Tehaleh? Stop by our Visitor HQ, The Post, where our friendly community representatives are available to answer any questions you may have.
Want More Information?
Please click below to contact our team and we will be happy to answer any questions you have!
Contact Us
Categories