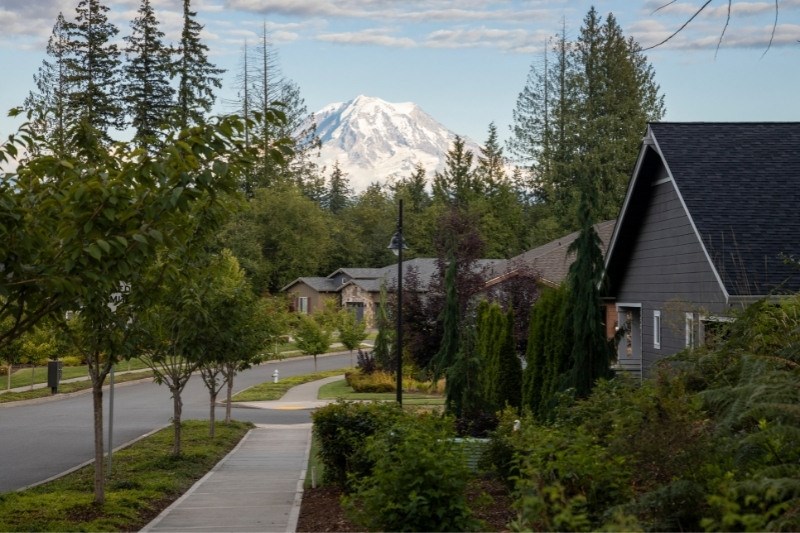 8 Reasons to Buy a Home in The PNW in 2022
Picture waking up every day with access to an unobstructed view of Mt. Rainier. That quiet hum of a peaceful morning – no honking horns or blaring sirens on a regular basis – just the auditory harmony of a quaint community set in the woods. The scent of a fresh cut lawn or the subtle aroma of pine needles on a walk along the trails. The majestic views are one thing, but to put on your hiking boots and step out of not just any door – but your door – to the country's finest environment to live in…that's the dream.
And hey, your dreams are definitely within reason. In fact, these eight reasons might get you to finally start packing those boxes to make the best decision of your life.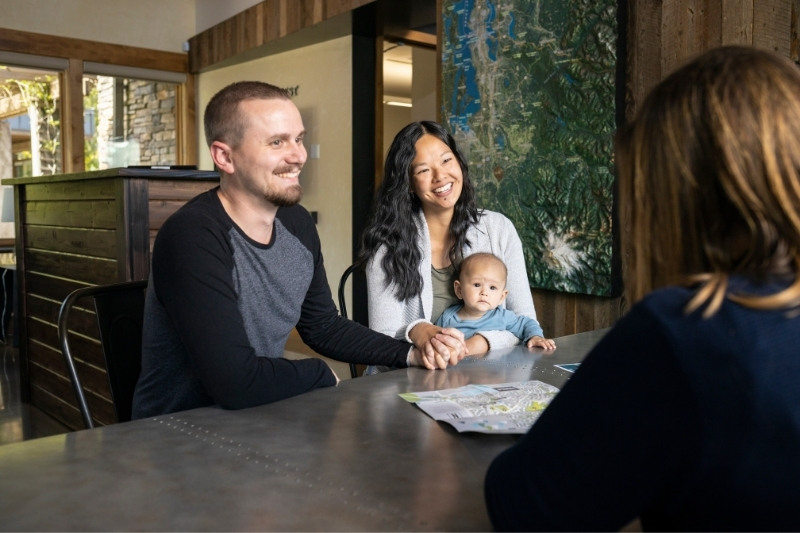 Reason #1: Your home is an investment
When you think of an investment you might immediately think of Wall Street, Stocks, ETFs, and Bonds. Unlike a stock market (and no matter how hard you may try) a home is the only investment that you can cook an omelet in. For that alone, it's worth it, right?
Your future home is a financial investment as much as it is a roof over your head. Month by month you'll own more of your home. You know exactly how much your payments will be today until you finish paying…or until you decide to sell.
Rather than paying rent and never seeing that money again, paying your mortgage is – in a way – how that cash will find its way back to you. Your commitment to homeownership helps to fund your future.
Reason #2: Your home is an investment in your family
Starting a family is one of the biggest factors for people making the jump from renting to homeownership. While there are plenty of turnkey options to choose from in the region, the environment you imagine is best for your kids may whittle down your options. A few considerations that have likely already crossed your mind include:
How welcoming is the neighborhood?
Are there great schools nearby? Or trails my kids can walk to get to school? (We know, only in Tehaleh!)
Is it easy to meet other families who are on the same page as us? (Get in touch and we can connect you to one of our wonderful Resident Ambassadors that can tell you all about what it's like to live in Tehaleh!)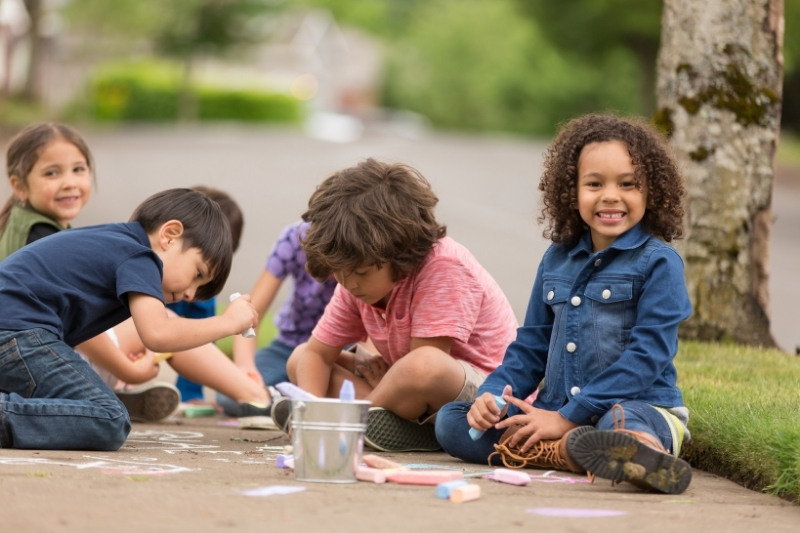 Think back to when you were a kid running amuck, biking over to your friend's house to get a pickup game going, knocking on doors to see who wants to play (and who got stuck doing chores). Or even think about the quieter times too: reading out in back on the hammock or watching cartoons on a Saturday morning before you got swept up into doing chores too.
Whichever childhood memories you dreamt up – the idyllic ones revolve around a peaceful community. The kind that's worth every penny. And although you didn't have much more than a penny back then, any opportunity to give that worldview back to your kids is priceless.
Reason #3: Embrace Your Right to Privacy
One huge bonus that can't be overstated is how nice it is to have private spaces to yourself. A backyard and a garden bed to tend to. A patio to relax on and while the hours away. Your landlord won't come a knockin' randomly in the middle of your day asking to do an inspection or long overdue repair. Choose who you want to fix your kitchen sink and when. Choose your home security system. Choose how to embrace your right to privacy. It's a golden life.
Reason #4: Being able to host the most.
Even though Tehaleh is in the woods, that doesn't mean you have to be a hermit. Hosting a barbeque, birthday party, Thanksgiving dinner, or a watch party is so much more accessible when you have a kitchen and outdoor space to accommodate a hungry crowd.
Gather around the island for snacks, spill into the living room for casual chatter, give a tour to the curious, and take a sunset stroll to witness the Alpen glow of Mt. Rainier. The pride of ownership goes beyond the deed. There's a world worth sharing right out your door.
Reason #5: Rising rents? No thank you.
Any apartment dwellers out there know of a certain anxiety when the lease nears that expiration date.
Maybe your landlord starts to get the itch to remodel and sell.
Or rents are going up again.
Or there's been a team surveying the property in a company truck outside your abode with "Wrecking Ball Industries" scrawled on the side. Hm. Definitely suspect.


You're probably thinking: "Am I going to have to move…AGAIN?"
When you're a renter you're subject to so many factors that can turn a beloved apartment into a pocket of stress. And over time and many moving companies later, that anxiety can be exhausting.
Sure, it's something that you could handle in your twenties, but when you realize you're at a point where you can afford to purchase a new home, then homeownership is a key component in your journey to happiness.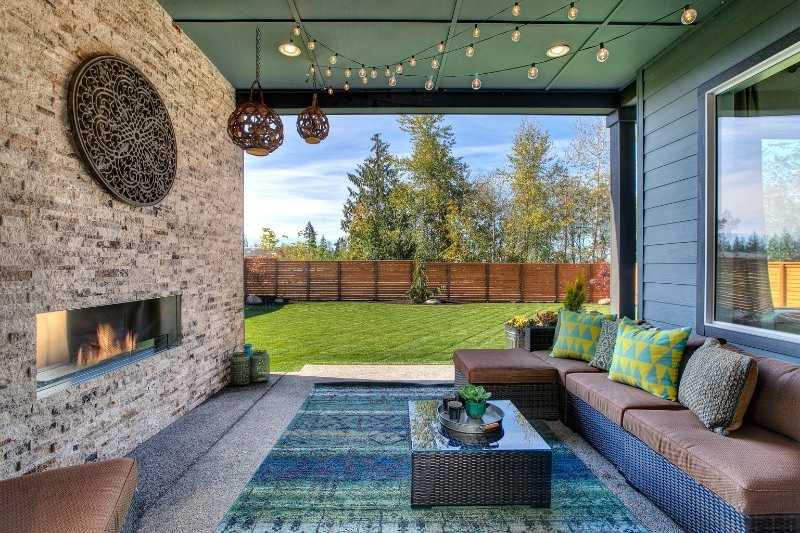 Reason #6: New design challenges.
Personalizing your home is a creative pursuit and if you're the kind of person who looks around an empty room and sees endless potential, now's an opportunity to flex those interior decorating skills. Maybe it started with the Sims or binge-watching HGTV home remodeling shows…either way your home projects are about to turn you from the student into the master.
Reason #7: Begone rental inconveniences!
The laundry list of benefits if you don't live in an apartment could be infinite for some, but here are eight striking perks that you'll never take for granted:
To start the laundry list, how about this: you can do laundry in the house. No more laundromats or heading to the bank to get rolls of quarters.
Your own four walls. Loud roommates talking till 2am? Nope (unless your kids are talking in their sleep.) Neighbors blasting music that you can feel thumping in your chest? Not a chance. Upstairs neighbors clomping around like they're training dressage horses? Nada.
No more confusing lease agreements that you have to read through every few months just to see if you'll get fined for lighting a candle.
Storage! You can hold onto all those old gizmos and doodads. A box of "tv components and random stuff" doesn't have to be sent off…well not just yet.
Pet rent? How is that a thing. Now you don't have to monetize your dog's Instagram account.
Home office. If your job allows for you to work from home, your home office can be a standalone room. It doesn't have to be an office/guest bedroom/storage/exercise space/pantry/stockroom/bike maintenance room or anything else. Sure, you can use it as a flex space, but it can have a cleaner atmosphere to help you stay focused and feel like you're in control of the environment.
For anyone who lives in a 4th floor walkup…imagine a day where you can just…walk out the door and the ground floor is just…there. It makes buying groceries in bulk feasible and a time & money saving task. You won't have to think about stairs anytime you spot a 2-for-1 deal on seltzer ever again.


The list goes on and on, and if you're a renter who has qualms about any of these topics you've probably come up with 10 more off the top of your head. Owning your home solves so many minor annoyances and major headaches that a rental just can't match.
Reason #8: Downsizing
Your need for extra space has changed over the years. Maybe you bought the house you loved because it had to house your kids, your parents, your kids' friends, and every which way a large home could accommodate a small village. And now that your kids have flown the coop and have settled into their new lives comfortably, downsizing could help start a clean slate for your next exciting chapter in life. Here are a few "mini-reasons" why downsizing is the right choice for you:
Get in step with a supportive community. The old house had its glory days, but the neighborhood changed along the way and that early charm seems to have shifted to the next generation. Revitalizing your surroundings to be among sublime natural beauty and all the likeminded individuals that the environment brings is a breath of fresh air.
Heading out for exercise is something you wish you had access to, and you really don't want to have to hop in a car every time you want to head on a walk, run, or bike. In fact, you just want to wake up go.
Upkeep seems like a younger person's game with all the time it takes. While you've done your best to make your current home a shining beacon of yardwork perfection it's time for somebody else to hop on a ladder and clear the gutters, mow the lawn, and trim the bushes. Finding a ranch style house that's a cinch to maintain gives you all the time in the world to focus on your next goal: running that marathon.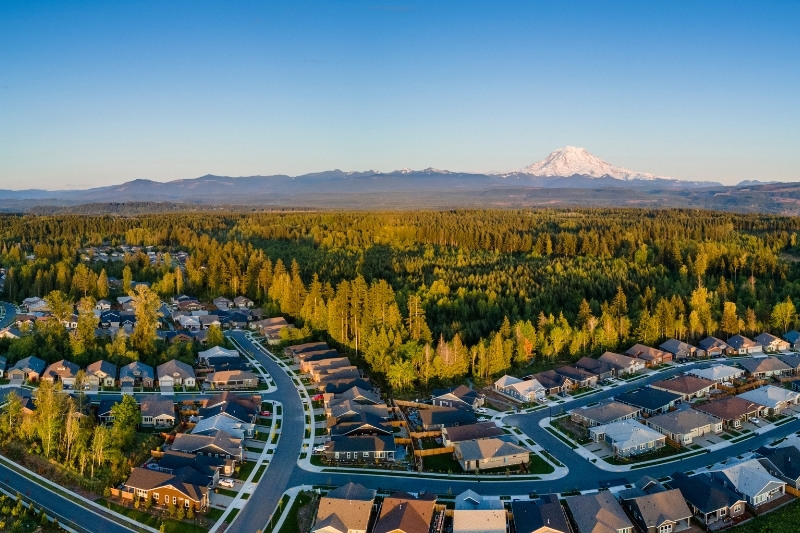 Of all the reasons in the world…

You love this one. Beyond your wildest dreams, there's a new home that's waiting to meet you. Schedule your visit with us today to discover how Tehaleh can fit all the criteria to match you with your dream home.
Want More Information?
Please click below to contact our team and we will be happy to answer any questions you have!
Contact Us
Categories