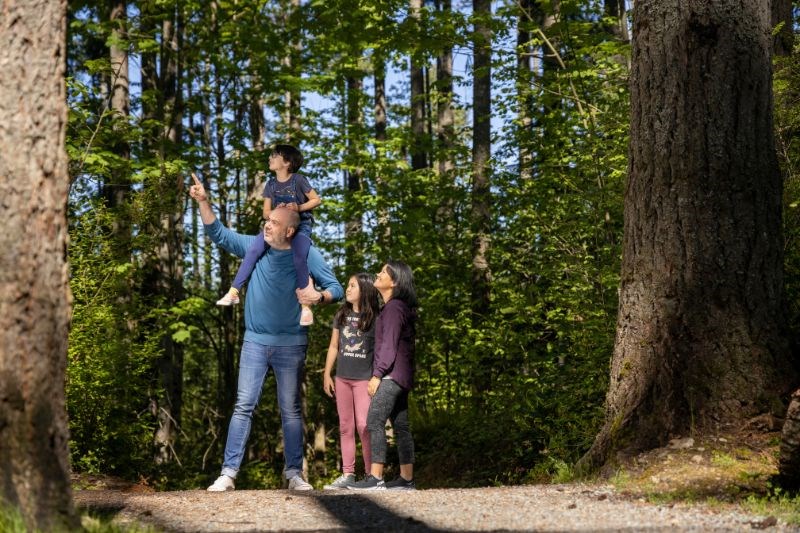 9 Timeless Tehaleh Outdoor Activities for The Whole Family
Spending time outside in the last weeks of summer coincides with back-to-school excitement, the final vacation before work hits a fall stride, and high hopes to close out the season with a handful of memorable sunsets among Mt. Rainier's alpenglow.
While activities have changed over the years, the neighborhood keeps sticking to the classics. Whether you grew up hula hooping, playing skip it in the driveway, or hopping on a viral TikTok trend, here are 9 neighborhood staples that'll get the whole family out and about.
Kickball.
When getting a baseball or softball game becomes a tricky situation where you're trying to get all the right equipment, figuring out the rules, and picking teams…it can get exhausting pretty quickly for a casual Sunday afternoon.
A pickup kickball game? Perfect for late summer birthday parties or when the group chat wants to get the kids and adults together on a moment's notice.
Badminton.
Oftentimes, the badminton kit sits neglected, gathering dust in the garage. Was it a long-ago impulse buy? A wedding gift? Set up once for a graduation party?
Now is certainly the time to get swinging! Take it easy and work on hand-eye coordination with the kids or take it to the next level and schedule a bracketed tournament throughout the neighborhood. Split teams with parent and child match ups to get everyone running around the yard.
Fun fact: badminton is the fastest racquet sport. Faster than tennis, squash, even racquet ball. The birdie may lose speed quickly, but it can often reach speeds over 200 miles per hour!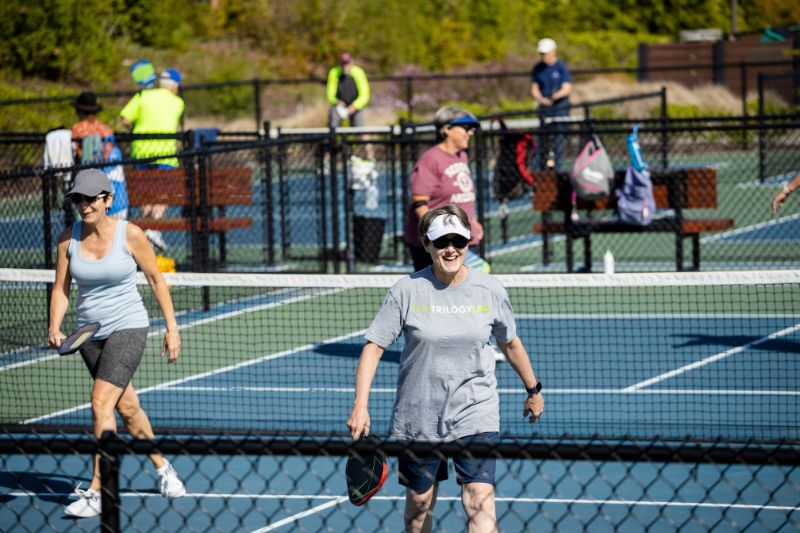 Pickleball.
Certainly one of the more popular sport of our time, pickleball has exploded in popularity all around Washington State. The welcoming atmosphere and quick gameplay is ideal for talking with your neighbors and meeting new folks all around the area. Trilogy's Seven Summits Lodge even has its very own pickle ball court for all its residents to enjoy!
Table Tennis.
Wheel the ping pong table out of the garage during a calm, wind-free day and soon you might start to draw a crowd. The distinct 'ping' and 'pong' is a calling card for all players young and old.
With a big group you can play king/queen of the hill. One player is the king or queen and must keep winning to keep their spot. The rest of the players each try to win against the king or queen and if they do, they 'dethrone' them and get to take over as the new king/queen. Keep track of how many points you're winning when you're royalty and whoever gets to 5 points first, wins!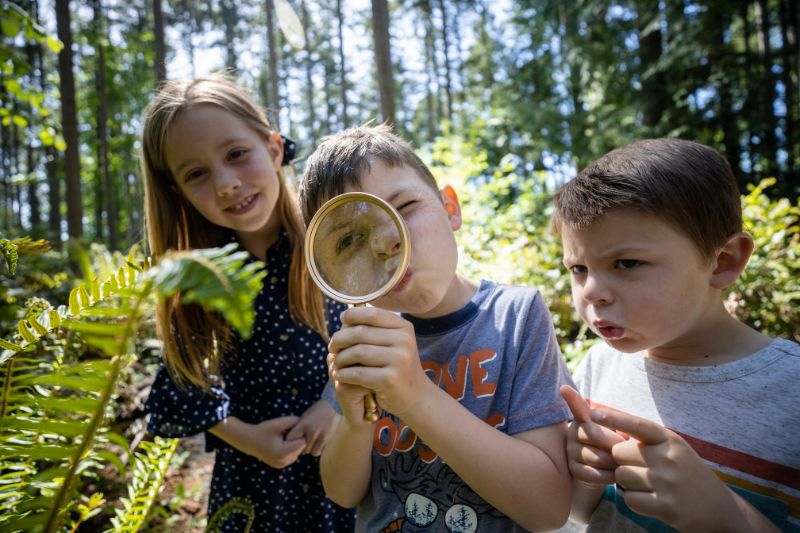 Nature walks.
Nature walks can be just about one of the most creative ways to get kids and adults alike to explore the nature immediately in your neighborhood. Kids will love it and you'd be surprised of all the plants and critters you find in your daily travels around Tehaleh's parks and trails.
Bike Rides.
Tehaleh has so many wonderful trails and there are plenty of opportunities to get the family on bikes and wheel around the neighborhood. We even have a few routes that can help you get a closer look at the neighborhoods in Tehaleh that you may not visit as much as your immediate surroundings.
Hopscotch.
The all-time classic pastime will never go away. Well, except maybe after a good rain. Create the neighborhood's longest hopscotch path. You could even get creative and make a life-sized Candyland for an experiential take on the classic board game.
Playing catch.
Getting out for a large, organized baseball game isn't always feasible on a Tuesday night after work, but finding time to throw a frisbee, baseball, football, or any other ball of choice is a quick activity that gets your body moving.
Tag.
It's surprising how easy it is to find a good game that will make memories the way that something as simple as tag can do. Plus, you can add all sorts of fun to make it an even more exciting game day after day. Add in a sprinkler for those hot summer days! Some relief from the heat goes a long way.
Join the family fun.
Get in touch and we'll introduce you to more than just some classic outdoor games and activities around the neighborhood! Tehaleh's neighbors are the best around and would love to show you a great atmosphere. Contact us today to connect with one of our amazing Resident Ambassadors, who will catch you up to speed with all things new and awesome in Tehaleh!
Want More Information?
Please click below to contact our team and we will be happy to answer any questions you have!
Contact Us
Categories