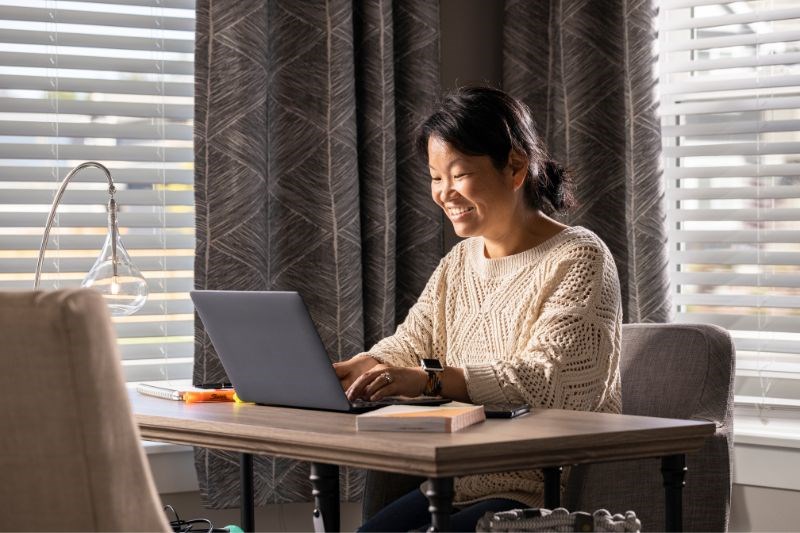 How Hybrid Working Makes Tehaleh an Oasis for Work
One of many incredible perks about living in Tehaleh? Proximity to your work. Skip the daily commute and customize a dedicated flex space to work from the comfort of your own home… with trails, parks, and fresh air right outside your door.
That's the beauty of a hybrid or remote work schedule. Spending less time on the road and more time at home focusing on the task at hand.
What does the ideal hybrid work office look like?
You're up and at 'em every day at 7:00am. You might take the dog(s) out for a walk on one of the trails. You check your email, grab a coffee while enjoying the majestic view of the sunrise illuminating Mount Rainier, and walk back home to get going by 7:30am. You may work best in the morning without any distractions, so you have your desk facing a wall with a dry erase calendar tacked up against it. The window is open to let in some fresh, cool air. There's a dog bed in the corner in case the pup stops by. Your at-home office is clean and well-kept, or it's a mess of papers and notes. It has your personality all over it, or it's sparse. You can make it your own or keep it simple. So, what is it for you?
Is it an office with a door?
A second-floor loft?
The garage?
Out in the backyard?
At the café?
A combination of all of those? 


That flexibility is an incredible way to break up the routine. You have control over how you want to spend your day and where. Back at the office you can't go typing away in Larry's office or have a work lunch on an Adirondack chair in front of the office complex. It's a great idea, but when you have something special right there at home? That's priceless.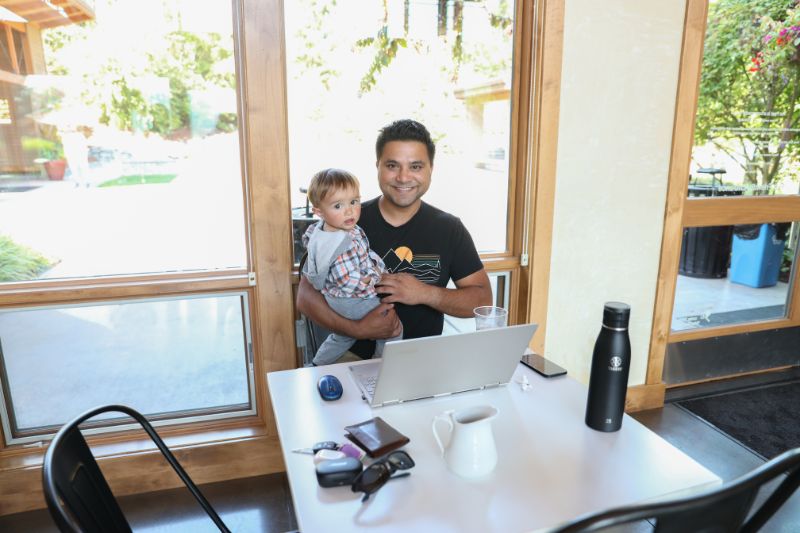 The rise of hybrid working.
By now you've read dozens of articles about hybrid working. Among the endless thoughts and opinions, you can find by scrolling through LinkedIn, the news or Twitter – the only one that really matters is the one that you've found to work within the context of your own work/life balance.
Hybrid working connects employees to their employers in a way that helps instill trust. Plus, it's brought a more relaxed, lifestyle-focused management style that's more appropriate to the way we have often wished to approach the office.
For many office workers, showing up to a 9-5 does not require a commute every single day. Here are a few reasons why:
Most people have reliable internet connections at home. No more dial up!
Better (and inexpensive) conferencing software and applications like Zoom, Slack, Google Video, and Microsoft Teams. Keep in touch with coworkers in a more personalized way.
Due to the pandemic, many companies made the transition to remote work, allowing folks to test the bounds of a work at home lifestyle. This gave confidence to employers who realized hey maybe we don't need to be around each other ALL the time.
An embrace of other social outlets. Whether it's online communities or *gasp* real meetups within the community, finding friends outside of work has helped to bridge the social gap that the office world brings.
Financially, companies found that leasing expensive office space was hurting their bottom line. Providing stipends or incentives for office workers has encouraged the trend to continue.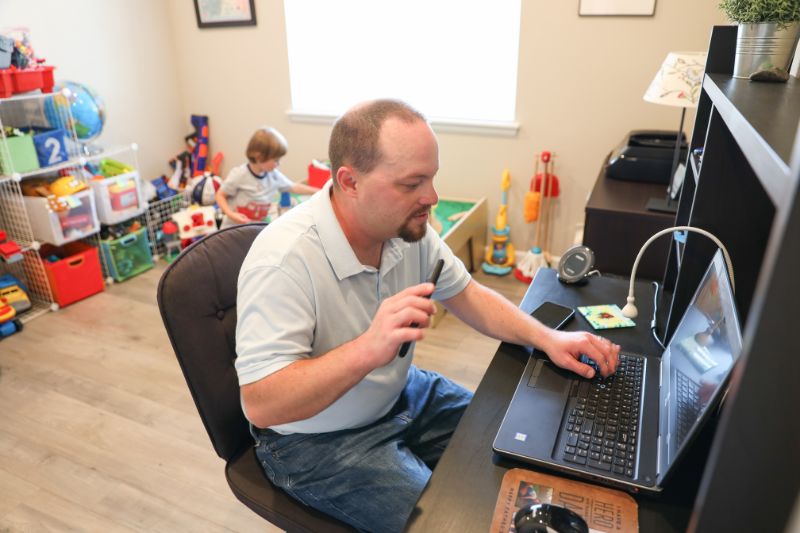 At home economics.
When it comes to personal financing, it's often cheaper to work at home. Even if you go and buy a coffee every day from Caffe D'Arté, you still don't have to get into your car and fill up your tank as regularly as before. That savings - plus grocery shopping for breakfast, lunch, and dinner - can make at-home work much more affordable (and healthier). No more vending machine meals, grabbing an overpriced sandwich at the cafeteria, or stopping for fast food after a long day. The small things have made remote work more feasible and car trips more selective.
For parents it can take the hectic "everything at once" out of the equation too. That 10am meeting doesn't require as much time prepping lunches at the very last minute. And if it does? Well, procrastination is as timeless as baseball, but at least you get to do that in a sweatshirt and sweatpants rather than accidentally spilling jelly on your pressed suit.
Once you get them off to school, you have the space and time to focus on the task at hand. Some may find that the stay-at-home aspect makes the job more difficult.
That's fair! But it has also welcomed a new talking point, and perhaps a universal understanding: that family life and your personal world outside of work takes precedence over the meeting that "could have been an email."
The missing link.
What's becoming clear for a lot of businesses is that there is the need to show face on a regular basis.
The solution may not be as cut and dry for everyone but what it does allow for is a bit of experimentation. Heading to work once, twice, or three times a week generally makes workers happier. You still get to meet up with your team but get to experience a slimmed down version.
Needless to say, what you're doing today may not be the career or job that you want in 5 or 10 years. So, living in a home that's just as flexible to your way of life as your mindset is – that's an ideal worth your time.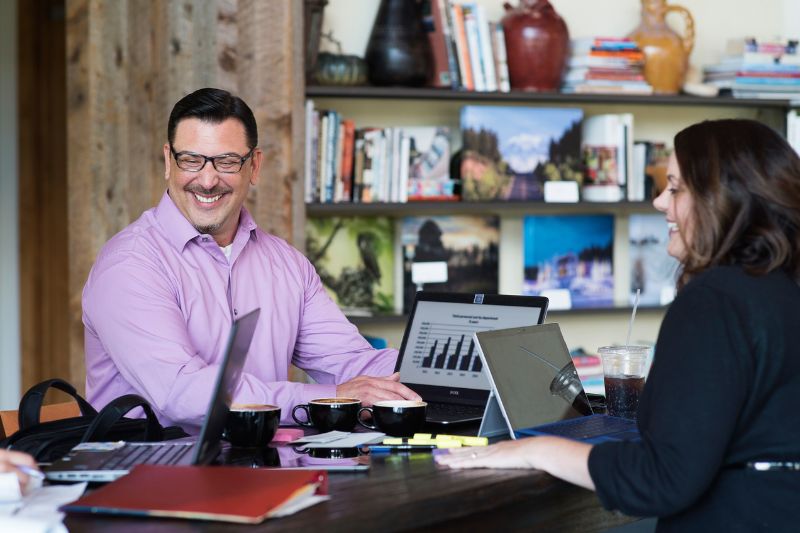 Tehaleh is where homework gets done.
Within Tehaleh, you'll find that the hybrid and remote style of work is everywhere. And it's given people new freedom to meet one another and find unique neighborly connections that may not have existed 10 or 20 years ago. Need a break? Take to the trails for a midday wander. Refresh and get back to work in a calmer frame of mind.
Ready to take the leap and learn more about what Tehaleh has to offer? Contact Us today to set up an appointment or ask us about our Resident Ambassador Program to hear from directly from Tehaleh residents about what makes this place so special.
Want More Information?
Please click below to contact our team and we will be happy to answer any questions you have!
Contact Us
Categories