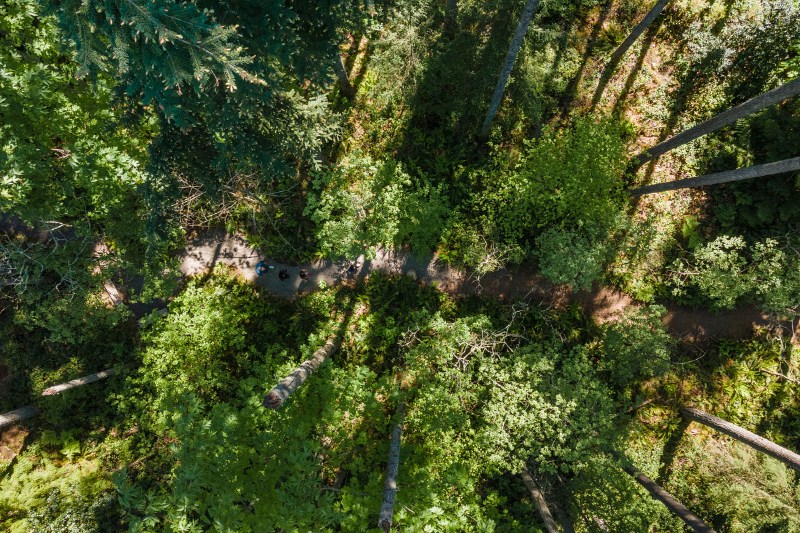 A Happy Life is Wherever The Trails Wander Home
When you wake up, check the weather, and grab the dog leash, you're happy to dive into your daily routine. But before you take the same old route – take a look at a new trail where the chirping is different, the scents are distinguishable, and the light pours in with a twinge of newness every time you visit. Mix up the routine and head for a trail that feels like 'today's trail.' After all, 30+ miles of Tehaleh trails gives you plenty of options.
With all these trails to choose from, your critter sightings might skyrocket faster than your daily step count: bald eagles, hawks, banana slugs, and elk like to mosey around Tehaleh's greenery as much as us! Early winter mornings and late summer walks will give these trails a novel persona year-round.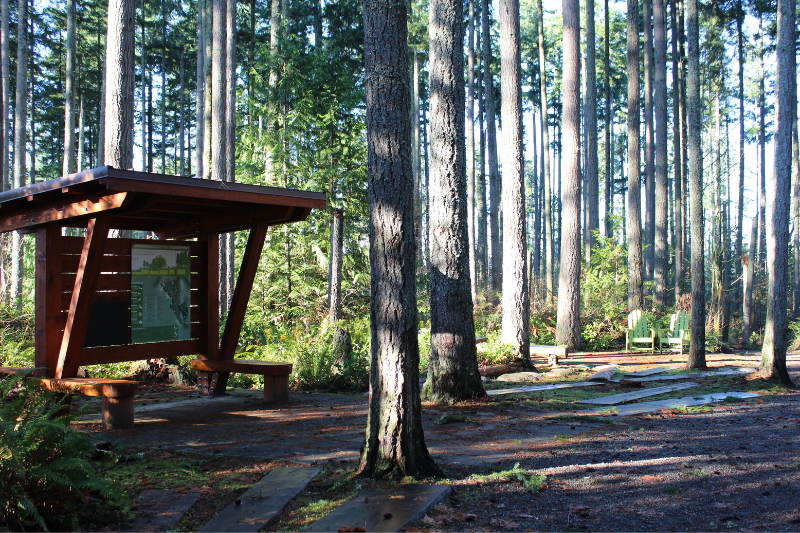 Forest Loop Trail – 3.31 miles. Moderate difficulty.
Well-rounded and winding through the core of Tehaleh: Start at The Post and enjoy the views from Caffé D'arte, where you can then make your way to Hounds Hollow, and venture on to Ponder and Yonder—The Forest Loop Trail has a little bit of everything.
This 5k loop makes for a great training ground for runners, providing a varied perspective of all of Tehaleh's favorites. There's even a bit of elevation climb that'll get your heart pumping. How about a good stretch while basking in the calm of Ponder?
Trilogy Loop Trail – 1.31 miles. A light stroll.
The birder's loop is a perfect midday walk. Beyond birds, you're likely to find a few wild pickleball players plonking the ball around at any hour of the day which can be a nice way to break up a walk and capture some new strategies from the best picklers around. If adventure keeps calling, connect with the Inspiration Ridge Loop to get 2.3 miles in your belt.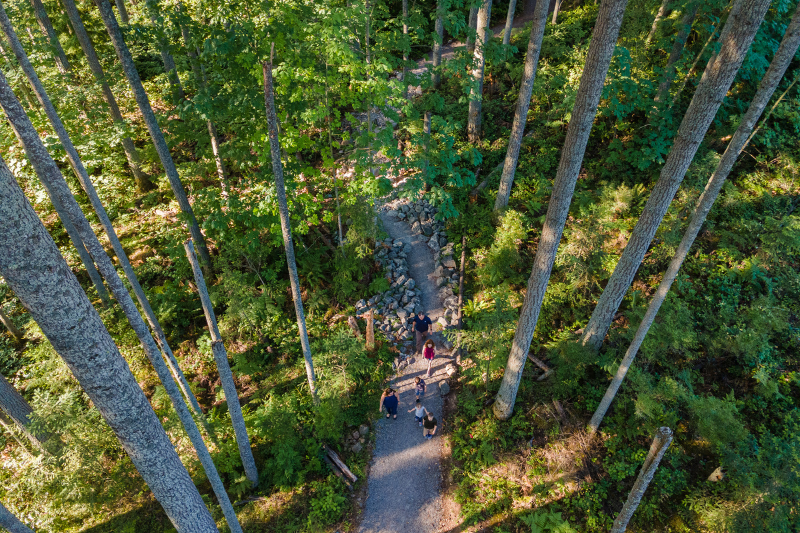 Inspiration Ridge Loop Trail – 1 mile. Easy as can be.
Get your start at Big Sky Park and do a centrally located loop through the trees in this 1-mile trail that circles the Big Sky Park neighborhood. Fill up your water bottle at the park, bring a book and some snacks, and take some "me-time" amid a glorious scenery showing Mt. Rainier peeking out over the neighboring houses.
Overlook Trail – .81 miles. Flat trail, great view!
While this one's a quick 30-minute jaunt, the Overlook Trail offers the peace of mind you're looking for. Gravel paths perfect for all kinds of wheels – mountain bikes, strollers, wheelchairs – there's a surprise swing and a picnic table ideal for looking out at the horizon while catching up over some PB&J sandwiches.
Blossoming flowers announce the peaceful solitude along this path which connects to Discovery Park for easy access when you're heading to pick the kids up from Tehaleh Heights Elementary.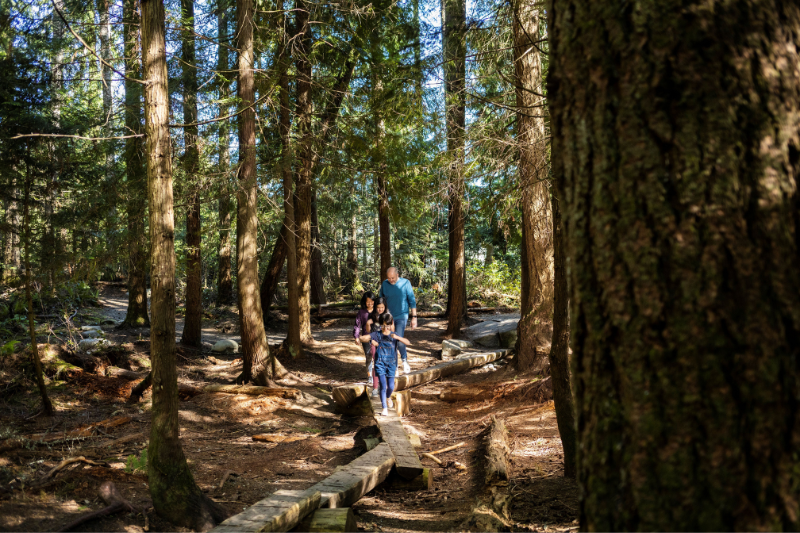 Challenge Trail – .5 miles. Dog-friendly.
Located within Hounds Hollow you can run around with your dog, throw a ball or frisbee, and even hop onto the Forest Loop Trail afterward to get those daily step goals in. Your dog's ears will perk up any time you say Hounds Hollow, and they'll always find a way to let you know when they want to head over here!
Observation Trail – .91 miles. A steady hidden gem.
Take a walk over to Sticks 'n' Stones Park with the kids, get all that playground energy taken care of, and mosey around the casual Observation Trail before letting the kids get a second round at the playground again. The dogs especially like this trail because they're looking forward to heading to Tails Pet Resort for a spa day or a good wash!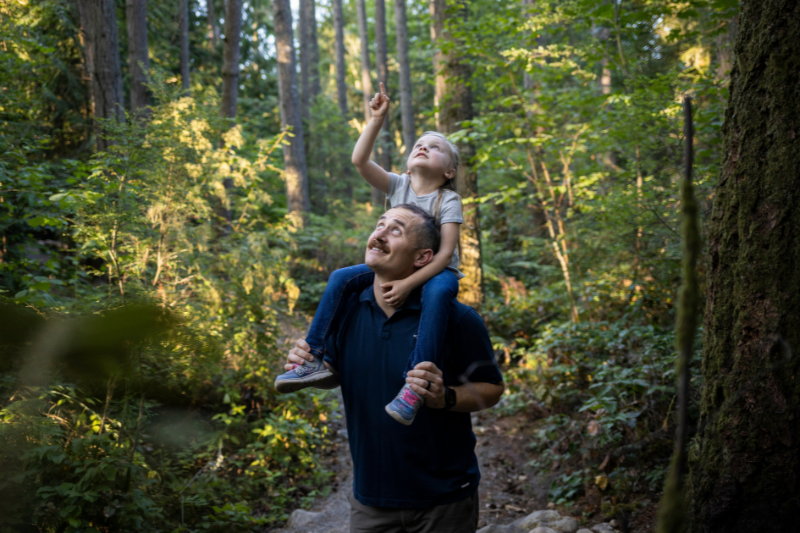 Connector trails. Choose Your Own Adventure!
There are incredible trails within Tehaleh and to see them all you can use any connecting trails to get you even further around the park. If you want the full experience you could try running all the trails within Tehaleh. Marathon runners, here's your perfect training ground.
Living among the trees.
The Tehaleh trails are accessible to nature enthusiasts of all calibers. Bring mom and dad, grandma and grandpa, the kids, and their friends, and be sure to include the family dogs too! As you ruminate on your next move, reconnect to nature along the many trails within the wild Tehaleh woods. Get in touch and we'll show you all the wonders this gorgeous slice of PNW has to offer.
Want More Information?
Please click below to contact our team and we will be happy to answer any questions you have!
Contact Us
Categories