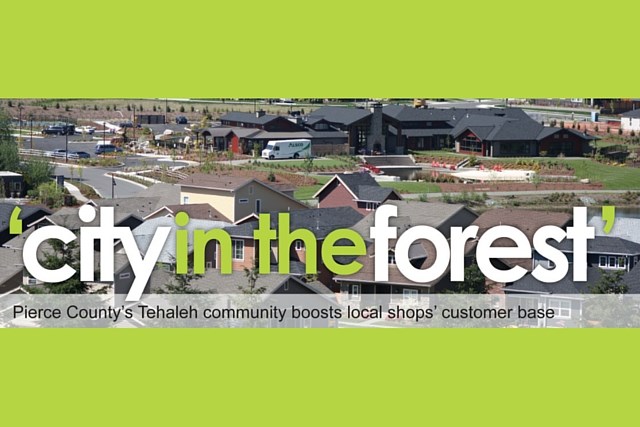 Pierce County's Tehaleh community boosts local shops' customer base.
In this era of planned residential neighborhoods, developers are in a constant competitive battle to build what amount to all-inclusive communities with enough quality-of-life amenities to empower people to live, work, play and learn within them. Tehaleh, located in unincorporated east Pierce County on 4,700 acres, is one such community setting the bar high.

"We see it as a city in the forest," said Scott Jones, senior vice president for San Diego-based Newland, developer of the project.

With only 705 single-family homes sold since September 2012 and only 550 of those occupied — and also no commerce to speak of — Jones's description may seem a bit lofty. On paper, though, Newland has plans to develop up to 4 million square of employment space to include retail, commercial, light industrial, manufacturing, and office, which will encompass 20 percent of the development.

When Tehaleh is fully built over the next 20 to 25 years, Jones said Newland, with its builder partners, will have developed and sold 9,700 residential units, encompassing not only single-family, but apartments, condos and townhomes. Total projected population will be 25,000. Many of those calling Tehaleh home may decide to find employment at the dozens of companies that will choose to relocate or expand to Tehaleh.

"We have had some interest over the past two years from companies, and we've taken some companies on tours that are looking to expand their business," Jones said. "Companies come from the Kent through Sumner area. It's hard for them to find pieces of land in the 167 corridor."

Pierce County planned the development back in the mid-1990s, zoning it as an employment-based planned community—the only one of its kind in the county. It was then known as Cascadia. The previous owner lost the property to fore- closure when the housing market tanked. Five years ago, Newland acquired it — essentially keeping the essence of the project, and tweaking it some.

"Employment based communities was a mechanism authorized through the Growth Management Act in 1990," said Rob Jenkins, a Pierce County senior planner. "Tehaleh is reviewed every five years by the county hearing examiner to make sure it's moving toward the goal of a complete community with employment and residential."

One retail center that gains to benefit from Tehaleh's projected growth is downtown Bonney Lake – only a four- mile drive to the north on 198th Avenue leading to State Route 410.

Gina Rittenhouse, who owns Fleet Feet on SR 410 in Bonney Lake, organizes community walks and runs in Tehaleh, utilizing the 20+miles of public trails in the nearby new neighborhood.

"We purchased Fleet Feet last November," Rittenhouse said. "We noted that Tehaleh was a healthy community and we wanted to educate them more and enrich the community."

The Rittenhouses were among the first 100 homebuyers at Tehaleh.

"We feel blessed to be part of the community and to serve the community as business owners," she said.

Rittenhouse said a lot of people are deciding to move out of Bonney Lake to Tehaleh. "The impact is that people have to go a little bit further for their shopping," she said. "It's had a powerful impact on the small businesses. People don't want to go as far, so they're more inclined to get to know the businesses that are closer to them.

"I feel that we have driven more people into our store from Tehaleh," she said. "We targeted that area, because it's new and it has a fitness-feel to it. We wanted to embrace that and support them the best we can, and also have them come out to our store to get their shoes and necessities."

Tehaleh also includes an active life- style community for people 55 and older called Trilogy. It's these retirees—many of them moving to Tehaleh from out of state – that Christopher Kuntz sees shopping at his family-owned store, Chipper's Jewelry, at 21291 State Route 410 E.

"We have seen our customer base grow with good quality customers that are coming in from that area of Tehaleh," Kuntz said. "A lot of them who have come in have owned ranches or their own business. These are people who have done well in life and now, they're retiring."

Trilogy has sold 200 homes. Jones said 700 more are planned for the community. In January, a 15,000-square- foot private clubhouse opened at Trilogy with an upscale restaurant.

Meanwhile, Wendi Woodyard, the executive director of Chamber Collective, an organization that  represents businesses in Bonney Lake, Buckley and Orting, said Lowe's Hardware along 198th Avenue – the only road in and out of Tehaleh – has benefited from a huge influx of people from the new development looking to fulfill their landscaping and home remodeling needs.

"It's really great to help people who are excited to move into their new homes," said Woodyard, who also works at Lowe's. "Nine out of 10 people (who shop at Lowe's) tell us they are living in Tehaleh."

On Mother's Day, May 8, Woodyard said Lowe's sponsors a potting event, providing Tehaleh residents the soil, while Newland provides the flowers.

Despite all the positive impacts from Tehaleh, Woodyard said one constant concern voiced by people is its impacts on traffic. Jones said an Environmental Impact Statement required Newland to commit capital to traffic mitigation projects carried out by the city of Bonney Lake and Pierce County. He  said  Newland  has  committed $4.1 million to a $4.6 million project making improvements to the intersection of State Route 410 and Veterans Memorial Drive. The developer has also committed another $20 million to improvements made to 198th Avenue.

Jenkins, the senior planner for Pierce County, said a year ago Newland partnered with the county's public works department to move a project forward that will build an arterial road leading out from the back side of Tehaleh off the plateau and into the Orting Valley.

"Public works  is  currently  doing project-level  environmental    review for the new road," Jenkins explained. "Completion of this project is important to accommodate any new residential development past phase one at Tehaleh."

Phase 1 is capped at 2c586 residential units (286 of which is multifamily), 80 acres for a business park and 5 acres for a neighborhood center.
Want More Information?
Please click below to contact our team and we will be happy to answer any questions you have!
Contact Us
Categories