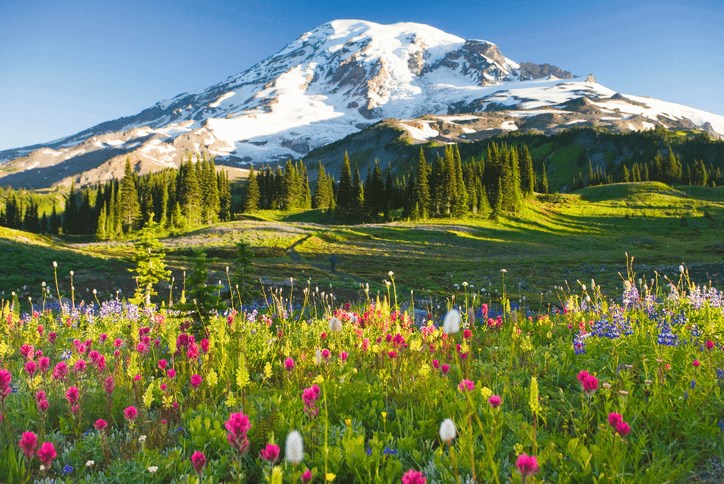 5 Ways to Enjoy Mt. Rainier During Spring and Early Summer
With massive glaciers, gushing waterfalls, and wildflower-strewn meadows, Mount Rainier National Park is among one of Washington's most spectacular natural treasures. The spring and early summer are fabulous times to visit; the flowers are blooming and weather is mild. You're beating the busy summer crowds, so you may often find that you have the trails to yourself. Here are five tips for an authentic Pacific Northwest experience.

1. It's ALL About the Waterfalls
The waterfalls of Mt. Rainier are nothing short of awe-inspiring, and during spring, as the snow melts higher on the mountain, the lower waterfalls are in full glory. Driving to Paradise and just a short walk from their respective parking areas will afford views of the powerful Christine Falls and thundering Narada Falls. Near Paradise, take a day hike to Comet Falls or trek along the Paradise River Trail affording views of both Carter and Madcap Falls. Once at Paradise, a family-friendly walk from Paradise on the Edith Creek Trail will take you to Myrtle Falls and one of the most photographed vistas in the park.

2. Low Elevation Hiking
Shake off the cobwebs of winter and hit the trails! While many of the high elevation trails are still under snow cover, lowland trails are already in their prime. On the northern side of the park along Chinook Pass, access trails to pretty Greenwater Lakes, Snoquera Falls, and Skookum Flats. Silver Falls is a popular and family-friendly hike. In the Ohanapecosh area, Green Lake and Ranger Creek are two scenic and more remote options in the Carbon River corner of the park. There are plenty of snow-free trails to explore at lower elevations during the spring, but beware that you will encounter snow as you climb.
3. Meet Local Wildlife
Exciting wildlife encounters happen every day at Northwest Trek, a 725-acre wildlife park tucked away in the forest near Mt. Rainier. Whether you glimpse a passing bison or stand nose-to-nose with an otter, the sheer variety of wildlife is captivating! Along the beautiful, winding, walking trails, you can view over 200 North American animals, representing over 30 species. The varied habitats create a scenic landscape with lakes, meadows, forests, and streams. If hiking isn't your cup of tea, bundle up for a 55-minute tram ride viewing native animals grazing in fields, flying through the forest, and quite possibly, right outside your seat.

4. Become a Junior Ranger
Stop by one of the Visitor Centers, at either Longmire or Paradise, and pick up a Junior Ranger Activity Book from a ranger. Kids choose activities to complete based on their age. Upon completion and check-in with a ranger, they are awarded with a badge and certificate.
5. Soak in the Hot Springs
Who doesn't love a little work hard/play hard philosophy? Ohanapecosh Hot Springs Trail is a 1 mile moderately trafficked out and back trail located near Randle, Washington that features hot springs and is good for all skill levels. The trail is primarily used for hiking, walking, nature trips, and birding and is best used from May until October .

Mt. Rainier lives in Tehaleh's backyard, offering stunning views from many of our homes and trails. For more information please stop by our Visitor Headquarters, The Post!
Want More Information?
Please click below to contact our team and we will be happy to answer any questions you have!
Contact Us
Categories