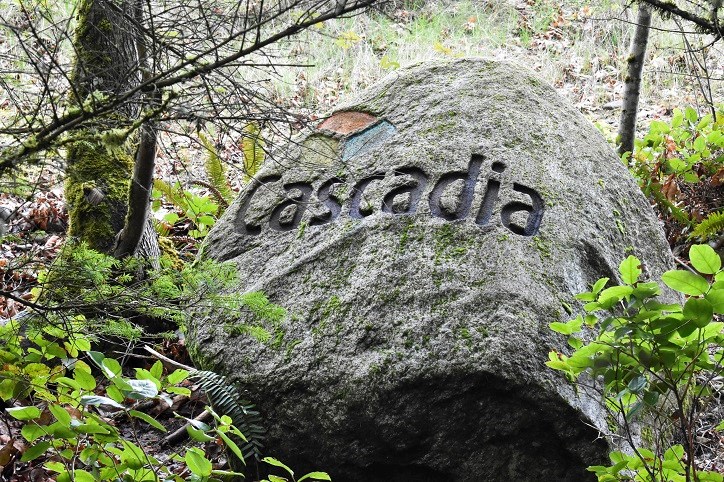 Can you Find the Cascadia Rock?
Few things are more enjoyable on a sunny day than a treasure hunt among the trees! Legend has it that hidden within one of Tehaleh's many family-friendly trails lies a monolith from days gone by; the fabled Cascadia Rock. Do you have what it takes to find it?
Starting Point: Expedition Grove
When leaving the park, stay to the left when you come to the Y.
Wind through the serpent bends (S curves).
You'll notice a small offshoot path on your right but stay on the main path. (Always stay on the main path, unless you're looking for an imaginative adventure, then by all means explore!)
Look to the right and you'll soon see an opening through the trees with a peak-a-boo view of The Post.
Keep walking and very soon there will be a void of trees on your right.
Immediately look to your left.
You'll see a giant boulder that will spark your enthusiasm, however, don't be fooled by this trickery! Wisely continue on your path.
Look to your left once again and notice a large stone that looks as though it's carved into the shape of a prehistoric lounge chair. If you've seen the "chair" and no Cascadia Rock, you've been duped!
Cascadia Rock with its red, green and blue emblem is perfectly concealed between the "trickery boulder" and "lounge rock"!
If you've made it to the Y in the trail that takes you to Boulder Dash you've gone too far! Turn around.
Happy Hunting!
Craving more adventures in nature? Nature is what we're known for! Come by our Visitor Headquarters and Café, The Post, to learn about Tehaleh's more than 1,800 acres of parks, trails, and open space.
Want More Information?
Please click below to contact our team and we will be happy to answer any questions you have!
Contact Us
Categories