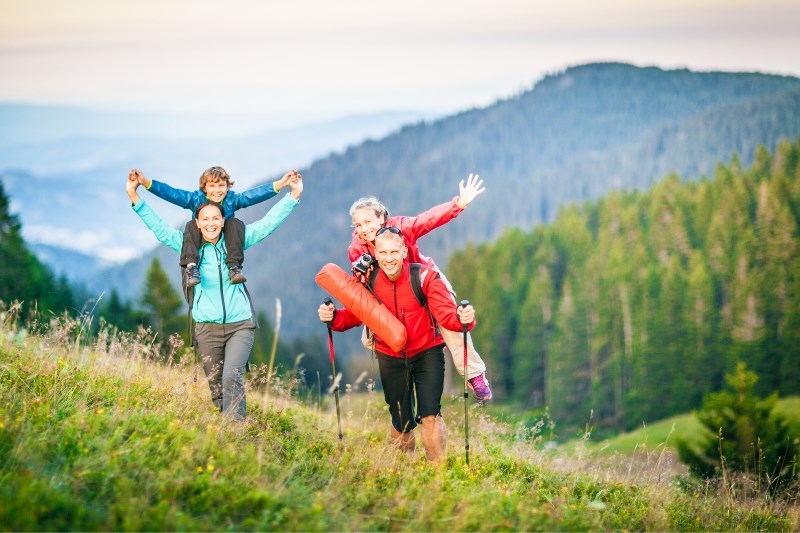 Tehaleh Excursions: Taking the Kids to Mount Rainier
Living in close proximity to such an immense mountain is a humbling experience.  Every once in a while Mt. Rainier likes to remind everyone that it's not just a mountain – but a volcano. And not just any volcano, either! It's a stratovolcano – layered with volcanic material that's built up over 500,000 years. To be in its midst is to welcome its wonder. And for kids who are learning about volcanos, geology, and PNW history there's no history lesson like a quick drive or hike to Washington's tallest mountain.
Kid Friendly Hikes Around Mt. Rainier
Whether you'll be hiking up with a baby carrier or they're old enough to head out on their own, you want to show them all the wonders of your neighborhood national park. Since not all kids are mountain goats just yet, easier hikes will help to acclimate them to the rhythms of hiking. We've compiled a handful of great kid-friendly hikes – from easy to moderate.
Myrtle Falls Viewpoint via Skyline Trail. 0.8 miles. (LINK)
Distance from Tehaleh: 2 hours
What's better than a waterfall at the end of a hike? This out-back-trail brings you to the Myrtle Falls Viewpoint. Plus, it's wheelchair and stroller friendly making it an essential trip for any and all adventurers.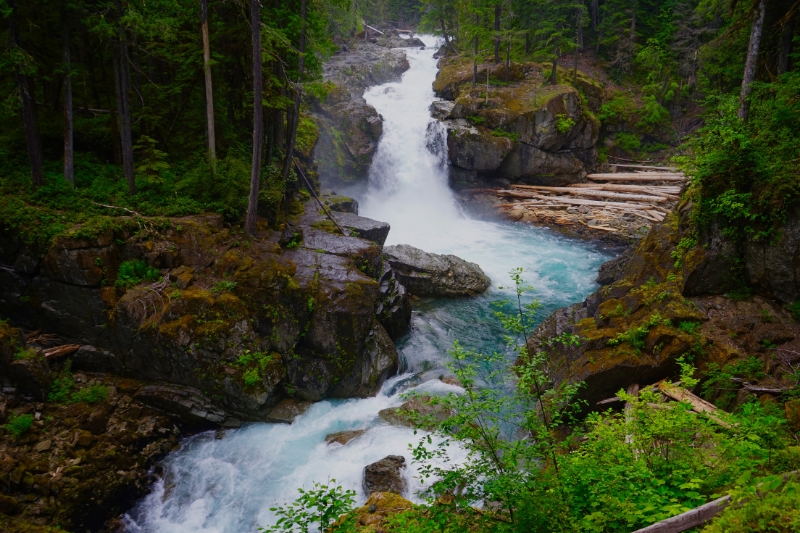 Silver Falls Trail. 2.9 miles. (LINK)
Distance from Tehaleh: 2 hours 20 minutes
With a decent 518-foot climb on this loop, you're certain to get heart-pumping exercise on this beginner friendly trail. The big payoff is the gorgeous Silver Falls at the midpoint.
Nisqually Vista Trail. 1.1 miles. (LINK)
Distance from Tehaleh: 2 hours
A mild-mannered hike – and wheelchair/stroller friendly paths – provides a stellar view of Mt. Rainier. Keep an eye out for wildlife! You might see some deer along the way.
Carter Falls and Madcap Falls via Wonderland Trail. 2.5 miles. (LINK)
Distance from Tehaleh: 2 hours 10 minutes
While the little ones may not be ready for the 93-mile tour around Mt. Rainier's Wonderland Trail, they'll enjoy this quick challenge to see two stunning waterfalls along its path.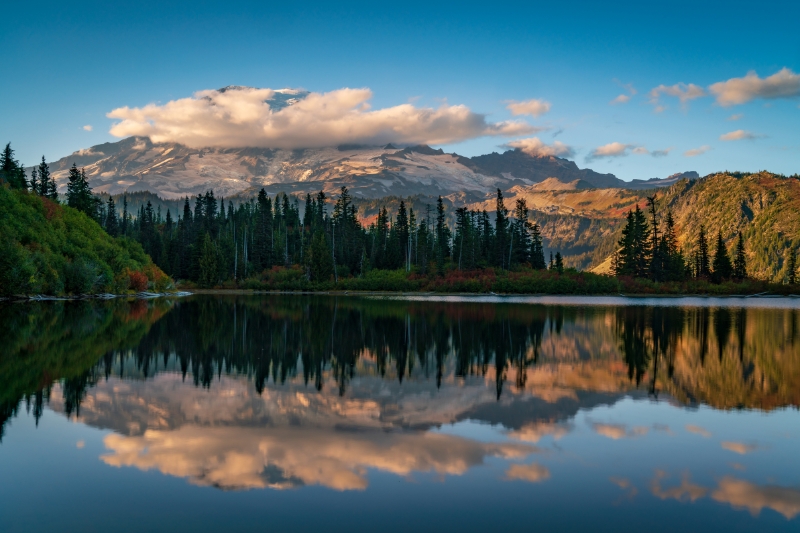 Bench Lake. 1.3 miles. (LINK)
Distance from Tehaleh: 2 hours
Want to hike in and enjoy some trail mix at a lake? This shorter out and back has a few climbs but is generally kid friendly. In the summer months bring along bug spray as it may get buggy along this route.
Sunrise Nature Trail. 1.5 miles. (LINK)
Distance from Tehaleh: 1 hour 30 minutes
Want a chance to see some mountain goats? This loop trail has excellent views and makes for an ideal hike to see critters and views alike.
Naches Peak Loop Trail. 3.3 miles. (LINK)
Distance from Tehaleh: 1 hour 20 minutes
Ready for a longer distance with the kiddos? Witness the peaks of both Little & Big Tahoma. Parking can be difficult, so head here bright and early to beat the crowds.
Looking for more of a challenge?
Once the little ones get acquainted and you're confident they can take on a bit more, these moderate hikes are not too challenging, but will require a bit more strive to enjoy. Plus, if you're using a baby carrier, a bit of practice before hopping on these hikes will help you get your back and shoulder adjustments just right.
Bench and Snow Lakes Trail. 2.2 miles. (LINK)
Distance from Tehaleh: 2 hours
This one is an extension of the Bench Lake trail mentioned previously. But if you're in for a two-lake hike you can enjoy as much trail mix as you want. You deserve it. Plus, if the kids aren't feeling an extra mile of hiking you can turn around at Bench Lake without a hitch.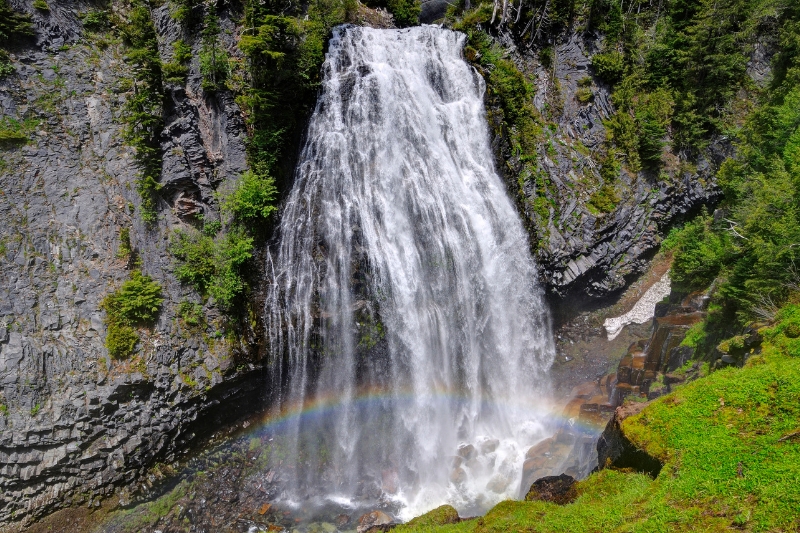 Narada Falls Trail. 2.4 miles. (LINK)
Distance from Tehaleh: 2 hours
Another out and back trail with a stunning waterfall at the midway point, the majority of this hike's 800+ elevation gain will be on the return trip, so make sure you pack enough water and snacks for the last leg.
Old Mine Trail. 2.7 miles. (LINK)
Distance from Tehaleh: 50 minutes
This one is close to Tehaleh, making it a perfect quick getaway for the whole family. It's even more fun as you get to the old mine, making this adventure into the past that much more memorable.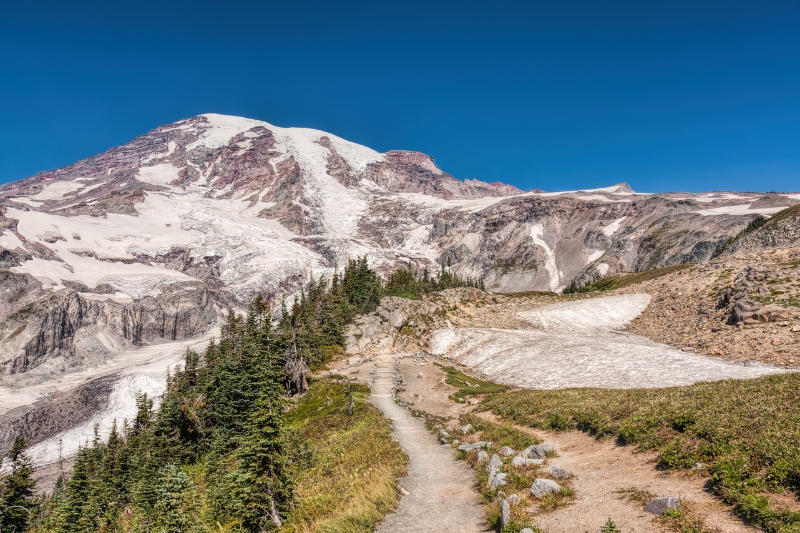 Alta Vista Trail. 1.8 miles. (LINK)
Distance from Tehaleh: 2 hours
Short but steep, the Alta Vista Trail has absolutely phenomenal views along the way. It's also partially paved, but that doesn't mean it's any less gorgeous!
Lake George Trail. 8.7 miles. (LINK)
Distance from Tehaleh: 2 hours
Oof. Almost 9 miles?! The long gradual 1450 climb can be a tough one to stomach but you'll get some absolutely stunning views along the way. Plus, you can find Lake George Camp at the end if you're open for an overnight backpacking trip.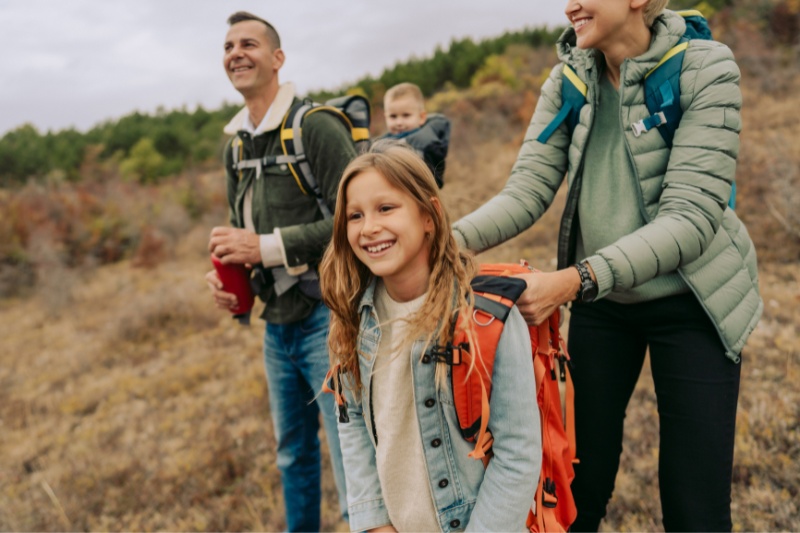 Essential Tips for Hiking with Kids
Preparedness can make or break a trip to the mountains. Here are some helpful tips to keep in mind when you're planning a trip to Mt. Rainier National Park.


Pack a lunch and snacks. The more the merrier. Make stops along the way and keep an open line of communication if somebody is feeling tired. This will help curb any cranky attitudes. Sometimes having a goal in mind like grabbing a meal on the way home can turn this around quickly.
Water. And more water. Sure, it's heavy – but on the plus side, the return trip will be much lighter assuming everybody's had their fill. Pro tip: leave a gallon of water in the car for after the hike.
Dress for the weather. Weather at home does not always indicate that Mt. Rainier has those same conditions so make sure to check both the driving and weather conditions before getting ready.
First aid kit. Scrapes and scratches are common and it's always better to have the right supplies in case of those mishaps. Throw in sunscreen and bug spray too. Safety is all about preventive measures too. Ibuprofen for both kids and adults is another useful thing to keep in your kit.
Start small. Until you're certain that you and the little ones are ready for bigger adventures it's generally safe practice to start small and move up as you gain confidence in your hiking party's capabilities. Nature trails are usually safe options - less climbing is involved and usually they have informative signs that will point out history, flora and fauna along the way.
Leave your pets at home. While many have grown accustomed to bringing dogs everywhere, national parks do not allow dogs. If Fido has to come along, check out our blog about where to enjoy pet friendly hiking trails.
Pack it in, pack it out. Many of the suggested trails won't have garbage cans along the way. So, bring items that are reusable or won't be a problem to throw away when you get back to the car. Nobody wants to see trash on the trails so if you see any, feel free to pick some up! It's also a great lesson to show the kids that these sacred natural spaces ought to show as little human impact as possible. That way when they get older, they'll still be able to admire the untouched beauty and pass it along to the next generation.
Bathroom breaks. If you see a bathroom on your way in, stop there before the hike. And before heading back home do the same. It may seem like a slight detour, but you'll be glad everybody did before a potentially long drive back home.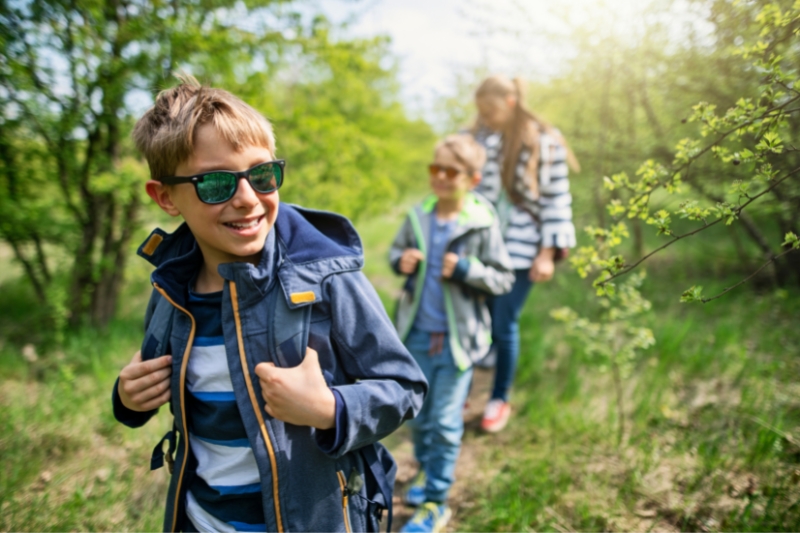 What to pack for a hiking trip with the kids.

Backpack for your supplies
Baby/kid carrier
Food, snacks (and plenty extra)
Water and water bottles
First aid kit
Trash bags. Pack it in pack it out. No trash left behind.
Car snacks and extra water
Even in the winter, the snow reflects the sun right back at you.
Bug spray. You never know how buggy a trail will be.
Downloaded on your phone or, if you have physical maps, those are even better.
This can be fun for the kids to get their directional sense and helpful if you ever get turned around.
A multi-tool. For longer hikes you might need a multi tool to fix gear. Having one on hand can make a tough problem that much easier.


History Lessons for The Rainiest of Days
Some days a trip to the mountains may not be doable. One way to explore the area is to learn all about the history. A better understanding of Puget Sound and its multitudinous culture can further a deeper connection for your kids.
Being able to transport back to a time where there were no cars, no internet, and *gasp* no screen time at all…can be a tricky one to imagine (even for parents who somehow survived their schooldays flitting through encyclopedias).
Take a trip to the museum. Learn more about Native American art and history at the Tacoma Art Museum, Seattle Art Museum, and Burke Museum. There are plenty of fun, interactive ways to engage and take part in a rich history.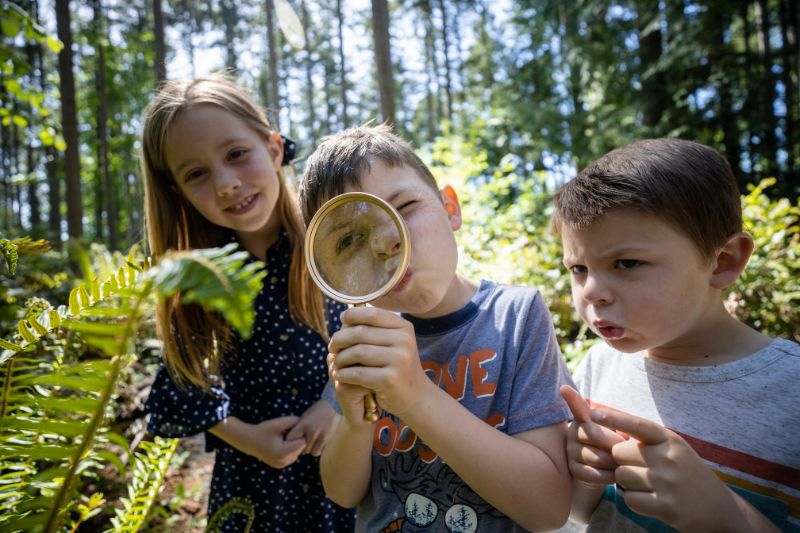 Quiz time! A Q&A to keep the kids puzzling over Mt. Rainier.
Q: How tall is Mt. Rainier?
A: 14,420 feet.
Q: How old is Mt. Rainier?
A: Half a million years old!
Q: How many bird species call Mt. Rainier home?
A: 182.
Q: True or False? Bigfoot lives on Mt. Rainier.
A: False. Nobody knows if bigfoot exists, but Mt. Rainier would be a great place for bigfoot to settle and raise a bigfoot family.
Q: What is Mount Rainier's original name?
A: Tahoma. This is the name the Puyallup tribe associates with Mt. Rainier.
Q: Who made the first known climb to the top of Mt. Rainier?
A: Hazard Stevens and P.B Van Trump.
Q: When was the last eruption?
A: Officially, it hasn't erupted since 1450 but there were reports of an eruption in 1894.
Q: When did Mt. Rainier officially become a national park?
A: 1899.
Q: What's the coldest temperature recorded in Mt. Rainier National Park?
A: -9 degrees Fahrenheit! Brrrr.
Q: What's the average snowfall at Paradise?
A: 53 feet. That's about 10 people standing on each other's shoulders high! Or nearly 5 school buses stacked on top of one another. Shoveling the driveway at home seems like no big deal now does it?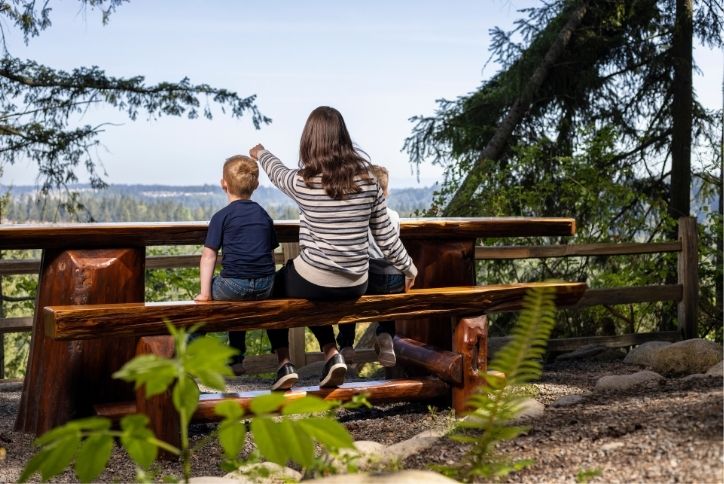 Whether you're planning a trip to visit Mt. Rainier or just need a couple ideas to hang onto, use this blog as your steppingstone to the great outdoors. Tehaleh prides itself as being a cairn on its way to the mountains and if you'd like to call Tehaleh home, we'd love to connect you to a resident Ambassador to better help you find your dream home next to the mountains. Happy hiking!
Want More Information?
Please click below to contact our team and we will be happy to answer any questions you have!
Contact Us
Categories