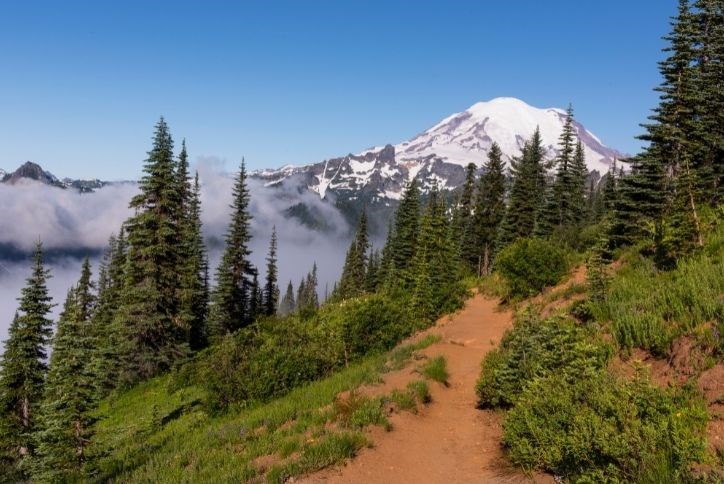 The Best February Hikes in Imperfect Conditions
Tromping around in the mud, slush, and taking on the ice might sound like something your niece or nephew loves to do but! Here's a secret: this can be just as thrilling for you.
February hikes can make use of those brand-new holiday trekking poles, give a seasonal break-in to your sparkling clean hiking boots, and can provide you with that quick and clean breakaway from work without having to leave your neck of the woods.
Plus, now that the sun is setting after 5 pm, you get a little extra daytime to get to your favorite trails and back home in time. That's the paramount part about life in Tehaleh. Adventure is never too far away and in fact, it's encouraged.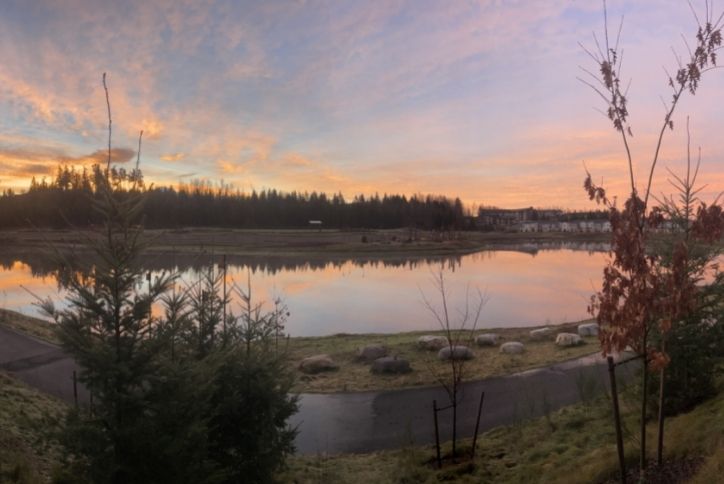 Easy going hikes.
We're not going to send you hiking from Tehaleh to the top of any mountain (at least not just yet). The trails and maps we looked at will go from easy to more difficult. Some may require a bit more gear than the initial entries but if you stick to the lowlands and foothills you'll avoid much of the main obstacles that come with snowy mountain terrain.
Foothills Trail
21 miles. Out and back but you can turn around whenever it feels right.
Enjoy local weekend activity along this paved trail. Bring your dog along for the trip or go on a solo bike ride. When you're looking for a great path to do some cardio, this might be your new spot. Meander along with a podcast or album to take it in.
Skookum Flats Trail
4.3 miles. 370 feet of elevation. Out and back.
A few road and trail reports in January have mentioned that the road up to the trailhead has ice and snowy spots, which can be difficult to commandeer if you're driving a sedan without snow tires. Bring snowshoes or microspikes with some trusty poles so you can avoid the slip and slide on the cascade concrete. If the conditions aren't up to par, the drive on 410 is at the very least, a sight to see. Check out Skookum Falls if you can!
Mud Mountain Rim Trail
4.3 mile hike. Out and back. 439 feet of elevation.
Aptly named, feel free to lean into the mud and even take this trail with the kids. The forested trail provides river views and fungi exploration. 
Pinnacle Peak Loop Trail
3 mile loop. 1,046 feet of elevation.
Bonus feature: fire watch tower!
Again, you may need some microspikes or snowshoes if there's been a recent winter storm, but for the most part it's likely to be a muddy one. The delightful views of Mt. Rainier and the Olympics provide that optimal blue sky day when you can get it.
Mineral Rock Trail
3.6 miles. 1400 feet of elevation. Out and back.
While this one is shorter, it's a more vertical climb than the others. Expect some snow and ice and take advantage of trekking poles if you have them. The incredible views of Mt. Rainier, lakes, and wildlife will turn this trail into your favorite local spot to visit.
When you're looking for an even more challenging climb, look no further.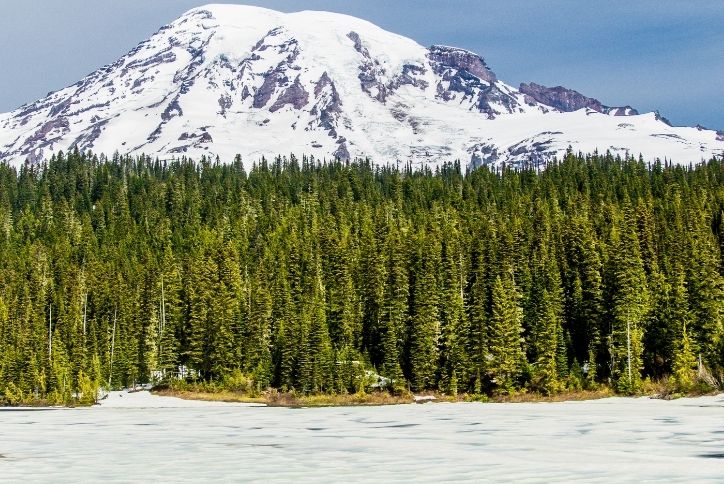 With great climbing comes great responsibility. Gear up for these hikes. Make sure you're prepared for snow and ice, check the weather, and bring a partner for safety. We suggest taking these hikes on when it's a bluebird, perfect day. If that means taking a sick or vacation day on a Tuesday…well we won't tell anyone. Outside of warm clothes and the ten essentials, some recommended hiking gear: trekking poles, microspikes, and snowshoes.
Copper Creek Hut via Rainier Vista Trail
10.9 miles. 1,692 feet of elevation. Out and back. Sno Park Permit and Discovery Pass required.
This trail had some icy snow in January but depending on the weather, could be more of a muddy trail at this point in time. If there is snow, this may be groomed by the MTTA specifically for cross country skiers. However, this is a great meandering trail for a longer hike if you're up for a few hours out in the wilderness.
Snow Bowl Hut Trail
8.5 miles. 2,158 feet of elevation. Out and back. Sno Park Permit and Discovery Pass required.
Similar to Copper Creek Hut, you may find more joy using this as a snowshoe/microspike focused hike. You'll get your stunning view of Mt. Rainier as a treat as well.
Sun Top Winter Route
11 miles. 2,798 elevation. Out and back. Sno Park Permit and Discovery Pass required.
For the bold and brave, the Sun Top Winter Route will certainly be the challenge you're looking for. Snowshoes/microspikes at this time of the year are practically a requirement at this altitude, and you'll also want your Sno Park permit displayed. Enjoy the mountain views all around and a chance to see wildlife.
To be continued
Keep coming back each month for more recommendations. As the temps warm up and new trails become accessible, you'll want to visit these quick escapes as often as you can.
Get in touch with us here at Tehaleh if you want to live in a magical town with 30+ miles of inter-neighborhood trails. Our resident ambassadors will share the secret to good living in Tehaleh.
Want More Information?
Please click below to contact our team and we will be happy to answer any questions you have!
Contact Us
Categories