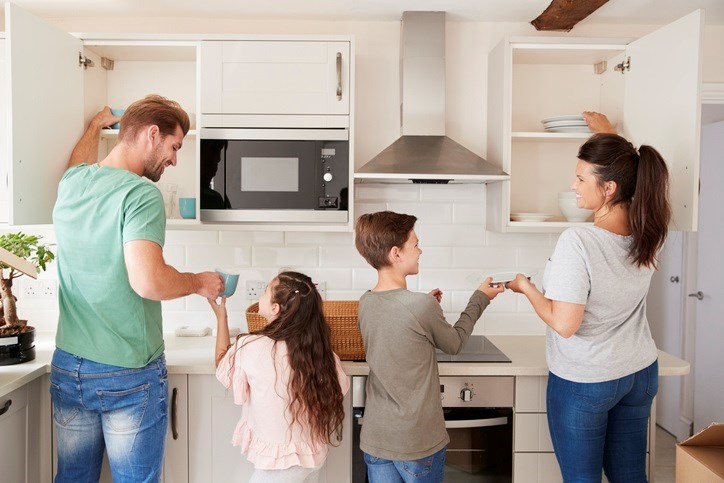 Reinventing Your Kitchen: Part Two
Organizing your kitchen can feel a bit daunting, especially if you have more "stuff" than storage. The good news is that with a little planning and our helpful tips, you too can have the functional, organized kitchen of your dreams!
Keep Dishes Near the Sink
Storing dishes in cabinets near the dishwasher makes for easy loading and unloading. Use wire racks to create multilevel, makeshift shelving for more storage space. It may actually free up your cabinet space, too! Purge dishes that are chipped and any you no longer use. Most lack of space issues come from storing dishes we no longer use.
Store Pots and Pans Creatively
Pots and pans can become the bane of our existence due to their extreme difficulty to keep organized. There are a few methods for storing them; hang them, slide them into multi-level wire racks, store them on an open shelf, or stack them. Depending on how much money you want to spend, you can even find some fancy systems at home improvement stores. Use inexpensive vertical slotted organizers (designated for office use) to store baking sheets, racks, and muffin pans.
Maintain Daily Order
Make it a point to wash your dishes every day by putting them in your dishwasher, or in a designated receptacle next to or under the sink if they cannot be dealt with right away. If you don't already, wash your kitchen's floor once a week. It doesn't have to be deep cleaning – just sweep up the big crumbs with a broom and a light mopping. Designate five minutes a day to put things away. Remove anything that doesn't belong in the kitchen, on the counters or out in the open. Pack lunches, defrost meat for tomorrow's dinner, and prep breakfast for the morning.
Check out the first part of our kitchen organization series: Reinventing Your Kitchen
Want More Information?
Please click below to contact our team and we will be happy to answer any questions you have!
Contact Us
Categories