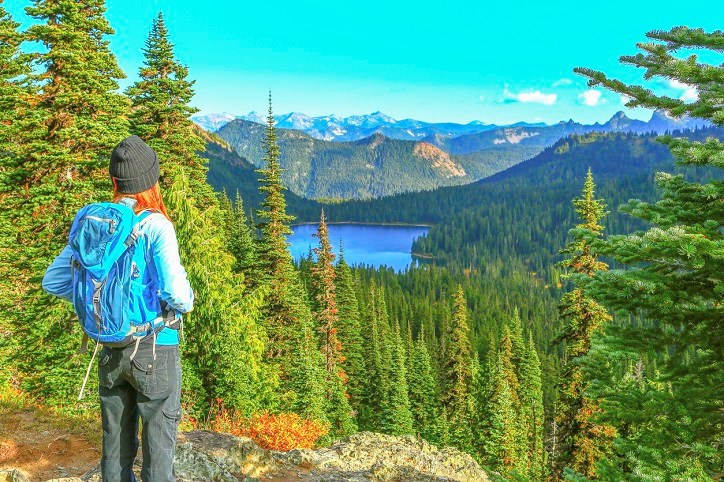 Our Top Four Fall Hikes on Mt. Rainier
Countdown to winter is on, but don't fret ­– there is still time to squeeze in a few trails under the autumn sun. From easy strolls to moderate day-hikes, here are four fall adventures sure to satisfy all skill and energy levels, just before the first snow flutters.


1. Grove of the Patriarchs (Easy)
During October and November, fiery vine maples fill in the gaps between the big trees and benches along this trail inviting quiet contemplation. The trail begins behind the restrooms near the Stevens Canyon entrance of the park. After admiring the massive Western Red Cedars and Douglas firs you'll come to a suspension bridge. The loop trail continues through an ancient grove of trees where awe is the only possible response once you see these natural giants.

2. Sheep Lake/Sourdough Gap* (Easy)
There's much to see on this family friendly hike, so be sure to allow yourself ample time to take it all in. Park at the Pacific Crest Trail trailhead just below Chinook Pass. The trail parallels State Route 410 as it snakes its way east then alternates between open areas and forested stretches before it opens out on the sandy shores of Sheep Lake (about 1.5 miles). If you are up for more of a challenge and are able to tear yourself away from the beauty of the lake, continue on the trail and climb to Sourdough Gap, another spectacular site with far-flung views of other peaks including Mount Adams, perhaps even Mount Hood or Mount Saint Helens to the south. *A Northwest Forest Pass is required.

3. Alta Vista Trail, Paradise (Easy)
Alta Vista is a 1.5-mile loop suitable for all ages and abilities (experienced hikers can continue to higher points including Panorama Point or even camp). No matter where you hike at Paradise you can't go wrong ­– the steep meadows that flank the mountain are alive with a flurry of fall colors. Be sure to plan your hike for a clear day to truly take in the natural splendor. Start out on the stone steps across from the Visitor Center and catch a glimpse of the marmots as they busy themselves preparing for their long winter.
4. Knapsack Pass (Moderate)
For one of the most spectacularly colorful hikes inside the park start at Mowich Lake. Behind the patrol cabin you'll find a trail that climbs through the forest. Gradually, sprawling meadows replace the forest with small, mossy tributaries bordered with wildflowers. The trail climbs steeply to a ridge-crest then descends a boulder field; this stretch is often in the shade; you may encounter steep inclines, snow and/or ice. If this is the case, unless you are an experienced navigator, go back the way you came; otherwise you can continue on a path to Spray Park and hike back to Mowich Lake. The jaw-dropping beauty of this setting can not be exaggerated. You'll want to return again and again.
Excerpts courtesy of Visit Rainier. For complete information on visiting Mt. Rainier, go to visitrainier.com.
Want More Information?
Please click below to contact our team and we will be happy to answer any questions you have!
Contact Us
Categories