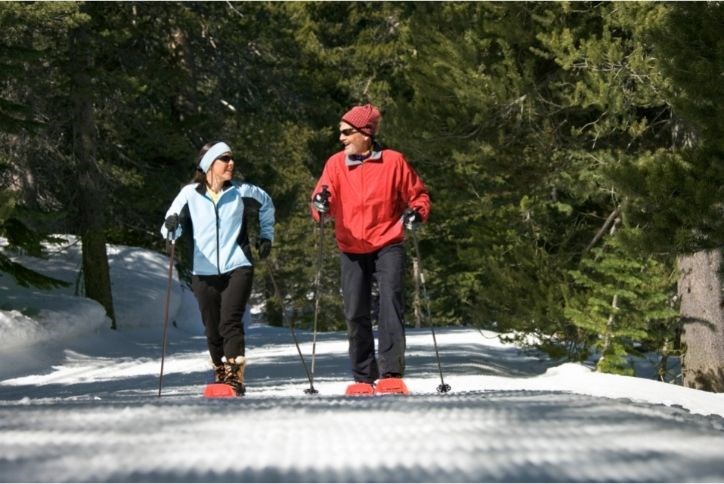 Beginner's Guide to XC Skiing in the PNW
Nordic skiing is a great workout and an even better way to enjoy the outdoors when you'd typically be inside staying toasty by the fire. Tehaleh has a lucky place in the PNW. With Mt. Rainier jutting into the sky, it's a nice reminder that we can always escape the wet lowlands for a snow paradise not too far away.
Who would have thought after all these years that you'd find yourself becoming interested in a sport where you have to ski up a mountain rather than down it?
As you get your ski legs adapted, you'll be gliding around the flatter, more groomed trails so that if you make any mistakes, it's easy to get back up, brush off the snow, and trudge on. Let's get started.
The difference between classic vs skate technique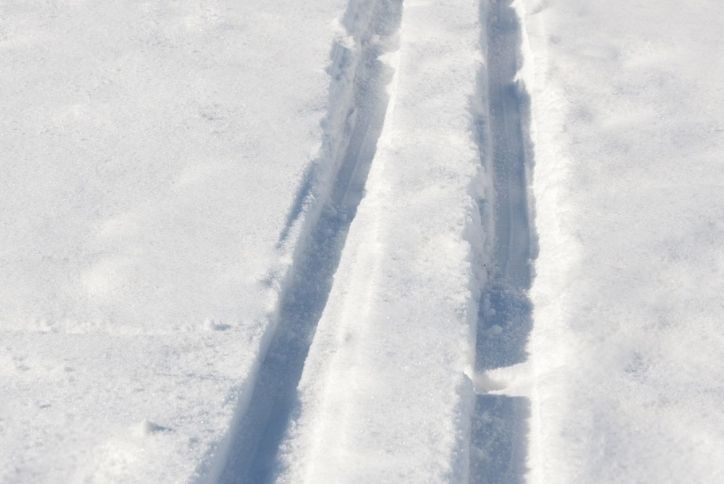 Classic Skiing
Classic skiing is what most people think of when they imagine the sport. It's the pole-plant and push motion, skis are parallel, and it looks like a slippery (yet controlled) version of snowshoeing. Typically, classic skis have fish scales on the bottom middle of the ski. This allows for movement forward, then grips the snow to keep you from sliding backward.
If you've been to a groomed ski trail before you may have noticed the two deep tracks in the snow. That's for classic skiers. If you snowshoe on top of these or your dog runs all over them, a fair warning, you might get yelled at. Luckily, if you fall on the tracks or make any mistakes, the snow will be groomed again the next day or so to make a fresh start.
Skate Skiing
Skate is even more of a full body workout. This is the more complex version and looks like rollerblading or ice skating except you have to synchronize pole plants to maintain speed and form. So if you're good at rollerblading or ice skating you'll likely enjoy this ski style. Syncing your arms and legs is a matter of progress and it helps to begin by mimicking ice skating or roller blading.
On the groomed trails, you want to avoid the two classic ski tracks and utilize the wide groomed track on the left. That's your playground and it's likely you'll come across hikers and snowshoers over there, but just give a shout and let them know you're passing by.
If you're trying to sort out the basics of skiing, skate skiing might be for later. However, you should take a look at the links listed in the next section to get a sense as to the two techniques look and feel. After all, you could be the best skate skier in Tehaleh and just not know it yet.
Should I take cross country ski lessons? How to XC ski?
You're taking on a new sport that has a learning curve. Lessons will definitely help. But to be honest, the hardest part is just getting out there. Once you do that you're already on your way to getting better. Watching videos helps some people, while getting direct help is beneficial to others, and even more prefer to sort it all out on their own.
Take a look at a few of these cross-country skiing videos to get a more solid idea of what your arms and legs need to be doing.
Classic quick start – Basic intro to techniques and style, specifically the diamond stride.
Classic in-depth learning: Jared Manninen has a helpful series. This links to part 2 which will give great detail.
Skate quick start – Nordic Ski Lab breaks down each technique by skill.
If you're still feeling a bit iffy about technique even after these videos, that's totally understandable! Taking lessons at White Pass Nordic Center or phoning a more experienced (and patient) friend can be very helpful. Once you get out there the first time you'll likely have the Nordic bug and do whatever is necessary to keep getting back out.
Next Question: What To Wear Cross Country Skiing?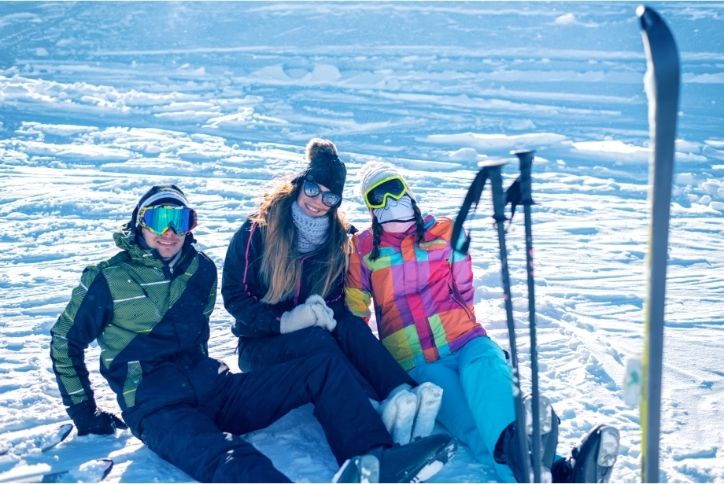 Whether you're an avid runner, snowshoer, bold cyclist, or even a winter mountaineer having a seasonal reminder of what to wear out in the cold can always help you refresh.
Hat and gloves: Keep your head warm! Fleece will be your friend. Go with a fleece headband or a snug fitting beanie. Bring both just in case.
As for gloves, you'll have to do some experimenting. You want something that's not too chunky. Avoid bulky mittens or thick gloves as it will get too warm/sweaty in those and might get your fingers cold early on. You can wear wool glove liners and a medium heft glove on top. Swix is a popular brand that offers many different options. But you can find a good variety wherever you shop online.
Tip: On your way to your ski spot, throw the gloves and hat on the car heater so they're nice and toasty when you get started. When you get back you can do the same so that they're on their way to being dry for the next time you need them.
Start with a trusted baselayer: Long johns are a winter staple. A warm skin-hugging layer will wick away sweat while maintaining the core's natural warmth. Avoid cotton base layers as they absorb sweat and make the body cooler. This can be incredibly dangerous if you're caught in the cold, so be sure to find a reliable wicking base layer. Synthetic base layers are cheaper and more reliable than their wool counterparts. If you really love the feel of cotton and the wicking properties of synthetics, then you should give merino wool base layers a go. They're more expensive but offer comfort that's hard to resist.
Fleece: A light/medium fleece on top will keep the warmth in your core and maintain warmth to your extremities. A full zip or quarter zip can help you control heat as you're striving for the finish line.
Down jacket and a water proof/resistant shell: Puffers, down, or synthetic down jackets are great as they're light, warm, and easy to tie around the waist.
Wool socks: Keep your feet warm and dry with wool socks. Bring an extra pair for the drive back home, you'll thank us later.
Safety first!
Check the weather before you leave. Take the essentials in case of emergency. They fit easily in a day pack. Bring water, nutritious food (granola bars, apples, peanut butter), extra layers, dry clothes for the car ride home, an emergency blanket, matches/lighter, knife, first aid kit, even sunscreen.
Also, hand warmers will be your best friend on the trails. This might sound like a lot to bring but once you have it all packed up and good to go that's your new "worry free" winter daypack.
This is winter after all and when you end up in the mountains you want to make sure you and those you're travelling with are prepared before embarking.
Best spots to XC ski near Tehaleh?
Where to get gear? Nordic ski rentals near Tehaleh.
Enumclaw Ski & Mountain Sports – Hit up your local ski rental shop and support local business! Located just next door in Enumclaw, they'll be able to answer your questions about sizing your equipment before you head out.
Pro Ski Service– Located in North Bend, this shop will get you geared up if you're heading east on I-90 or going to the North Cascades.
Whittaker Mountaineering – As you head toward Mt. Rainier NP you'll want to take a pit stop in Ashford and get the right supplies for your day trip.
REI – They have rental locations at Issaquah, Seattle Flagship, and way out in Spokane. If you're going on a weekend trip, you might prefer dropping in here if they're closer to your destination.
Want to buy gear at more affordable prices? Scour the shelves at your local secondhand shops, dig around garage sales, search online (Craigslist, ebay, or your favorite online secondhand store) Your patience will definitely be rewarded.
Glide on.
 Whether you're a former Nordic ski superstar looking for a few places to go to get back out there or you're somebody who's just trying to figure out all the necessary gear to take a stab at this excellent winter workout, hopefully this guide will get you to the mountains and give you the solace and peace of mind you need.
If you wish you were closer to Mt. Rainier and the PNW's many spectacles go ahead and reach out to us at Tehaleh. We'd love to introduce you to your new favorite winter wonderland.
Want More Information?
Please click below to contact our team and we will be happy to answer any questions you have!
Contact Us
Categories