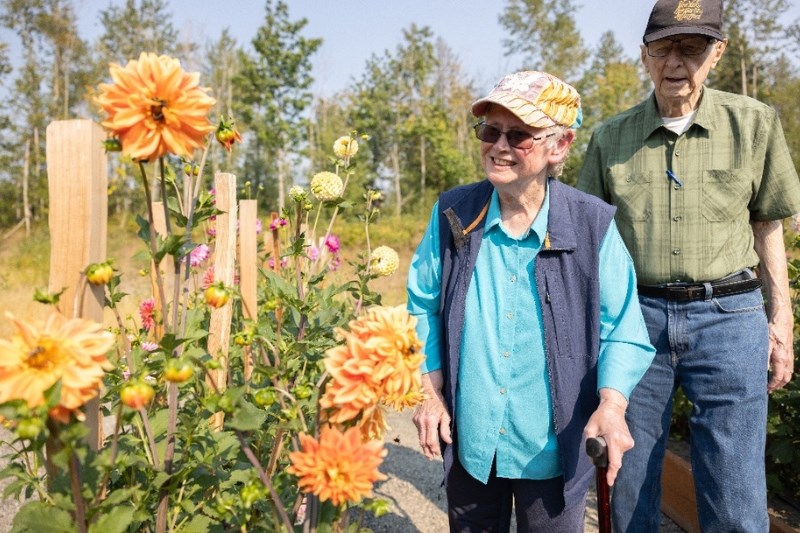 Featured Tehaleh Ambassador: Marilyn Thoms
Moving out West is a part of the American identity. For Marilyn Thoms and her husband, Bill, who both grew up in Indiana, lived in Oklahoma for over 40 years, and returned to Indiana, the thought of moving to Washington only arrived when the couple's son and his wife moved to Seattle.
Marilyn and Bill found themselves in their own westward moment, a new frontier that would have the same kind of charm and identity that the towns they'd previously lived always had. Family, community, and Tehaleh's ageless comfort was all waiting on the horizon.
Finding a perfect home away from home.
Searching around the Puget Sound area, Marilyn realized that there weren't too many affordable options nearby their son, David, and his wife, Heather. It seemed like the only way this could be feasible would be if Marilyn won big.
"I started buying lottery tickets," Marilyn says. "I never did that before. My son, who's a statistician among other things said: 'what would you do if you had all that money?' and I said, well, I'd move out near you." Her son suggested she make a plan that wouldn't rely on the slim chance of winning the lottery. "So, I got off the phone and I said to my husband, we're going to move to the Seattle area."
The search for a 55+ community that would be affordable near Seattle seemed like a daunting task at first. In fact, Marilyn had come across Tehaleh's website and thought it looked far beyond affordable.
"I didn't even look at the prices," she says, "I thought we can't afford that." They made a trip out to Bellingham and Seattle and returned to Indiana still looking for that perfect middle ground. The search continued.
"Then Trilogy at Tehaleh shows up on the website. I looked at the prices and I thought: we can do that. So, we made our first trip out here and — this is the honest to goodness truth — when we came down Cascadia Boulevard and I could see The Post right in front of me, I knew right then that's where I wanted to be. There was no doubt in my mind."
Marilyn and Bill officially moved to Trilogy at Tehaleh in October of 2013.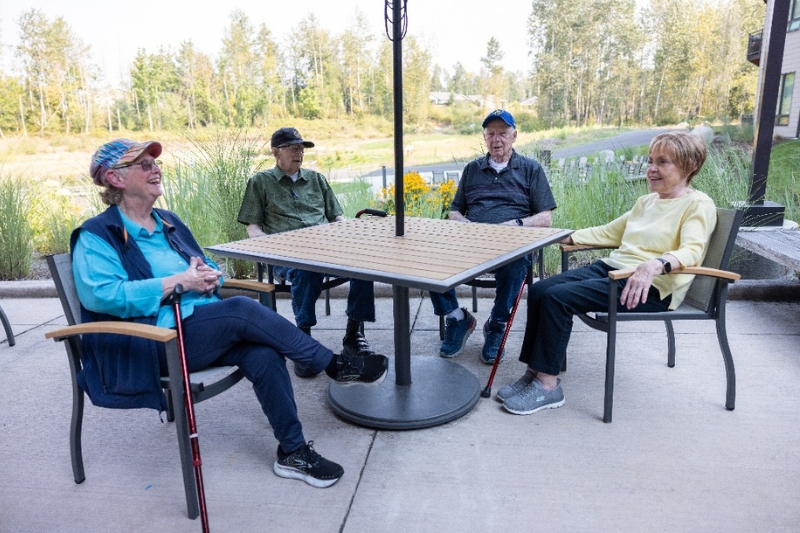 Making the most of Trilogy at Tehaleh.
Being around likeminded neighbors and finding a close-knit community was easy. It was small. People were open and friendly. More and more people were starting to gravitate toward Tehaleh.
"If you think about an idyllic world when you're a kid and those neighborhoods that you grew up in. It was almost a flashback to that sense of a strong community feel."
She and Bill enjoyed meeting in several book groups, with Bill often leading the groups to venture into unique, powerful stories. Marilyn helped start a monthly women's lunch at Trilogy (which continues to this day).
That was a fundamental part of life at Trilogy. The quick connections, the strong bond over activities, and a healthy social life. Marilyn even says that if she had known about Tehaleh and the surrounding area, she would have loved to have moved with Bill right out the gate. "I wish I had known earlier or that it had been here when we first got out of college. This would have been a terrific place."
"We didn't have yard work; we didn't have responsibility. There's something to be said for that. I worked since I was 15 years old. And I was still working over at The Post when we moved into Wesley, but there were just so many other aspects of living in Trilogy and now Wesley that it's like, 'oh, I don't have to worry about that anymore?' And those were just pleasant realizations. I mean, not surprises, but. Nevertheless, pleasant to have those experiences. We've met a lot of people, several of whom came from Trilogy. And in that respect, we didn't feel alone, and we didn't feel displaced from our community."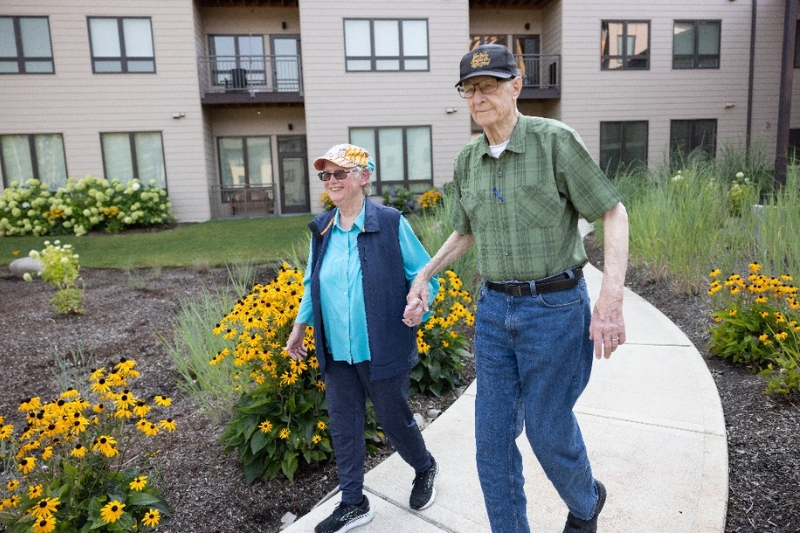 Then came Wesley.
Many people making the transition from retirement to a senior living lifestyle are well aware of the adjustments that tend to take place. Sometimes it feels like a resolution rather than a reward. "Honestly, 3 or 4 years ago, I didn't feel ready for this. I also had in my own mind: one, I'll never go into a nursing home and two: we can't afford anything really nice. We just can't afford it."
For Marilyn and Bill, changes in health in the past few years made it difficult to continue at Trilogy. While Trilogy had been a key part in Marilyn and Bill's move, could they find something that would provide peace of mind without starting anew.
As time went on, there was word that Wesley would be taking applications. Marilyn and Bill were the first ones in line. They were able to budget and work with the Wesley team to find the most suitable living for them. And they didn't have to leave their community nor their independence behind.
"It's more a senior living apartment," she says. "There's no sense of a nursing home here. None whatsoever. Not at the Lodge and not here at the Brownstones. It really supports and encourages senior independence." Bill has continued to participate in his book group while Marilyn finds solace in daily life. As a hard worker since she was 15 years old, having the simple freedom to take walks around Reflection Park and Discovery Park has made her appreciate the surroundings in Tehaleh.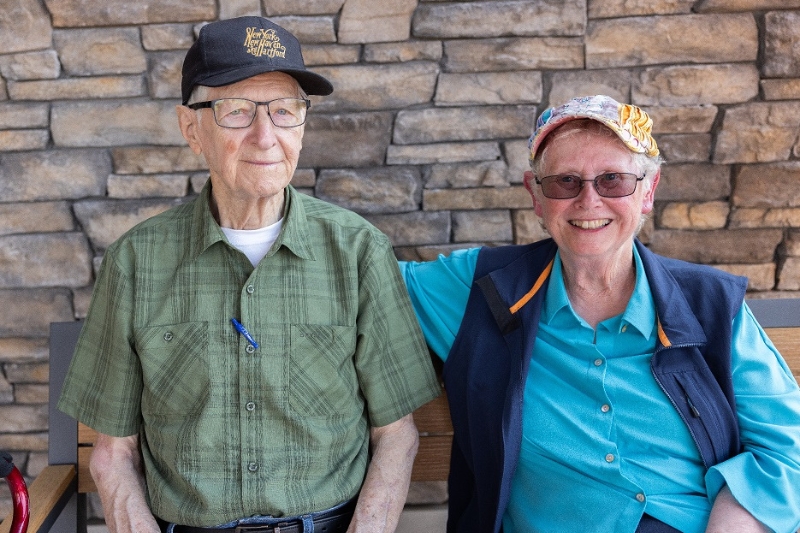 You might find Marilyn and Bill sitting on their balcony gazing at the Olympics or even counting planes heading to SeaTac. They're at home and welcoming every day as refreshing steps in earned living.
"Once we moved to Trilogy and our son came to visit — I told him 'well, I won the lottery after all.' And so that's what the experience has been for us. Coming to Tehaleh, we won the lottery."
Want More Information?
Please click below to contact our team and we will be happy to answer any questions you have!
Contact Us
Categories