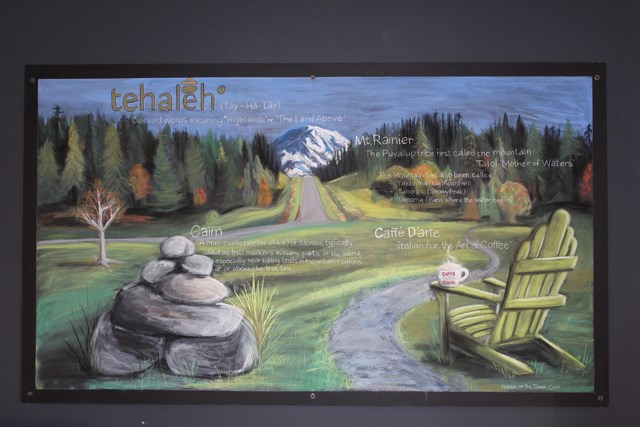 What's in a Name?
If you ever wondered what Tehaleh means, stop by the community welcome center, The Post and check out our new chalk art mural where you can learn about Tehaleh and the meaning behind some of our most significant names.

Tehaleh (tāy–hă–lāy) — a name derived from words meaning "highlands" or "the land above."

Cairn — a Celtic word that refers to a stack of stones that are typically used as trail markers in many parts of the world, especially near hiking trails in mountain regions at or above the tree line. Look for cairns in Tehaleh as a guide to the entrance of our parks and along the trails.

Caffé D'arte — Italian for "the art of coffee," and yes, both coffee and conversation are raised to an art form here. The friendly baristas at The Post serve a fun surprise with creative latte art.

Mount Rainier — The Puyallup tribe first called the mountain Talol, "mother of waters." George Vancouver gave the mountain its current name to honor his friend, Rear Admiral Peter Rainier. The mountain has also been called: Tahoma (snowy peak) and Tacoma (place where the water begins), Takhoma (big mountain). Living up to its name, the mountain can be seen throughout the community, including great views from the parks.

See this mural for yourself at The Post.