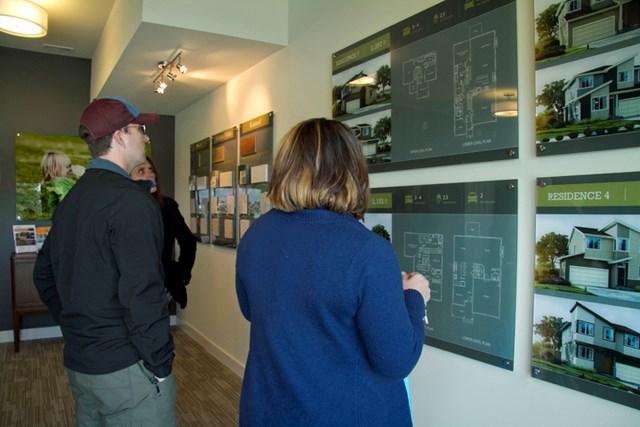 Tehaleh is Built For Your Lifestyle

With attractive amenities and flexible builders, it's no wonder the Tehaleh community is the Puget Sound's top-selling new-home community. Tehaleh boasts an impressive lineup of respected builders allowing you the flexibility to customize your home to fit your lifestyle. The community's builders work to ensure your home is exactly how you want it in a community designed specifically for you.
Trilogy at Tehaleh's  new Shea3D homes and YourPlans™ floorplans let you decide how your home will perfectly complement the way you live. The new floorplans are based on an open-space concept and allow customers to choose from three unique main living spaces – Entertainment-centric, Kitchen-centric and Outdoor-centric that allow you to tailor the primary living space to match your unique lifestyle. This means you choose the placement of your kitchen as well as dining, entertainment, outdoor and other living areas. The Shea3D concept was inspired by consumer's passions, lifestyles, and how they actually live. Trilogy recently debuted its newest Shea3D homes, the Cortile Collection. Cortile is Italian for "courtyard" and these homes stay true to their name with large outdoor courtyards that offer the complete indoor-outdoor Pacific Northwest living experience.
Also designed to fit your lifestyle, Trilogy at Tehaleh is showcasing the designs for its new resort-style clubhouse, Seven Summits. The club will offer top-caliber food and spirits, opportunities for homeowners to try new fitness activities in personal and group settings and the grand living room in the great room will offer comfortable space to connect with family and friends. Trilogy at Tehaleh planned every part of the club based on what they heard from their homeowners and their potential customers.
Tehaleh's newest builder, Pulte Homes, prides themselves on their Life Tested® floorplans, ensuring a functional design that eliminates wasted space.  Pulte invited Puget Sound area homeowners to tour life-sized models of their home designs and weigh in on their favorite features and amenities. Pulte then incorporated their feedback into the new designs, resulting in homes that take the real needs of buyers into account. A popular feature in Pulte Homes is the planning center, an innovative space located near the main living area that's perfect for doing homework, checking email, or paying bills. Other Life-Tested® features include expanded entryways that keep messy activities away from the rest of the house, oversized kitchen pantries with extra storage, and spacious laundry rooms with plenty of room to stay neat and organized.
Richmond American recently opened a new model home from the "Modern Living" collection, in a new location and with that a new set of floorplans and new attitude. Many of the floorplans allow homeowners to build and customize their home to their personal preferences including dual living spaces for multi-generational families. Designers and architects from Richmond American Homes worked hand-in-hand to create inspired floorplans that strive to optimize plans to maximize livable space to match the homeowner's lifestyle. They considered the placement of electrical outlets, plumbing fixtures, windows and even your furniture when creating the new floorplans. These floorplans offer expansive bedrooms, family rooms, great rooms, kitchens and closets.

One of the guiding principals at Quadrant Homes is Built Your Way. The builder worked with hundreds of homebuyers and design experts to create Flex Options for all their floorplans that provide their homebuyers with the flexibility to customize their home to fit their family and lifestyle needs. Working with the builder's Design Studio, means you can create a home that has the look you favor and the amenities you desire.
Designing a home can be overwhelming for some homebuyers. Lennar Homes offers their Everything's Included® homes where all the add-ons and extras a homebuyer could want, are simply included at the best possible value. Lennar has done the research up-front to determine which features are most desirable-and simply included them. From the countertops up to the ceiling and back down to the floor, Lennar homes include luxury features at an obtainable price. Everything's Included doesn't mean "one size fits all." Each Lennar floorplan has its own personality and features, so you're sure to get exactly what you need in a home that's right for your lifestyle.
With trails connecting to parks, and parks connecting to homes, Tehaleh gives homeowners the ability to know their neighbors, mingle with new friends and engage in the community all while soaking up the beauty of the Northwest. Home tours are offered daily for the 13 fully furnished model homes and move-in ready homes. While you're here, take time to explore the community's parks as well as 20+ miles of hiking trails and walking paths. Take in the stunning view of Mt. Rainier while enjoying handcrafted coffee from Caffé D'arte and fresh sandwiches, salads and pastries from CJ's Deli at The Post, Tehaleh's community gathering and information center.
Find which floorplan works for you and your family.