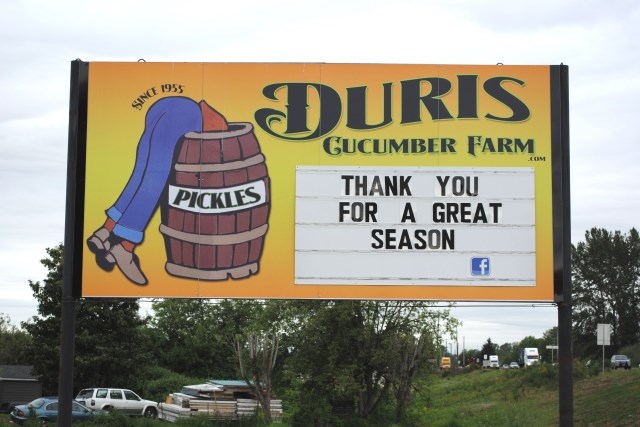 The First Ingredient is Love.
Local foodies flock to the Duris Cucumber Farm, known far and wide for its cucumbers, strawberries and pumpkin patch. This family venture was established in 1955, when Hazel Duris started to make pickles from cucumbers she grew in the family garden. She sold the fresh and tangy extra pickles from her front yard, and the response was so great that within a few years, they built a stand next to the family home. Today, Hazel's five children continue to run the family farm. Try this delicious pickle recipe!

Duris Cold-Pack Refrigerator Dills

To each quart jar, add in order:
1 grape leaf
1 stalk fresh dill wound in a small circle
3 peeled cloves of garlic
1/8th (sliced) white onion
3 teaspoons of pickling salt
2 teaspoons of mustard seed
15 whole black peppercorns (1/4 tsp)
½ to 1 dried hot red chili pepper
¼ teaspoon of alum
¼ fresh jalapeno pepper, sliced
1 slice of sweet red bell pepper (place on jar wall)
5 medium cucumbers, blossom end removed
2-3 small cucumbers, blossom end removed
½ cup of 5% apple cider vinegar

•    Fill jar with tap water to within ½ inch of top screw on a new lid.
•    Shake well to dissolve powders.
•    Store in refrigerator.
•    Pickles will be ready to eat and enjoy in 3 -4 weeks.
•    Enhanced flavor is achieved by allowing them to cure in the refrigerator longer.