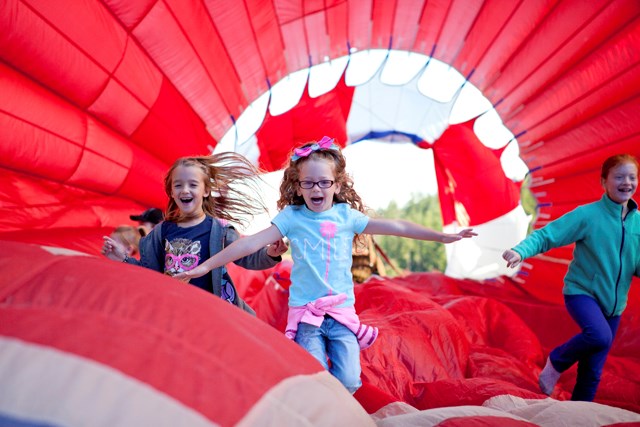 Events at Tehaleh: Creating Memorable Moments
Tehaleh's continuous growth can be seen in the various entertaining resident and community events. Resident events are a staple throughout the year and allow homeowners a chance to mingle and meet their neighbors and for kids to make new friends. Here are a few of our most popular events.

May: Build-A-Bear
Our smallest Tehaleh residents had a chance to dress 212 bears and go through the popular heart ceremony. This was such a success we are going to be repeating it as a public event in May! Check back to find out when you can have a Tehaleh bear of your own.

Community Garage Sale
Community-wide garage sales and barbecues are a frequent event at Tehaleh. We invite guests to tour our community as residents host a community wide sale each summer. The Friday before the sale, block parties are hosted for residents to tour the sales and eat with their neighbors. At the end of the sale, all non-purchased items are donated to a local charity.

March- Egg Hunt
Residents donate candy & eggs for an annual hunt that includes a notorious Bunny appearance.

Lowe's Spring Build and Grow
Tehaleh partnered with Lowe's for an interactive potting event where residents brought their own flower pots (or were provided one) and were invited to fill them with colorful annuals. The kids got together with their dads to build a special one of a kind mother's day pot holder.

Resident Movies in the Park
HOA events committee hosts movie in the park night at Big Sky Park, complete with popcorn. It's free admission if you bring a few school supplies.

Harvest Day
The annual Harvest Day is a popular community event hosted at the end of September to celebrate the anniversary of the community. The morning begins with a trail run for every skill level and a 1k kids run where the official Seattle Seahawk's mascot, Blitz is on hand to give high-fives as they cross the finish line. The rest of the day is full of live bands, vendor fair, food trucks, horse drawn country wagon rides and family friendly activities. Don't miss out on the hot air balloon rides where we turn one on its side and blow it up like a bounce house.

December
Santa provides a photo opp at The Post where we make it snow from the rafters. What's even more? The community comes to life with holiday lights during the resident holiday lights contest.

Bonney Lake Food Bank
Tehaleh came together earlier this year to donate more than $200 in cash donations and 317 pounds of non-perishable supplies to the Bonney Lake food bank. Our residents believe in giving back to those who are around us and we will continue to partner with the food bank to donate and host drives.  Check back to see what the next drive's theme will be. Whether it's to collect supplies for babies and women, or dry food for dogs and cats, Tehaleh is always looking to give back.

The Sumner Gordon Family YMCA
The new local Y is hosting events to get to know the surrounding community. Tehaleh partnered with the YMCA to promote Healthy Kids Day, a national initiative devoted to improving the health and well-being of kids.

Donald Eismann Elementary (DEE) is an integral part of the Tehaleh community. The development team frequently meets with the Sumner School District's superintendent regarding future schools and opportunities in Tehaleh. Currently we plan to continue to support the school through school supplies donations and PTA event sponsorships.  In 2016, the team will expand the opportunities to become more involved with the Sumner School District. These include presenting two graduating scholarships to a Bonney Lake and Sumner High School student who meet the criteria and adding Liberty Ridge Elementary to the school supplies donation. The team continues to expand the Holiday giving tree program for less fortunate children in the Sumner School District, which continues to be a popular resident activity in December with 150 donations committed to within three days.