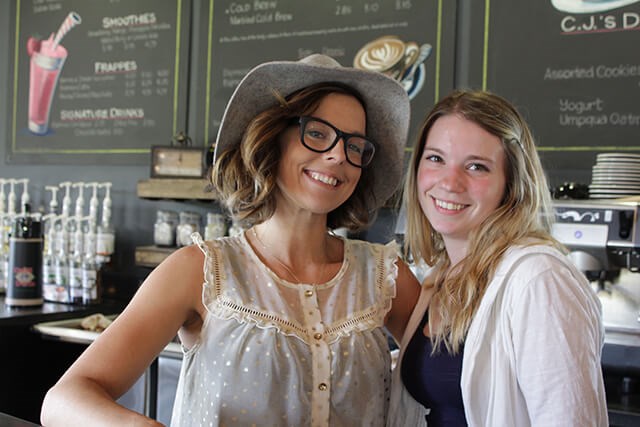 Lattes, Lunch, Lounging
When we ask residents what their favorite thing is about Tehaleh, one of the top answers is always Caffé D'arte.

Caffé D'arte is bustling with business. Families stop for coffee and hot chocolate before and after school. Hikers stop for pre- or post-hike refreshment. Friends meet for the most important reason of all: just because.

"We didn't want a big name brand at The Post," explains Lynneah Hudson, vice president of marketing for Newland, Tehaleh's developer. "We wanted to support a local brand that had the same care and commitment for the quality of their coffee as we have for creating community."

Caffé D'arte was founded in Seattle in 1985 by Mauro Cipolla. His family's passion for coffee can be seen in every careful step of the process, from selecting just the right coffee beans to roasting and blending. The skill of the baristas at Caffé D'arte (which means the "art of coffee") shines through in the foam art they create by hand, steaming the milk specially for each order.

If you're not a coffee lover, you can order Italian sodas and hot chocolate. Caffé D'arte has even lured people to move to Tehaleh. Resident Lisa P. was substituting at the onsite elementary school and had some time to kill, so she stopped in for a coffee. "Originally, I came here for the lattes at Caffé D'arte," says Lisa, "but then it was like, wait! There's this incredible community here. I walked the gorgeous trails, I met the amazing people here, and I was hooked!"

And if you get a little hungry, Caffé D'arte features treats from local CJ's Deli. Get your taste buds tingling with salads, sandwiches, and desserts.

CJ's Deli prides themselves on using whole foods, home-made fresh for real flavor with no preservatives, from local suppliers. Treat yourself to one of their hot subs, a fresh salad, or build your own sandwich. Enjoy the taste of homemade goods!

Breakfast burritos and sandwiches
Toasted bagels with cream cheese
Hot panini sandwiches
Artisan sandwiches and wraps
Fresh salads
Cupcakes
Scones, muffins, cookies

Sure, people can get snacks and coffee almost anywhere, but there is something very special about walking to a place in your community.

So come to The Post and give your taste buds a treat at Caffé D'arte.