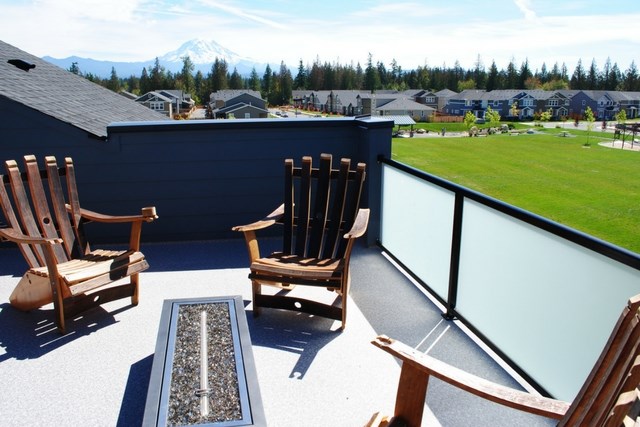 The Peaks Homes Reach New Heights with Roof Decks, Grand Staircases
Excitement is sky-high over the new rooftop decks with sweeping Mt. Rainier views at "The Peaks at Tehaleh", the latest home plan collection from Azure Northwest Homes.
Following their popular "The Trails" collection, Azure Northwest Homes  newest floor plans celebrate the natural beauty of the community, with protected greenbelts adjacent to each home, covered outdoor living spaces, and a Tehaleh first—rooftop decks overlooking the stunning Mount Rainier views that Tehaleh is known for.
Isaac Stocks, the founder and managing principal of Azure Northwest, knew that building The Peaks would be a bit of a challenge, as his team would have to accommodate for the sloping nature of the lots. "Our goal was to find designs that would maximize the incredible, sweeping views each of these lots has," he said. His solution: bring an urban concept to Tehaleh.
Stocks noticed that in densely populated, urban areas like Seattle, builders were often incorporating rooftop decks into their designs to maximize city views. Stocks knew that his team could incorporate rooftop decks in the rear of each house so residents could enjoy private views of the mountain, forest and expansive Big Sky Park below.
In addition to the rooftop decks, each home in The Peaks includes a three car garage, grand staircase, and ten foot ceilings on the main floor. Keeping the homes as light and bright as possible was another crucial element in designing The Peaks. "We have a lot of windows in our homes and we were really strategic in our placements," said Stocks. "We really wanted to bring the outdoors in and give homeowners this feeling of being surrounded by nature's beauty."
In fall 2016, these stunning new homes will be move-in ready, starting in the high $400,000s. Azure's original home plan series, "The Trails," launched in early 2015, starts in the $300,000s.  Click here to see all of Azure Northwest home plan