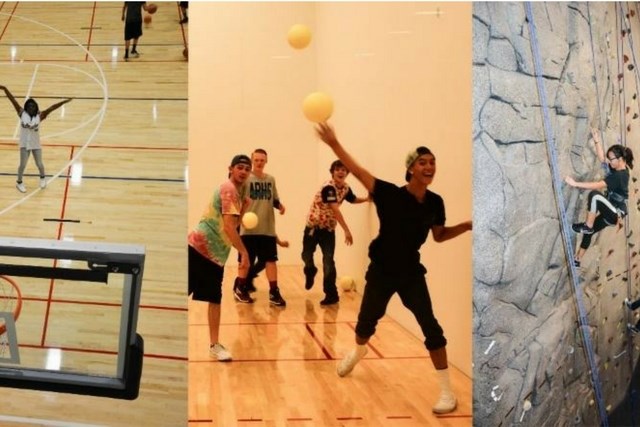 At the Y
From an indoor aquatic center, to basketball courts and an indoor track, the Gordon Family YMCA offers
everything and then some. However, many Tehaleh residents are quickly finding out these amenities are
just the beginning of what the Sumner location has to offer. Mere minutes from Tehaleh, the YMCA also
waives the joining fee for residents, a savings of $150 for two adults (19+).
The Gordon Family YMCA was envisioned as a space to serve all ages with programs in the arts, water
safety, and health and fitness. When the doors opened in September 2015, the facility more than lived
up to this goal – as one of the largest YMCAs in the state, the 111,000 square-foot facility has an
abundance of activities that every member of the family is sure to enjoy.

Each month, the Y brings people together over shared interests. Do you like to read? Every second
Thursday of the month, join avid readers like yourself to discuss, laugh and even scream about this
month's latest book or novel. Or, (like many Tehaleh trail aficionados) maybe hiking is your thing. Every
summer, join the "Creaky Knee Hikers" as they trek toward beautiful PNW views like those of Silver Falls,
Snoquera Falls, or Point Defiance Park.

The arts program at the Gordon Family Y has been recognized as among the best of the YMCAs in the
county, according to Alex Abplanalp, communications director for the YMCA of Pierce and Kitsap
counties. The arts are widely represented – from music lessons, theater, dance, and ceramics to culinary
arts and fashion design. Even the digital arts are represented – there are classes in animation,
photography, and robotics, to name a few. What a great way to discover new interests and passions!

How about you, parents? When was your last night out? Every second Saturday of the month, stop and
take a night for you and your partner. Parent Date Night offers safe childcare, allowing parents the
opportunity to spend an evening out. Relax and unwind while your children play, make crafts, sing
songs, climb the rock wall, and splash around in the pool. They even have quiet time scheduled at the
end of the night, where kids can settle down and listen to stories.

Do you have a teen in your home? Every Friday night, Teen Late Nite encourages the development of
youth in grades 9-12 by providing a social space with consistent adult involvement, and fun activities
that foster excellence and a positive attitude. Teens can play basketball, ping-pong, Xbox, go swimming,
or even lift weights!

Whether it's physical, mental, or spiritual health, the Y takes healthy living pretty seriously. In addition
to the vast amount of activities and programs, including support groups to help with life's challenges,
members are also eligible for a little extra TLC. Physical and massage therapy services are available at
the MultiCare clinic to keep members functioning at their best.

There's no surprise why Tehaleh residents are drawn here (the joining fee waiver doesn't hurt either).
The Gordon Family YMCA truly has it all. To find out more information about membership, activities, and
programs, please visit: https://www.ymcapkc.org/gordon-ymca/