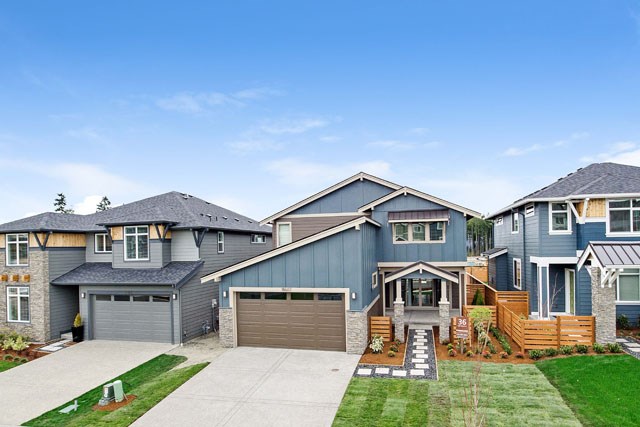 Yes, a New Home Is Possible!
Buying a new home may sound daunting – confusion over mortgages and maintenance costs alone can divert many buyers from owning a home and push them towards the rental market. However, buying a home may be a lot more attainable than you think and now may be the time to buy. Potential homeowners can enjoy the best of Northwest living, just a short drive from Seattle in Tehaleh – and make a financially responsible decision in the process.
Bonney Lake Home Prices
According to Zillow, the average home price in the Bonney Lake area runs just over $355,000, while the average monthly rent payment in Bonney Lake would cost around $1,800. In the Seattle metro area, renting is even more expensive – costing renters around $2,100 per month on average. So, what does this mean for prospective homebuyers? According to Zillow's "Rent vs. Buy Calculator," you'd only have to stay in your home around 2-3 years before buying becomes cheaper than renting. In other words, looking at gross costs, equity and investment potential, it's better for you to buy rather than rent if you plan to stay in your home for more than two years. You can play around with Zillow's calculator to get a better sense of what's feasible for you and your family.
Buying a New Home Is a Smart Investment 
But it's not just equity and investment potential that make home buying a smart investment – expect to see annual cost savings as well if you go the new home route. Buying a new home from one of Tehaleh's homebuilders, for example, could mean more money in your pocket for years to come due to reduced maintenance and energy costs.
According to the National Association of Home Builders (NAHB), 73 percent of home owners spend less than $300 per year on routine maintenance costs in a newly constructed home – buying a new home means you're less likely to need major repairs every year.
Purchasing a new home can also mean saving money on utilities. The NAHB says the average homeowner spends about 80 cents per square foot annually on heating and cooling – compare that to new construction home owners, who spend only 68 cents per square foot on heating and cooling costs – a 17.6 percent savings. New homes mean new features – including better insulation, energy-efficient windows and doors, energy-efficient appliances and more.
Value Living in Tehaleh
It's important to speak with the experts to determine what's right for you and your family, but purchasing your dream home could be a lot more attainable than you might think, and could actually be the financially responsible decision. And if you decide a new house is right for you, choosing Tehaleh means you get a lot more than just the value of your home. You also get a built in community, 20+ miles of trails outside your front door, 11 parks, and a close connection to nature – which we think is pretty priceless.
Start your new home search today by visiting the Tehaleh Homefinder.