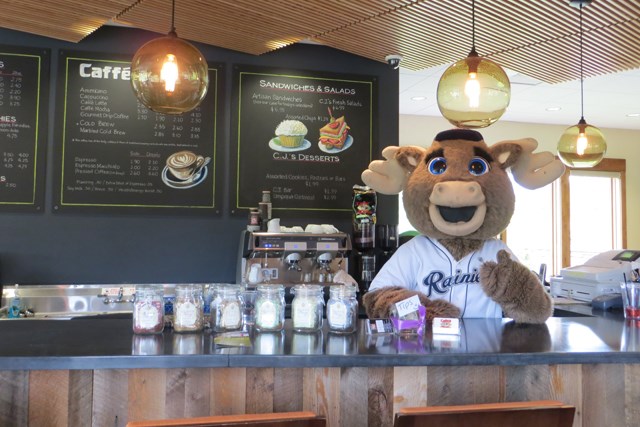 Tehaleh Partners With the Community

As the Tehaleh community continues to grow as the Puget Sound's bestselling new-home community, so does its partnerships and community events. Tehaleh strives to partner and foster relationships within the surrounding communities our neighbors live, work and play.

Tehaleh recently partnered with the Evergreen Trail Run Association during the popular Harvest Day festival in September. Since 2013, Tehaleh has teamed up with the environmentally conscious run association to offer a Marathon, Half-Marathon, 10K, 5K and 1K Kids Run. Trail runners enjoyed spectacular views of Mt. Rainier and a wide variety of the community's scenery and terrain including pines, wetlands, alpine meadows and deep forest. After the run guests were congratulated by Blitz, the Seattle Seahawk mascot and enjoyed complimentary activities such as wagon rides, food trucks, hot air balloon rides, children's activities, live music and more.

Blitz isn't the only mascot Tehaleh has hosted. Last spring the Tacoma Rainier's mascot, Rhubarb, was congratulating the running participants and their furry friends in the first annual Tehaleh Tails and Trails 5k pet run and parade. By partnering with the Tacoma City Marathon Association and the Tacoma-Pierce County Humane Society, Tehaleh celebrated all animals featuring an onsite Ask-a-Vet with free health checkups and answers to your pet's questions, as well as an onsite adopt-a-pet through the Humane Society where families walked away with new additions to their family.

Tehaleh not only cares about your pet's health, but your health as well. The community teamed up with MultiCare Health Systems and the American Heart Association through fun community events such as Ladies Night Out for Health and Boots and Bling, which educated our neighbors on their advance health offerings, relaxing MediSpa options and tips to keep you in top health.

This fall the community partnered with the best team in Major League Soccer, the Seattle Sounders FC for a new and exciting promotion. For a limited time Tehaleh gave away Tehaleh and Seattle Sounders co-branded scarves to homeshoppers who visited the community. Tehaleh hosted one of the starting players, Gonzalo Pineda, as he greeted guests, signed autographs and took pictures. Tehaleh was also onsite at two of the Seattle Sounders' matches sharing information about the community with fans and handing out co-branded color changing drinking cups.

Education ranks high on our priorities within the community as well. The onsite Donald Eismann Elementary works closely with Tehaleh to ensure its students are working toward success. Each year the community partners with the elementary to donate school supplies, sponsor fun activities such as pony rides at the spring Carnival and partner with the community for an annual giving tree during the Holiday season. This spring Tehaleh was able to sponsor 30 kindergarten children with their comprehension reading skills who worked diligently to become super readers!

Each month Tehaleh has exciting events you don't want to miss. Whether it's a grand opening of a new neighborhood, a new park, community wide garage sale, or an organized fun run through our trail system, ensure you're keeping up on the action.