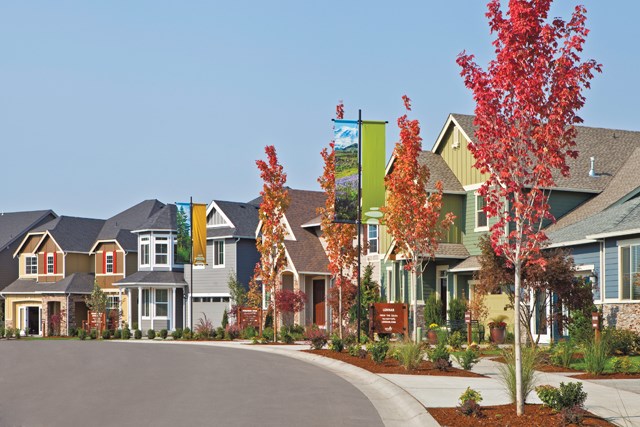 Homebuyers Find Expansive Selection, Outstanding Values and Welcoming Community at Tehaleh

Bidding wars, overpriced homes and the lack of inventory have made finding the ideal home more of a headache than a happy house-hunting adventure. Savvy buyers have discovered a solution at Tehaleh, the top selling new home community in Seattle-Tacoma, situated just south of Bonney Lake.

As the Seattle housing market continues a strong recovery, home shoppers are struggling to find the exact home perfect for their families. 2015 is on track to be the largest year yet for residential real estate since the 2008 recession according to the Puget Sound Business Journal, and the housing shortage is expected to continue well in 2016.

The richness of what Tehaleh offers is unparalleled. With spectacular views of Mount Rainier, more than 20 miles of trails, 11 parks, and the widest selection of new homes in the region, it is no wonder the tight-knit community has risen to the top.

When Jason and Kelli Cruz began looking for a home for their family of five, they were discouraged by the price tag that came with the homes they looked at in West Seattle and the amount of work older homes would require. Issaquah's newer homes came at a steep cost – hundreds of thousands of dollars over their ideal price range. Then they discovered Tehaleh and they knew the search was over.

Since the move, Cruz said they regularly use the parks and trails, attend resident events and love that their seven-year-old son can ride his bike to school every day to Donald Eismann Elementary, a leading public school at the heart of the Tehaleh community.

"We fell in love with it. We liked the fact that the school was right there for our kids. Everything we thought we were getting at Tehaleh has been true – it's even exceeded our expectations," Cruz said.

Home shoppers can experience the community's lifestyle through a variety of hiking trails, outdoor amenities and daily tours of the 12 models, and available quick move-in homes from some of the most acclaimed local, regional and national builders – Azure Northwest Homes, Conner Homes, HC Homes, Lennar, Oakridge Homes, Pulte Homes, Quadrant Homes, Richmond American Homes, and Trilogy at Tehaleh.

With homes at Tehaleh in record high demand, local builder HC Homes will be the fourth builder this year to join this booming new home community.  HC Homes will expand Tehaleh's extensive selection with five high-end, handcrafted floorplans, customized to the buyer.

"We design homes that fit our customers' needs and lifestyles - an art collector may want special lighting, while a food enthusiast might desire a six burner stove," said Rick Seddon, Managing Broker for HC Homes. "All of our homes feature a main floor suite and top-of-the-line design finishes. We're building forever homes." The first HC Homes model will debut in the fall.

HC Homes secured Tehaleh lots that back up to a greenbelt - backyard fences will feature a gate with direct access to the trails. "Imagine the quality of life you have when you can walk from your backyard to the trail for a brisk morning run or evening stroll," said Seddon.

Luxurious outdoor living spaces are another feature of the homes; trending amenities include covered patios with cabana fans, outdoor fireplaces, home audio hookups, and adjustable multi-color mood lighting.