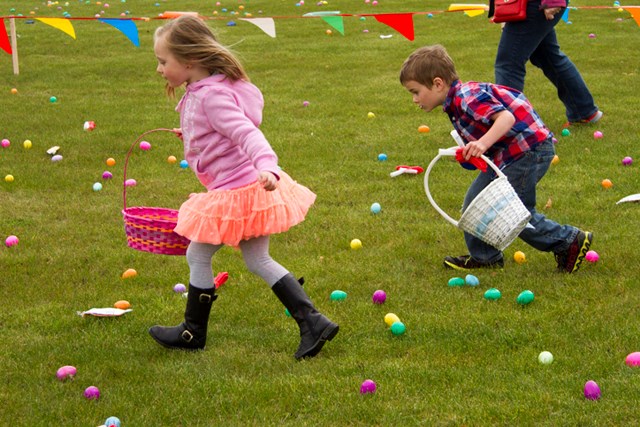 Events You Don't Want to Miss

Tehaleh's continuous growth can be seen in the various entertaining resident and community events. Resident events are a staple throughout the year and allow homeowners a chance to mingle and meet their neighbors. Residents enjoy scheduled events such as the annual egg hunt with an appearance from a notorious bunny, a community-wide garage sale, resident barbecue and Donald Eismann Elementary Spring Carnival. Many resident events are themed with giveaways and raffle prizes such as Date Night featuring Bonney Lake's local craft beer store, NW Caps N Taps raffling off local craft growlers and local wine store, Auburn Wine and Caviar Company raffling off bottles from local wine makers. This night also features a variety of local microbrews, local wine makers, as well as an assortment of heavy hors d'oeuvres from The Ram. If Trilogy at Tehaleh catches your eye, their resident happy hour and special events fill up quickly. 2015 is bringing some fun new resident events such as Build-a-Bear day®, Paint the Post with chalk art and talent shows in the park.  

Resident events aren't the only exciting get-togethers happening at Tehaleh. Mark your calendars for Tehaleh's community events happening throughout the year.  

Join us May 30th for the second annual pet friendly event, Tehaleh Tails and Trails. The event kicks off with a 5k pet run followed by an afternoon of family friend activities including a petting zoo, children's activities and an onsite adopt-a-pet from the Tacoma Humane Society.
September 26th is Tehaleh's annual Harvest Day. This is an event you won't want to miss. Start the day off running along Tehaleh's scenic trails in the third annual Evergreen Trail run. There are runs for every level including a marathon, half marathon, 10K, 5K and 1K kids run. After the run the Seattle Seahawk's mascot, Blitz will be here to support you at the finish line. Spend the rest of the day celebrating the community's third anniversary with fun activities for all ages including hot air balloon rides, horse drawn carriage rides, and children's activities. Relax and refuel from touring the 11 model homes at one of the delicious gourmet food trucks, or recharge at the beer garden while listening to great local bands.

If you're interested in Trilogy at Tehaleh, our 55+ community, don't miss touring the beautiful five model homes, or stop by their sales office to learn more about the Seven Summits Club scheduled to be complete later this year. Ask about the gourmet culinary studio with TV monitors to showcase the cooking demonstrations, a fully equipped fitness facility with personal and group classes and retractable doors that open to allow classes in the natural beauty. Find out more about the Crow's Nest: A new addition that allows people to bring their golf clubs, enjoy a drink at the bar and virtually play on hundreds of golf courses from around the world.

Each month Tehaleh has exciting events you don't want to miss. Whether it's a grand opening of a new neighborhood, a new park, community wide garage sale, or an organized fun run through our trail system, don't miss a single minute of the action. Visit the online calendar of events or check us out on Facebook for upcoming events.