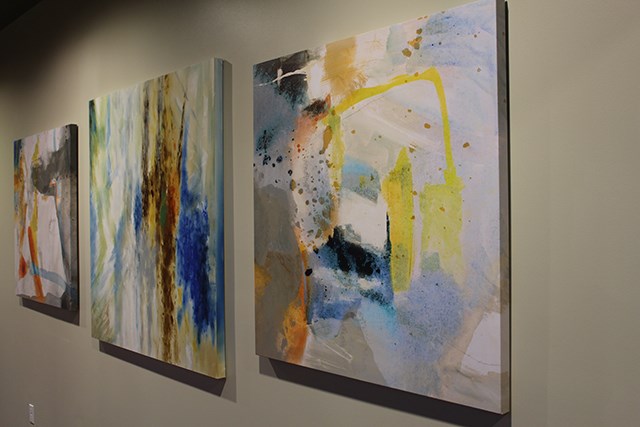 A Community that Crafts Together…
Is your idea of fun spending an afternoon with your glue gun, knitting needles, and cutting shears? You're not alone. There is a lively community of crafters in Tehaleh who gather for fun and inspiration.

Tehaleh's Crafting Club
Founded by Tehaleh resident Wendy O., the club is made for everyone, no matter what level crafter you are. You don't have to be an artist or have any crafting experience. "We have a blast. Everybody talks and laughs," says Wendy..

The crafting schedule is inspired by the calendar. "For summer, we created blocks out of wood that we decorated and used to spell 'summer,'" explains Wendy. "We've made greeting cards, and one was a book mark. Birdhouses for the yard. For the winter, we're going to decorate blocks of wood that spell out "Brrrr" in Seahawk colors. Also wine glasses turned upside down to make a snowman with a tea light on top. We're going to make a holiday tree from safety pins and beads and then thread lights through them."

Exercise your creative muscle.
Flow Body & Mind at Seven Summits Lodge is both an exercise space and an artists' studio. It is equipped for quilting, painting, and ceramics. The large garage doors can be opened to let in light and fresh air that inspires creative souls. Check with Flow Body & Mind for class schedules.

Community spirit
Crafting is more fun with friends. Adults can enjoy sip-and-paint events, while the kids can make seasonal crafts. Each spring, we partner with Lowe's for a Build and Grow event: you can bring your own pot and Lowe's will fill it with annual flowers and potting soil, or they can get you started with a new pot. Since we host this event on the Saturday before Mother's Day, kids make their own flower pots to take home to Mom. There are many crafting events throughout the year! Just check the Tehaleh community calendar.

Around the community
Ben Franklin, the national craft-supply shop featuring materials for framing, sewing, quilting, and scrapbooking offers crafting events and classes right outside our doorstep. For a nominal fee, you can complete a craft (such as decorated holiday candles, cards, and more) within a single session. Knitters and sewers can take classes in succession to improve their craft.

So whether you're already a crafter or a beginner who wants to get started, try getting involved with one of these many groups. You won't just be crafting beautiful items; you'll be crafting community.