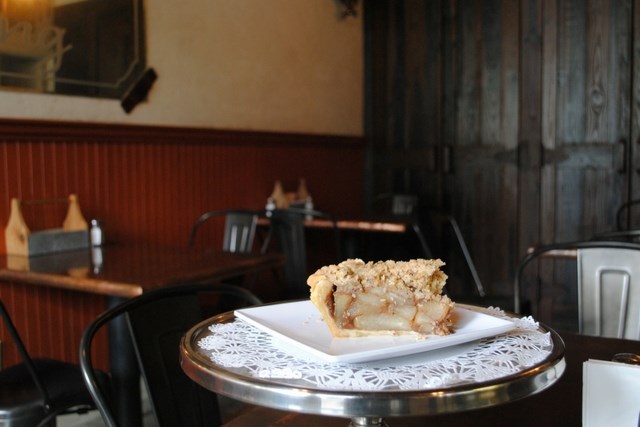 Pie makes everything better.
Connie Swarthout, to put it simply, is a pie evangelist. The owner of CJ's Deli & Catering is known for her use of fresh ingredients in all of the sandwiches and salads at CJ's. But she is happiest when baking pies.

"We will be at the fair doing pie demonstrations titled The Lost Art of Pie Baking," says Connie. "We will be demonstrating how to make cream pies, decadent pies, and pies with cookie crust."

Connie wanted to inspire more people to make their own homemade pie. "I call it the lost art of pie baking because there aren't many people making pies anymore," explains Connie. "I grew up with my mom and two grandmothers as pie makers. I was around them all the time and they taught me at a young age."

More than comfort food. Pie = love.
Connie knows that when people are ordering a pie, they're often nostalgic for the warmth of childhood holidays. "I love to eat pies. Pies me to me mean love and comfort. I love when people are so happy to eat my pies," says Connie. "I had a customer come in and her dad wasn't doing well, health wise and she asked me, 'all my dad wants is his grandma's apple pie,' then she came back in and told me, 'that made him feel good.' I just love that."

The holidays are a busy time.
For Connie, using fresh ingredients is so very important. "I think it's important to cook from scratch, but it's hard with the fast foods available to us," she says. "The deli is busy because it's all homemade and not from the store. We make it with love, we enjoy doing it and I look forward to working everyday."

Connie is happy to offer the freshest pies for her customers but urges people to order ahead. "We do a lot of pickups for pies in the holidays. Last year we did 120 pies in 2 days plus catering during the holidays," she says.

Visit CJ's Deli & Catering online to order your mouthwatering pie today.