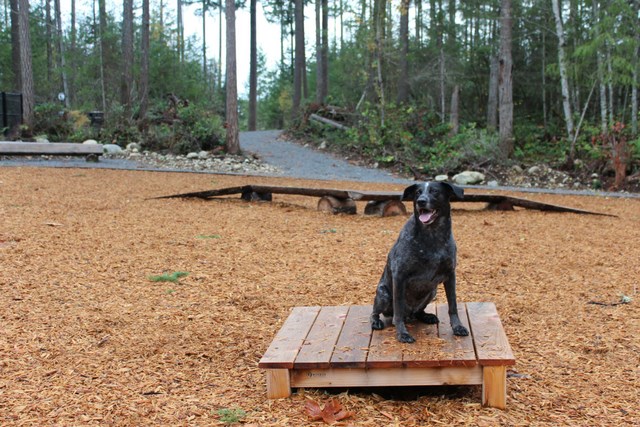 It's A Tehaleh Pup World
It's A Tehaleh Pup World
From Boxers to Basset Hounds, Pugs to Pomeranians, our four-legged friends love life in Tehaleh just as much as their owners do. With miles of trails for pups to peruse, Tehaleh has been voted "Best Place to Walk Your Dog" by South Sound Magazine readers. But the fun doesn't stop at the end of the trail. There are several other doggy amenities, in and around Tehaleh, to sniff out for tail-wagging fun.

Hounds Hollow
Located within Forest Park, this off-leash, enclosed play area is a dog paradise. An agility course allows pups to practice their tunneling, jumping, and weaving, while the open grassy field lets them run their paws off. Fun for pooches of all ages, sizes, and breeds, Hounds Hollow has become one of the top spots in Tehaleh for dogs and their owners to socialize and make new friends.

The Post
Trekking up and down the community's trails can work up quite an appetite in dogs – and their humans. The Caffé D'arte baristas in The Post will be happy to provide your pooch with a free treat, a bowl of water, and a whipped cream filled "Pup Cup." Stop in for some delicious eats after your hike and then rest your two- and four-legged limbs next to the fire in the Warming Hut.

Christina's Critter Care
Tehaleh resident, Christina Groven, loves pets, and has owned quite a few throughout her life – ponies, cows, hamsters, mice, parakeets, fish, turtles, cats, and dogs, to name a few. A member of the National Association of Professional Pet Sitters, Christina operates a home-based business, offering services include feeding, walking, brushing, medication administration, and, of course, giving lots of love to furry friends.

Bonney Lake Dog House
Who doesn't love a spa day? At Bonney Lake Dog House, your pup will not only be pampered, but will come back looking and smelling so fresh and so clean. For over thirty years, the salon has offered services such as natural teeth cleaning, nail trims, shampooing and conditioning, and haircuts. They even have a "Dog Laundry" where you can wash your own pup without making a mess at home!

For a dog's eye view of daily life in Tehaleh, visit the Tehaleh Instagram page and check out our hashtag, #TehalehPup.