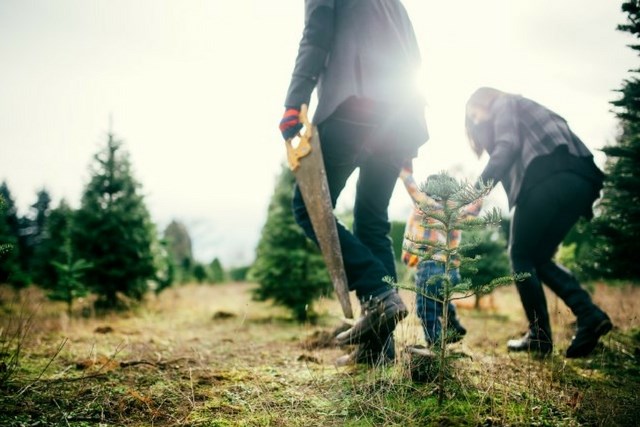 Pick Your Tree in our Backyard Tree Farm
As the holiday decorations are unpacked and plans are made with family and friends for the upcoming festivities, Tehaleh residents gaze out at Mt. Rainier's snowy peak and think about finding the perfect holiday tree. Luckily, nearby Hillside Tree Farm offers what they call, a "mountain-side experience without the drive."
Every year, during the holiday season, the trees in The Post, the new-home information center in
Tehaleh, come from Hillside. Once the trees are decorated, tags are added with wishes for gifts from local children, who may otherwise go without a Christmas. These special trees are known as "the giving trees" and both residents and visitors have been quick to step in and fulfill those Christmas wishes, making these trees a special part of the season in Tehaleh.
At Hillside Tree Farm, owners Bobbie and her husband, Vincent, enjoy the holiday season; helping
customers and getting to know them. "We have a lot of families that have come here since we opened in 1989," Bobbie recounts. "There are kids that have grown up coming here – and now they're bringing their kids for a tree!"
They have seen an uptick in business the past few years, especially since Donald Eismann Elementary School opened up. The school has drawn a lot of families to the area; Bobbie noted, "We don't even need to put up signs anymore!"
When you drive onto the farm, you'll feel like you've been transported to the side of the mountain,
especially after a fresh powdering of snow. Bobbie jokes that they named the farm Hillside for a reason, "We thought it would be truth in advertising!"
Upon arrival, you can head to the hillside for the Noble, Shasta Red, and Nordmann fir varieties, or
meander through the horse meadow for the Douglas and Grand firs.
There are signs posted to indicate the different trails so that the farm is easy to navigate. Adding a
personal touch, the trails are named after the Matt's children and loyal staff members who have been a part of the Hillside family throughout the years.
After you've explored all of your options and sized up the perfect tree, you get to cut it down yourself (saws are available at the farm). As a reward for your hard work, head to the warming fire and enjoy a cup of hot chocolate and festive candies.
Once you're ready to hit the road, the farm staff is available to help load your tree onto your vehicle. The Matts have seen every tree loading situation you can imagine – from a tree tied to a tiny little Volkswagen convertible to a huge tree hoisted onto a flatbed trailer!
If you're looking for a fresh cut tree this year, skip the long drive and journey to Hillside - a 1.7-mile trip down the road from The Post in Tehaleh. You won't have to travel far for what feels like a magical, mountainside tree excursion, with the convenience and satisfaction of supporting a local business.